'Media tanker is turning as audience grows'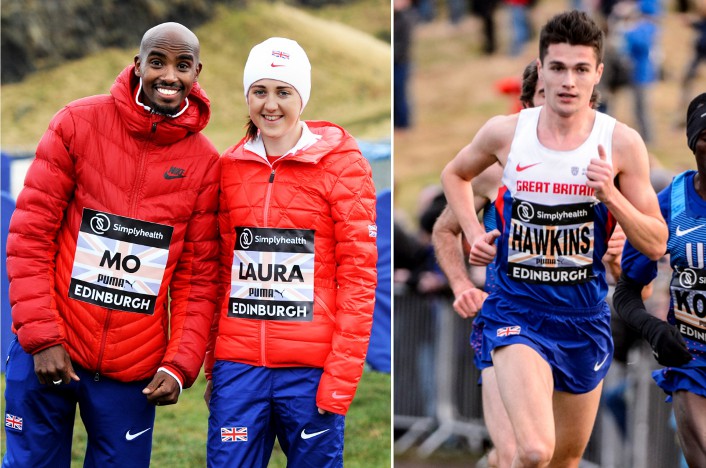 By Peter Jardine
QUESTION: When do you know there really is something significant stirring in athletics in Scotland? And, importantly for this correspondent, a 're-awakening' in the media interest and overall profile?
Choose from the following answers:
Was it:
A) When the double World and Olympic champion Mo Farah, in his first press conference since being awarded a Knighthood, is asked – in deadly seriousness – to assess whether the wee Scottish lassie to his right can make an impact on London 2017 doubling up in events and/or become Olympic champion in 2020?
B) When Callum Hawkins, after becoming the first British athlete to beat Mo Farah in seven years, and after ninth place in Rio, is asked if he is setting his sights on a marathon medal in Tokyo?
C) When the UK-wide athletics correspondent for the Sunday Telegraph, Ben Bloom, starts writing about scouring video footage from the Glasgow Athletics Association Miler Meet?
D) When STV invite Callum onto the sofa for their 5pm interview show on Monday but have to be advised he has politely declined because he's just slipped out the door for an 18-miler less than 48 hours after Holyrood Park on a Scottish January afternoon?
The answer, of course, is any one, any combination, or all four of the above.
Even by recent standards it has been a pretty extraordinary few days for athletics in Scotland and for those of us challenged with pushing the good news to a wider audience.
Last Wednesday night, Laura Muir stripped bare the British Indoor 5000m Record held by Liz McColgan with a startling performance. Barely 12 hours later she was named GB and NI captain for the Great Edinburgh XC event.
Come Friday lunch-time, and Sir Mo was being invited to answer all manner of questions about Scottish athletes who, in turn, posed a few of their own – and delivered answers, too – across the Holyrood Park turf another 24 hours later.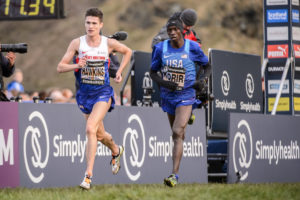 It has been fantastic to be involved in but, frankly, nor has it been a surprise.
The profile is rising all the time, and steadily, and that's been in direct proportion to the achievements of Scottish athletes.
In a meeting with BBC Scotland this week, it emerged that a story on Laura's Record run on the main BBC website Athletics section has already drawn in excess of 300,000 hits.
BBC website story – Muir smashes 25-year-old Record
Our own social media channels have leapt to Rio figures in terms of 'reach' and 'likes'. Our Twitter impressions over a seven-day period will be around 400,000 and the Facebook 'reach' for the past seven days is at 175,000.
What was new last Saturday, as one experienced observer on the scene noted, was that while the crowds in Edinburgh didn't quite match the 10,000-15,000 who attended for the World Cross in 2008, this time they had Scottish athletes upon whom to focus.
In that regard, we commend the coaches and clubs involved in developing our very best athletes – and also those just below that level, who strive to be the best they can be. That's vital work, almost always by volunteers, and isn't to be under-estimated.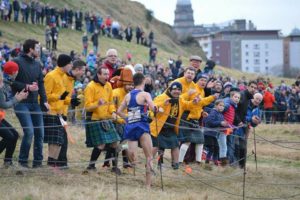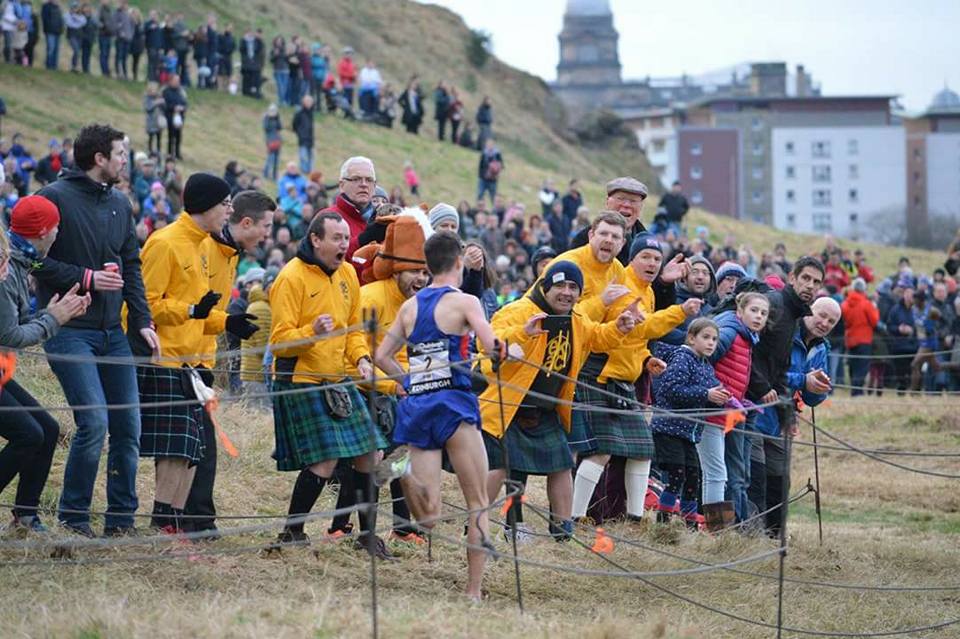 Cheer-leader – crowd lend Callum Hawkins their support (Photo by Katie Dunlop)
The Holyrood-becomes-Hampden support is perfectly exemplified by the memorable image of the Tartan Army (from East Kilbride AC, who attend Euro Cross events each year) roaring on Callum Hawkins on that thrilling final lap battle with American Leonard Korir.
Farah wasn't quite an after-thought for the crowd but very nearly and that's further evidence of a good place to be when the highest profile athletes at an event in Scotland are the Scots.
There are still frustrations. Despite the SPFL top-flight football being on a winter break, there were a number of newspapers over Sunday and Monday who actually carried more words on Morton v Dumbarton than they did on Hawkins v Farah v Korir. Old habits die hard.
But it is definitely starting to feel as if the media tanker has turned around and there is a firm belief within scottishathletics that a growing profile for our elite athlete WILL help stimulate growth across other aspects of the sport.
On that note, we must commend The Herald in particular for taking a positive approach to covering other sports and sending two writers, Kevin Ferrie and Stewart Fisher, to both the media conference on Friday and Holyrood Park on Saturday.
Check out the 'Other Sports' section on the Herald website on a regular basis to pick up on that coverage.
+++
It is one of the consequences of the growing stature of the Holyrood event, and the inclusion of more Scots in GB team and two Scotland teams in the Relay, that the Inter-District XC events drop down the agenda slightly.
Any other weekend, such races would be the main event on the scottishathletics channels but last Saturday is now hugely challenging for us in terms of coverage and decision-making on relative profile.
So apologies if some performances were 'sidelined' in any way.
We do note here that in the Junior Women's 4K race there were some excellent Scottish U17 performances. There is an age group here following in the vanguard of European Youths 1500m bronze medallist Erin Wallace who look distinctly promising.
Four Scots in that race took 'scalps' from the U20 selections of GB, Team Europe and the United States. Clare Stewart, of Banchory Stonehaven, actually headed five such athletes.
Honourable mentions, also, for Eloise Walker (Edinburgh AC), Naomi Lang (Aberdeen AAC), Lauren Dickson (Lasswade AAC) and Rebecca Eggeling (Aberdeen AAC) – to take the top five last Saturday as a simple marker – on good progress.
Well done to these athletes and coaches on a lot of hard work. Hopefully they are seeing the path taken in recent years by the likes of Euan Gillham, Jonny Glen, Sol Sweeney and Erin Wallace in landing GB and NI vests at cross country and believing they can emulate those achievements.
+++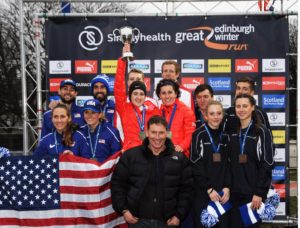 Scots on the International Relay podium again (Photo by Mark Shearman)
The International 4 x 1K Relay is now established on the schedule and what a success it has proved. Brendan Foster was involved, and scottishathletics, three or four years ago when it was first mooted and the original race in 2015 was a 2 x 1K Mixed team.
That has grown to the 4 x 1K format with two men and two women and it works well both for athletes and for the crowd.
A couple of years ago, chief executive Nigel Holl publicly stressed the desire within scottishathletics for more international opportunities. Holyrood has become a significant one as this list of athletes to represent Scotland over three versions of the event in front of a home crowd in a live televised international event proves:  Laura Muir, Josephine Moultrie, Steph Twell, Emily Dudgeon, Carys McAulay, Mhairi Hendry, Jemma Reekie, Philippa Millage, Steph Pennycook, Ross Matheson, Grant Muir, Jake Wightman, Cameron Boyek, Neil Gourley, Josh Kerr, Ben Greenwood, Michael Ferguson.
That's 17 athletes given a great opportunity and, after podium finishes all three times, we would be really hopeful of fielding two Scotland teams again in 2018.
Delayed return to America was worth it – Gourley
+++
Final words.
Even with all the coverage, it is still possible to under-estimate performance of Callum Hawkins. In summary: he beat the whole of the GB team; the double double Olympic champion; the three-times Holyrood winner Garrett Heath; and the Euro Cross champion and the Euro Cross silver medallist.
All this with 8k of cross country really very much at the short end of Callum's distance range.
Reporting it (as one or two outlets did) as 'Hawkins second as Farah struggles' really doesn't do proper justice to the level the Kilbarchan AAC athlete is competing at.
Roll on next year and let's have Andy Butchart in there, too, please. Imagine how exciting that duel could be for Scottish crowds?
Listening to Sir Mo Farah expand on doubling-up at major championships and Laura Muir's potential it was really pertinent to hear him say: 'It takes many years. I struggled at times and was sixth and seventh at major champs and had to keep working hard.'
Maybe everything will duly come to she who waits.
Tags: Brendan Foster, Callum Hawkins, Erin Wallace, Laura Muir, Mo Farah