Inter-Districts XC review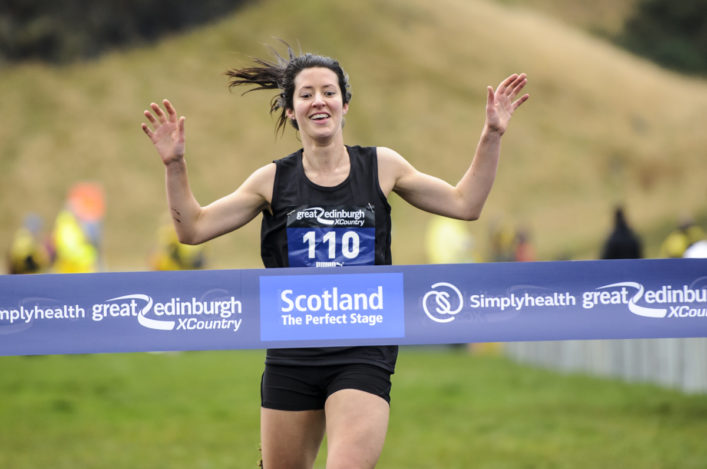 Morag MacLarty savours Inter-District success at Holyrood Park (photo by Bobby Gavin)
Morag MacLarty was the pre-race favourite for the Inter-Districts XC Senior Women's title – and proved her class with an emphatic win.
In fact, the East champion and Central AC athlete revealed her biggest fear prior to the start was whether she could cope with an early start at Holyrood Park.
'I'm not what you would call a morning person,' grinned Morag, who is set to win Scotland honours once again at the Antrim XC this forthcoming weekend.
A dominant run saw her repeat her success of a couple of years ago from West champion Nicola Hood as the North's talented U20 athlete, Anna Macfadyen of Forres Harriers, took third place. For MacLarty, the benign conditions were a marked contrast to snowstorm of 2015.
'It was a good run and pleasing – and I surprised myself because you don't usually have to race as early as that and actually that made me apprehensive,' said Morag, who won by 15 seconds.
'The weather was good deal better than a couple of years ago, too. That was the worst conditions I can recall for a race!
'I've had a few months now injury-free and good training so that is the most pleasing thing. It has been a really tough three years or so and while I've had some good results I've not been able to follow them up because I've lacked consistent training.
'I am representing Scotland at Antrim next week, as is Nicola, and then will look the National XC. I've not had many Scotland vests in recent years – apart from the recent British Challenge in Liverpool – and maybe Loughborough a few years before that.
'It should be decent competition in Antrim so we will see how it turns out.'
MacLarty's win helped the East edge the team award from the West by six points with the Scottish students in third place as Mhairi Maclennan and Louise Mercer completed the top five.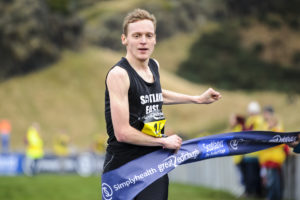 Dundee Hawkhill athlete Kristian Jones won the Senior Men's race with the Welshman representing the East District as he completed a pretty remarkable week – with wins on three surfaces for the GB international orienteering exponent.
Jones had won a 5K road race in Wales last week and the Scottish 3000m indoor title in midweek at the Emirates Arena.
Luke Traynor, who helped pace Kris on Wednesday, was second today over 8K of XC for the West, with Jamie Crowe coming through strongly for third place for Scottish Students.
'Luke helped me out with the 3000m and I did ask him today if he would be kind enough to drop out again,' grinned Jones, who clocked 25.33 to win by 12 seconds.
'I was actually worried that if he was close enough to me on the last lap I would be caught on the finish so I did all I could to make sure that didn't happen. It has been a good week but I am very tired now.
'I am doing a University course sponsored by the R and A in St Andrews so I live in Dundee and travel over to St Andrews. I joined Dundee Hawkhill and I've been in Scotland for about 18 months.'
The East won the team race by five points from the West.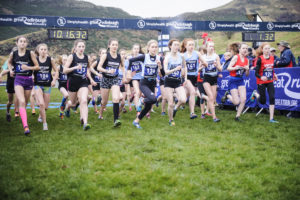 There were a couple of fine performances at U17 level with both Men and Women contesting the Scottish Inter-District medals within the Junior International races – which features U20 athletes.
On the female side, the top three of Clare Stewart, Eloise Walker and Naomi Lang all succeeded in taking 'scalps' from the selection by USA, GB and Team Europe. Stewart, in fact, beat five of those athletes while fourth-placed U17, Lauren Dickson, also beat one American.
The U17 Men's could not quite bridge that gap but there was a good contest for the medals with the front three covered by 17 seconds as Freddie Carcas won gold for the East from the West's Ryan Gray and Cameron Allan for the North.
Stewart led home the East U17 Women to success while the West took the U17 Men's crown by only two points.
In the U15 races, there were gold medals for the West in an individual sense with wins for Hamish Armitt and Lily-Jane Evans-Haggerty. The East won the U15 Boys team race and the West won the U15 Girls team race.
There were U13 gold medals for East duo Harry Henriksen and Anna Hedley. The West won the U13 Girls team race and the East took the U13 Boys team title.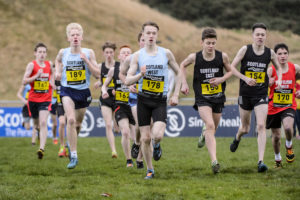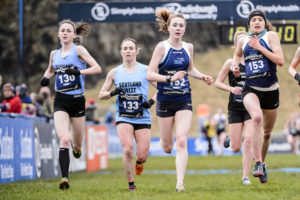 Tags: Clare Stewart, Freddie Carcas, Holyrood Park, Inter-Districts XC, Kristian Jones, Morag MacLarty