'Delayed return to USA was worth it' – Neil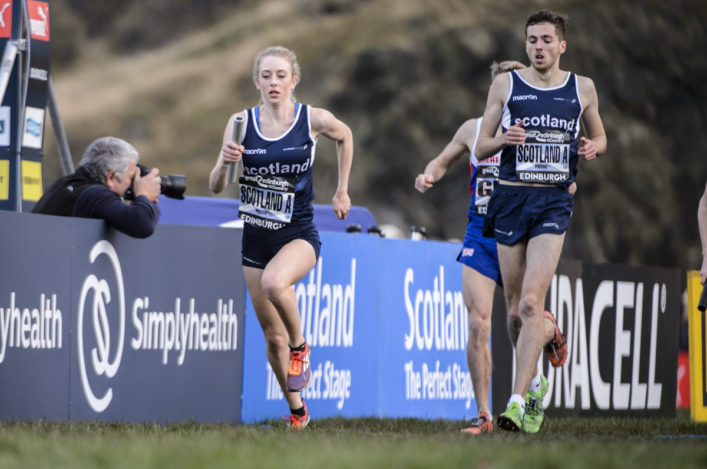 Neil Gourley hands over to Jemma Reekie for Scotland A (photos by Bobby Gavin)
Neil Gourley has revealed how he delayed a return trip to America to help Scotland make the Stewart Cup podium for the second year in succession.
The Virginia Tech student made a key contribution to the Scotland A success in finishing third to GB and NI and the United States in the International 4 x 1K Relay at Holyrood Park.
Jake Wightman, Mhairi Hendry and Jemma Reekie were the other team members who, along with Gourley, enjoyed that special podium moment.
For Gourley, though, there were negotiations to be had with his University coach to make sure he took his place on the start-line for the third leg.
'I enjoyed it and it is a fun event,' smiled Neil, who represented Scotland B a year ago and this time took Scotland A from seventh to first with a terrific run.
'I ran last year and the atmosphere was great so I wanted to do it again when the invitation came through. But first I had to negotiate with my coach, Ben Thomas, because they did want me back in the United States on January 2.
'The college are supportive, though, and hopefully that run I've managed will convince them it was worth it me being here!
'I think it was a real team effort because Jake had a strong run and Mhairi, too. Then, on the last leg, for Jemma to run like that against very experienced athletes and get us to third place was great for her and for us.'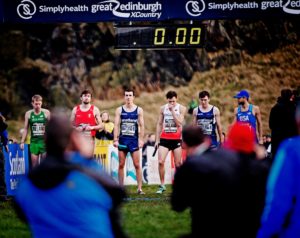 Ben Greenwood and Jake Wightman on the start-line
It was in 2015 that GreatRun, with support from scottishathletics, introduced an International Relay element to the Great Edinburgh XCountry event. Last year, the Stewart Cup was launched with the 4 x 1K format featuring two men and two women.
Nine Scots in all raced on Saturday and we make it now no fewer than 14 athletes in the past two years who have enjoyed pulling on a Scotland vest and having the opportunity to run in a televised, international event in front of a home crowd.
That experience should help them all – with Gourley's immediate focus now on the indoor season in America.
'I go back now for the indoor season in the NCAAs,' said Neil, who flew out of Scotland early on Sunday morning.
'I am trying to get into the mile final in the NCAA but you need to be in the top 16 times for the season. I ran 3.59 last season but still missed out on it. I am guessing I might need 3.57 or something like this time around!
'It will be tough, because every meet that happens across the States, people are checking times and seeing where they are ranked. I've  another 18 months at Virginia Tech studying Chemical Engineering and then I will see what happens after that.'
+++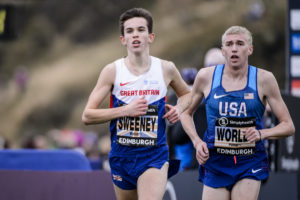 Meanwhile, Sol Sweeney will turn his focus to the British Cross Challenge this weekend following a first GB and NI appearance at Holyrood in the Junior Men's 6K race.
The Perth Strathtay athlete followed in the footsteps of his training partner, Ben Greenwood, with that call-up. Both are coached by Cat Tavendale.
And Sol admitted Ben's progress over the past couple of years had helped inspire and motivate his own hard work in training and progression.
'It was a nice moment when the selection came through for GB and NI after the trials race in Liverpool,' said Sol.
'I've been training with Ben Greenwood for quite a few years now and feel I've made a fair bit of progress in the last two or three.
'Ben was a GB international a couple of years ago and when you see him getting the kit and going off to events it definitely does motivate you to work harder. I think we probably push each other on and it works well.
'I'm taking a year out now after finishing school and he is still in Perth, too, so our training and coaching arrangements are unchanged. It works well for both of us.
'Now I am heading for Antrim and Cardiff for the British Cross Challenge events. I'm trying to put on as many points as I can there in the U20 age group and see how I can do.'
At Cardiff, Sweeney and Greenwood combined for the Scotland U20 team in the Celtic Nations XC event.
'We've had a few Scotland and Scottish Schools vests between us but as far as I recall this is the first time we've been together in the same age group representative team,' added Sol.
Tags: Ben Greenwood, Holyrood Park, International 4 x 1K Relay, Jake Wigthman, Jemma Reekie, Mhairi Hendry, Neil Gourley, Sol Sweeney