Five Scots make International Relay podium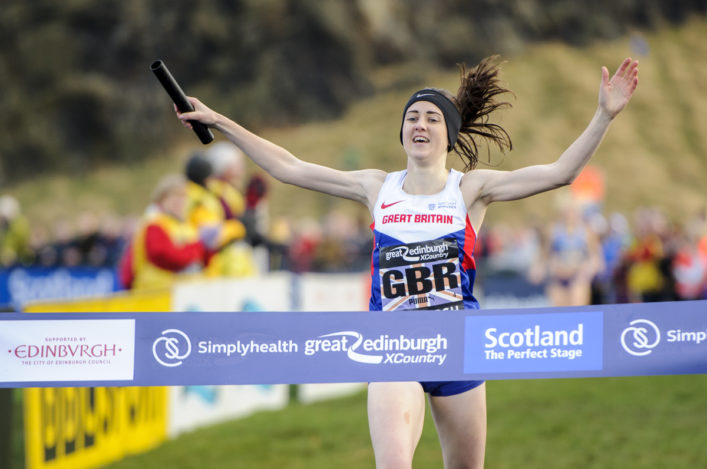 For the second year in a row, Laura Muir brings home the baton first to win International Relay (photo by Bobby Gavin)
A top Scot brought home the baton first in the International 4 x 1K Relay to lift the Stewart Cup – and four more joined her on the podium.
There was plenty of local pride attached to the third instalment in this welcome addition to the Holyrood Park annual event as Laura Muir led GB and NI to victory.
If that was pretty much expected – and Glasgow-based James Bowness played a part for GB, also – then Scotland A going within a single second of the silver medals to duly take third and a richly-deserved podium place was an added bonus.
In fact, the Scotland A quartet of Jake Wightman, Mhairi Hendry, Neil Gourley and Jemma Reekie delivered a great team effort and will now share a significant slice of GreatRun prize-money to add to the pride and passion they brought to those striking navy blue new Scotland vests by Macron.
'As GB and NI captain, I wanted to put in a great performance for the team,' said Muir, who pulled away from training partner Reekie and all the rest on the final leg as Scotland then battled for second and third with the United States.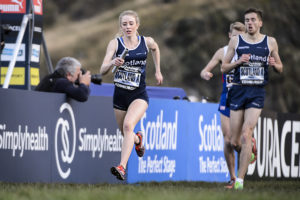 Neil Gourley hands over to Jemma Reekie
'When I saw the other guys and girls placing well, I knew I had to deliver as well – luckily the legs were feeling okay after the indoor 5000m run in midweek.
'I have not been used to being  the 'one to watch' so much previously but it's great that people are recognising that I'm running fast and I just want to try and keep that up.'
A Scotland B team that had a development element to it was in touch with the other seven teams for much of the race but had to settle for eighth place after the efforts of Ben Greenwood, Philippa Millage (earning a richly-deserved first Scotland vest at 36), Michael Ferguson and Steph Pennycook. In fairness, both Ferguson and Pennycook were very late additions to the lineup.
Wightman led Scotland off and did well before Hendry took it on. Gourley, for his part, had a big impact as he lifted his team from seventh to first on a great leg. Then Reekie, who is only 18, followed up her Indoor 3000m Scottish U20 record with a very strong run.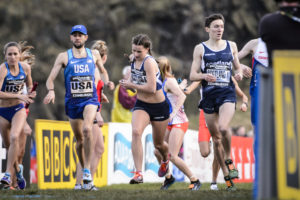 Jake Wightman hands over to Mhairi Hendry
'It was a really good team performance,' said Hendry.
'I think there are bits of my own leg that I can look back at and see if I did the right thing. But I have to be happy helping Scotland get on the podium in an international event like this.
'It was a good day for Bill Parker's group! Josephine Moultrie and myself were picked initially and James Bowness for GB and NI. Then Jo had a wee niggle and we were hoping she would recover.
'When it became apparent she wouldn't, we were crossing our fingers for Philippa to get a selection. I was so chuffed for her when she sent me a text to say she had been picked.
'We work well with each other in training. At first, it was actually almost racing each other on the reps but it has settled down now.
'Bill is a good coach for me at this time and I'm happy working with him. He works on the athlete-coach relationship on and off the track and the group has had a fair bit of success over the past 12 months or so.'
Photos below: Scotland B athletes Ben Greenwood, Philippa Millage, Michael Ferguson and Steph Pennycook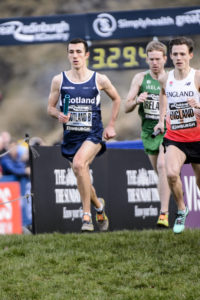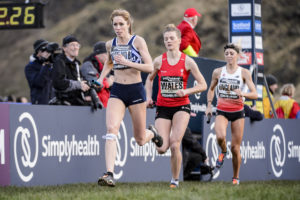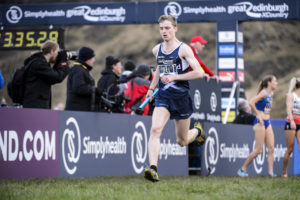 Tags: Ben Greenwood, International 4 x 1K Relay, Jemma Reekie, Laura Muir, Mhairi Hendry. Jake Wightman, Michael Ferguson, Neil Gourley, Philippa Millage, Steph Pennycook