London calling – for GB's Derek Rae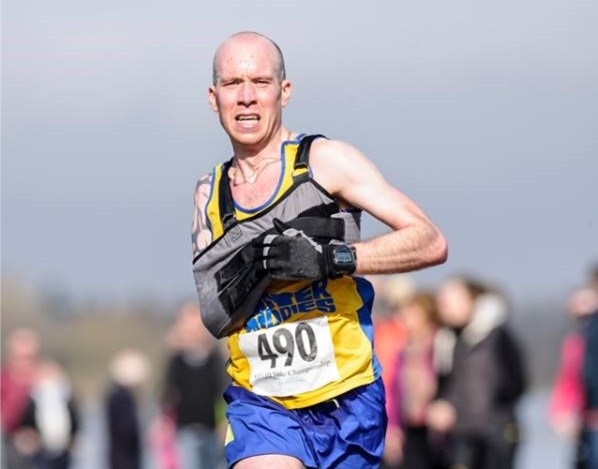 Derek Rae pictured at the Tom Scott 10-Miler – photo by Bobby Gavin
Rae called up for IPC World Marathon Champs
It is almost five years since the motorbike accident which rendered Derek Rae's right arm all but useless.
As he lay in a hospital bed, the summit of his ambitions in terms of running was to be able to support his wife Susan on some or her shorter runs in readiness for the Edinburgh Marathon.
When he did manage to return to training, completing the circuit of one football pitch felt like an amazing achievement for the Anster Haddies athlete who this week took delivery of a package of GB kit at his job in a Kirkcaldy car showroom.
Derek is bound for the London Marathon for the IPC World Marathon Champs as part of a British team which features David Weir.
In this blog post for scottishathletics, the man now coached by Fife AC's Ron Morrison and Olympian Donald MacGregor tells us why Sunday will feel extra special.
'All this is beyond my wildest dreams really.
'When I was in hospital after the accident (in June 2010), my wife Susan was training for the Edinburgh Marathon.
'I was desperate to get back to running and I said to her I'd love to be able to help her with her training – maybe running five miles or ten at the most.
'When I did get out, and we attempted a first run, I made it round the perimeter of a football pitch. I was as high as kite at that time just at achieving that distance and being back running again.
'Now, as we get close to the London Marathon and the IPC World Champs, I am somewhere between nerves and excitement at the moment – the excitement I think is taking over.
'I fly to London on Friday and then join the GB squad and take it from there. I am not exactly sure what will be happening as it is all new to me.
'Ron Morrison and Don Macgregor have been involved with me as coaches over the past year and it has made a huge difference. I basically trained on my own a lot prior to that and had a habit of just doing the same session as I had done the night before at the same time!
I've learned so much from Ron and Don and it has given me a much greater understanding of what I'm trying to do; varying the sessions, taking a rest day, doing an easy run. And they have been great with advice on the mental side, as well, in the countdown to this event.
'I was close to my PBs in the Alloa half marathon and the Tom Scott 10-Miler so I am in good shape. I know what I think I can run in London and I'm determined just to try and give it my best shot.
'On the start-list I have seen, I am ranked about sixth or seventh with a couple of guys at low 2.30s and one of them won the marathon at the Paralympics. But there is no need to think too much about that or get worried about expectation.
'I've been given a chance to represent GB in a World Champs and that's terrific. The kit arrived at my work at a car showroom in Kirkcaldy but I didn't open it until I got home and my wife Susan was with me. There was something of a fashion show in the living room!
'Then we put it all up in the spare room and, no matter how many times I walked in there and saw all the GB kit hanging up, it still didn't feel real.'
Good luck, Derek, and best wishes to all the Scots headed south to compete in the London Marathon this weekend. Meggan Dawson-Farrell and Mark Telford are among those involved in the wheelchair race.
It is always a special occasion for club runners and we know there are groups travelling from various parts of the country.
 Teenagers head for London Mini Marathon