Liverpool next for Bellahouston medallists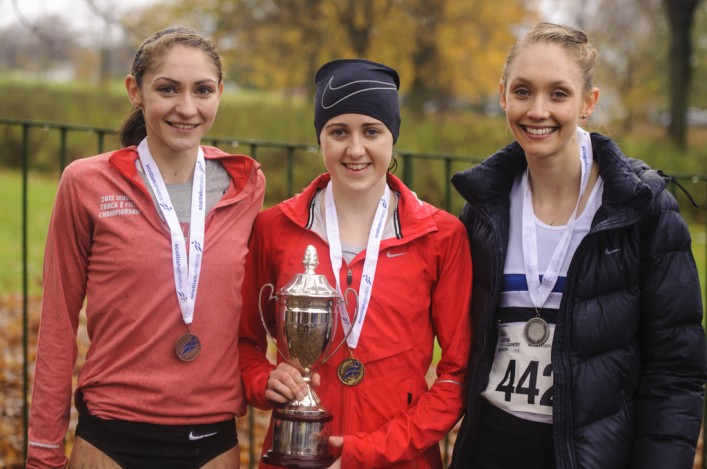 Laura Muir celebrates with silver medallist Maddie Murray (right) and bronze winner Josephine Moultrie (photo by Bobby Gavin)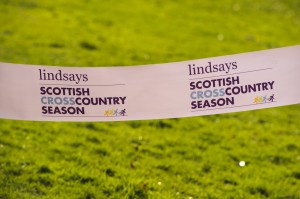 A mud-bath at Bellahouston has given Scotland's best cross country runners the ideal preparation for the Euro Cross trial in Liverpool.
Andrew Butchart and Laura Muir lived up to their status as pre-race favourites to take the Senior titles and both are now planning to compete in the British Challenge XC on Merseyside at the end of the month.
GB vests are up for grabs in the south of France and, while that was probably hard to envisage for most of a record entry field who braved mud, on-course water and torrential rain, it's clear one or two at the top end in the Senior/Junior races had the Euro Cross on their mind.
Central AC won the men's team title with Edinburgh AC taking the golds in the women's race, where there were four counters for the first time. GB international Jonny Glen won the U20 title with Gillian Black taking the U20 women's gold – with both fourth overall in fine performances.
In the age group races, there were some familiar names but also one or two new champions – including a fine success for Sol Sweeney of Perth Strathtay at U17 Men in a dramatic finish with club-mate, Ben Greenwood.
Again, it was a significant day for the health of the sport in Scotland – with 512 Senior athletes finishing their races as compared to 337 a year ago. In the Men's race, there were 339 finishers as compared to 227 in 2014 with the women's tally up by 63 from 110.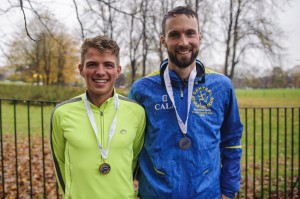 Central AC 1-2 – Andrew Butchart and Alastair Hay
Butchart headed team-mate Alastair Hay and Shettleston's Tewolde Mengisteab with the gold and silver medallist having recently been in Mallorca for a training break.
'It was a wee bit different to this,' grinned Andrew, after ploughing through the Glasgow mud and puddles. Dale Colley was seventh and Alex Hendry at 11 to cement the team win for Central AC.
'But I enjoyed that and it didn't feel too bad. It is always good to defend your title and I am pleased to have done that and we're delighted Central won the team race.
'Liverpool is the next big thing for me now as I have decided against the Leeds 10K this year. I'm not planning to race for the next three weeks – with the group we have at Central, you always get 'competitive' training in any case.
'I want to get in that GB team for the Euro Cross again and then see if I can improve on last year's showing. That's the immediate target for me and I'll be working towards those goals over the next few weeks.'
Central won the team race from Ronhill Cambuslang Harriers, with Shettleston taking home the bronze medals.
Muir took gold ahead of Edinburgh AC's Maddie Murray and third-placed Josephine Moultrie of VP-Glasgow. Ahtlete of the Year Muir clocked 13.16 for the 4K distance and won by 19 seconds.
With four to count in the Women's race this year, Edinburgh won the team golds thanks to Murray, Freya Ross, Rachael Dunn and Lauren Wilson. Fife AC were silver medallists and VP-Glasgow third.
'With the conditions it felt like more than 4K out there,' said Murray, another Euro Cross hopeful.
'I felt reasonably strong on the first lap but the mud does tend to take the speed out of your legs. I'm happy enough but would have liked to have been a bit closer to Laura. It just wasn't possible for me, though, and she had a good run.
'I am representing Scotland in the Leeds 10K next week and hopefully that sets me up well for Liverpool. The Senior Women race over 8k there and I've been factoring that distance into my training.'
Inverclyde AC's Glen won the U20 men's title from Kilbarchan's Euan Gillham and Aidan Thompson of Central AC. Black took home U20 gold from Steph Pennycook (Edinburgh Uni Hares and Hounds) and Annabel Simpson (Fife AC).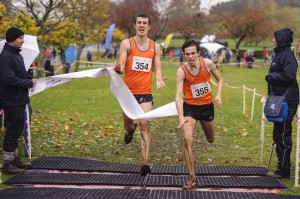 Dramatic finish to Men's U17 
Sweeney had to hold off the challenge of his club-mate, Ben Greenwood, on the line in the U17 men's race as Joe Arthur won the bronze. VP-Glasgow took the team title there from Ayr Seaforth and Fife Ac. Sweeney won it in 9.43 with Ben timed at 9.44.
Erin Wallace is a regular champion on these occasions and the Giffnock North AAC athlete took gold in the U17 Women's race as she was followed home by Central AC's Kate Gallagher and Lasswade's Lauren Dickson. Giffnock won the team golds from Kilbarchan AAC and Central AC.
Michael Simpson of Kilbarchan won the U15 Boys race in one of the tightest finishes of the day. Ronhill Cambuslang's Drew Pollock was just squeezed into third as Andrew McAngus of Kilbarchan came through for the silver while Simpson nudged in front of both of them. Kilbarchan AAC thus took team gold with Cambuslang second and Central AC third.
Edinburgh AC's Eloise Walker won the U15 Girls race from Sarah Tait (Lasswade) and Heather Barnes (Giffnock North). Barnes was a team gold medallist with Giffnock North, with Walker's Edinburgh taking the silvers and Inverclyde AC the bronzes.
With thanks to Gordon Curran (Maryhill Harriers) for some superb video footage from Bellahouston event:
Masters Results
W40
1 Shona Robertson (Shettleston)
2 Suzanne Gilmour (VP Glasgow)
3 Melissa Wylie (Dumbarton)
W50
1 Beryl Junnier (Falkirk VH)
2 Mary McCutcheon (Giffnock )
3 Patricia Milne (Central)
W60
1 Phyllis Hands (Motherwell )
2 Morna Fleming (Carnegie)
3 Irene Zingone (Giffnock)
M40
1 Kenneth Campbell (RH Cambuslang)
2 Chris Geenhaugh (Giffnock)
3 Gordon Barrie (Dundee HH)
M50
1 Andy Little (Shettleston
2 David Cross (EAC)
3rd Colin Feechan (RH Cambuslang)
M60
1 Robert Wilson (Greenock GH)
2 Andrew Law (VP Glasgow)
3 Michael Dunn (Greenock GH)
Tags: Andrew Butchart, Bellahouston, Central AC, Gillian Black, Jonny Glen, Laura Muir, Lindsays Cross Country Season