Learn to Run, or Walk for Fitness!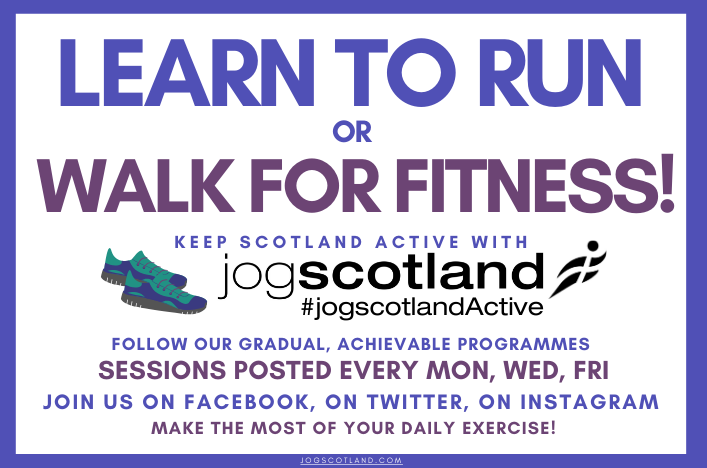 Download the programmes –
Walk for Fitness – Full Programme
Learn To Run – Full Programme
Do you want to use your daily exercise to improve your fitness?
To learn to run, or just to add a little more challenge to your daily walk?
Then jogscotland can help! We're making the jogscotland Learn to Run programme, and the Walk for Fitness programme, available to the public.
The jogscotland programmes are designed to be particularly achievable for people who haven't exercised much before, or who are out of practice.
Whether you've been inactive for a while and want to get fitter safely, whether you've tried Couch to 5K before and didn't quite reach the end, or if you simply want to take part in a structured, achievable online challenge, we're here for you!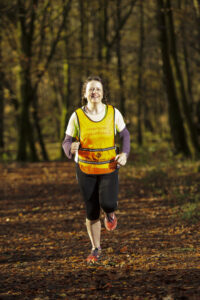 Physical activity is proven to have a positive impact on physical and mental wellbeing, so we want to help you get active and stay active, with the support of our partners SAMH.
Our beginner jogging programme progresses more gently than many other Couch to 5K programmes – you'll start with just 30 seconds of jogging, followed by a 30 second walk break, for 10 minutes. You'll build up gradually, and after 10 weeks you'll be able to run non-stop for 15 minutes.
For walkers, our 10 week walking programme can help you improve your fitness through lower impact exercise, with a structured schedule that builds you up gradually to a 30 minute brisk walk, enough to raise your heartrate and make you feel great.
Once you can walk briskly for 30 minutes, you're also in a great place to start the Learn to Run programme, if you decide you want to take that step next.
You can download the full programmes below to follow in your own time, or join us on facebook, Twitter or Instagram for prompts with each session, which we'll post every Monday, Wednesday and Friday, starting on Monday 6 April. You can join us in the comments by posting photos of your session, or just tell us how you got on! Use the hashtag #jogscotlandActive.
scottishathletics CEO, Mark Munro, said:  'The implications of COVID-19 are significant for us all. However, the current situation also presents an opportunity to make positive changes to our lives.
'From the perspective of scottishathletics and jogscotland, it highlights the importance of physical activity for improving our physical health, mental health and wellbeing. Our free to access walking and jogging programmes will help the wider public to get active and stay active at this time in a structured way.'
Exercise outside your home must be done in accordance with the latest social distancing guidance from the UK and Scottish Governments. Please ensure you maintain a distance of two metres from other people while you are walking or running.
Watch the mobility warm-up and stretch cool-down on YouTube with jog leader Lyn Bow, from Livingston AC's jogscotland group
More information on how you can join jogscotland and keep active can be found at https://jogscotland.org.uk/joggers/join-jogscotland/.
SAMH have created an information hub for advice on maintaining good mental health which can be accessed at  https://www.samh.org.uk/about-mental-health/self-help-and-wellbeing/coronavirus-and-your-mental-wellbeing.'
Tags: Couch to 5K, jogscotland, Learn to Run, Walk for Health