Laura and Sol land Scottish 3000m titles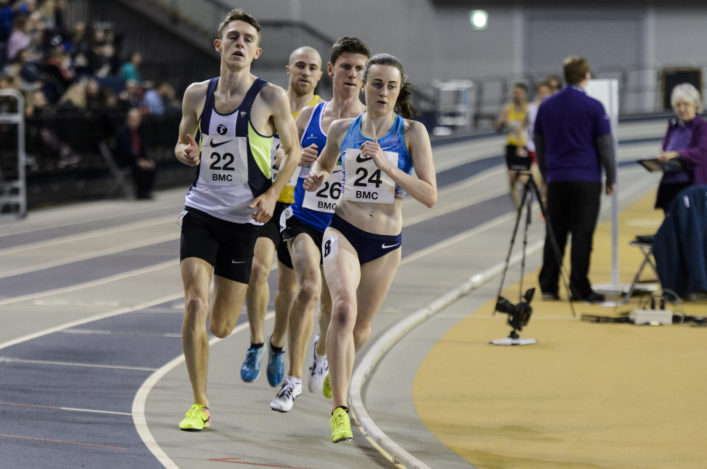 Photo by Bobby Gavin
Laura Muir swept to her second Scottish gold medal in two months yesterday as she put a marker down for an indoor season she hopes will culminate in glory at the World Indoors.
The double European Indoor champion won the Scottish 3000m title at the Emirates Arena in the GAA Miler Meet in a time of 8.37.21 only a couple of months after winning the Lindsays 4K title at cross country at Kirkcaldy.
Muir was happy enough with the time for a season's opener and in fact it was just a couple of seconds adrift of her time when setting a 3000m championship best winning European gold in Belgrade last March. It is also a British Milers Club indoor record at 3000m.
To make it a good day for Laura and coach Andy Young, training partner Sol Sweeney took the Men's gold in the same race with a PB of 8.19.03 as he saw off the challenge of  visiting Irish athlete, Daniel Mooney (8.22.13), and bronze medallist, James Donald (8.32.63).
'I am pleased with that for a start to the indoor season and it is about working towards March now for the World Indoors,' said Laura.
'The first kilometre felt a bit fast and I paid for that a bit more later on. I'd have liked to have run a wee bit faster but it is a decent start and it sets me up for other events coming up.
'I'm juggling things with my final year at Uni, of course, and there's a strong chance I will be taking my books to the World Indoors for the last bit of studying for my vet finals!'
For Glasgow Uni student Sweeney, of Perth Strathtay, the move to start training with Muir three months ago has paid off and his fine performance sets him up for a Scotland vest in the International 4 x 1K Relay at the Great Edinburgh XC this Saturday.
Photos by Bobby Gavin on Facebook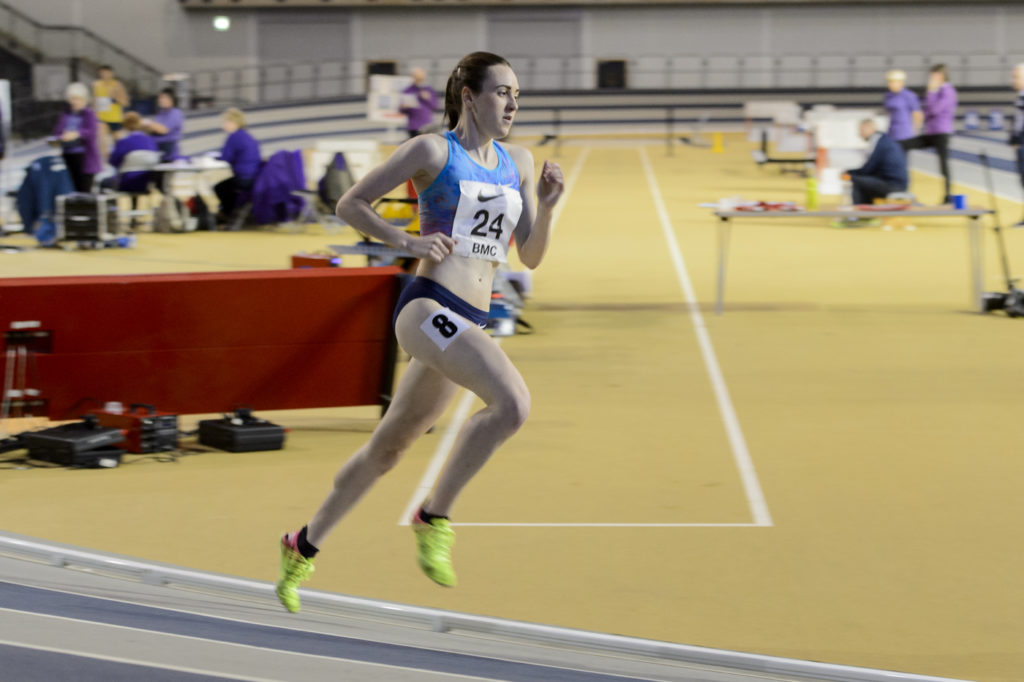 Photo by Bobby Gavin
There was an attempt at the World Champs qualifying standard for British Athletics in the main women's race, paced by Charlene Thomas.  But Welsh athlete, Melissa Courtney, fell short at 8.55.10 but was reasonably satisfied with an indoor PB early in the season.
'I am very grateful to the GAA for putting on the race because it is so difficult to get 3000m indoors,' she said. 'I ran 9.11 here last year so that's a big improvement and I'll have more opportunities to try and have a go at the standard for the Worlds in Birmingham.'
Courtney took the Scottish silver medal and English athlete, Katie Snowden, the bronze in 9.13.54 in the same race as Melissa.
A string of medals were awarded with the U20 golds headed to Aberdeen AAC's Naomi Lang  in 9.49.98 with the U17 title won by Lily-Jane Evans-Haggerty of VP-Glasgow.
Lasswade athlete Christian Graham won the Men's U20 gold in 8.50.86 – by the tightest of margins from Cambuslang's Jamie MacKinnon (8.50.96). The U17 Men's title was won by Falkirk Victoria's Kane Elliott in 9.03.59.
Once again it was a great meet with the Glasgow Athletics Association, the British Milers Club and scottishathletics working together for athletes and coaches and clubs with a view to raising standards.
From the very youngest competitors to the evergreen Colin Youngson, a V70 from Forres Harriers, it was another example of 'event specific' scheduling working well.
Masters medals will be listed at the foot of this report on Monday.
+++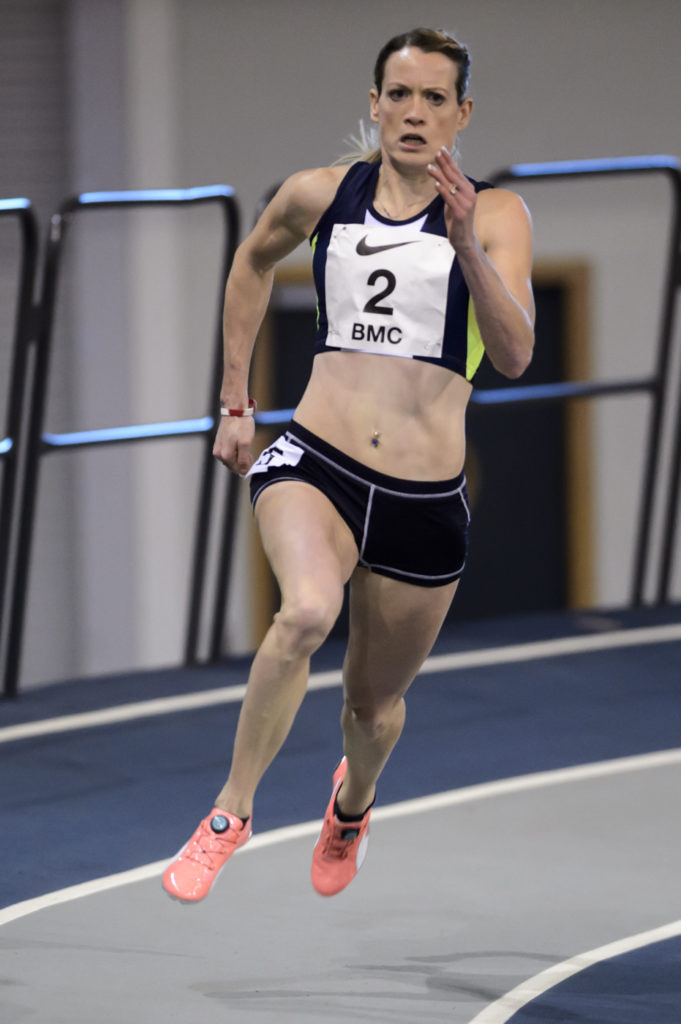 Photo by Bobby Gavin
Eilidh Doyle raced her first 200m for a number of years and was pleased with a time of 24.35 in a race won by Michael Dunn in 24.04.
'It is all about preparing for the World Indoors and the Commonwealth Games and that's why I wanted to make a start on the indoor season,' said Eilidh.
'I'm back for the National Open next weekend doing my first 400m and will see how that goes. We felt the 200m run would give me a good idea of what I will be looking for on the first lap next week.
'It's great to run in Scotland and I had a number of people asking for photos and thanking myself and Laura for supporting the meet. The bottom line is we're here and we need races so thanks to the GAA and the two boys (Dunn and Ben Coates) in the race and the Officils – everyone was really helpful and did their utmost for me.'
Jill Cherry came through well to win a 600m race in 1.31.39  from Kelsey Stewart.
+++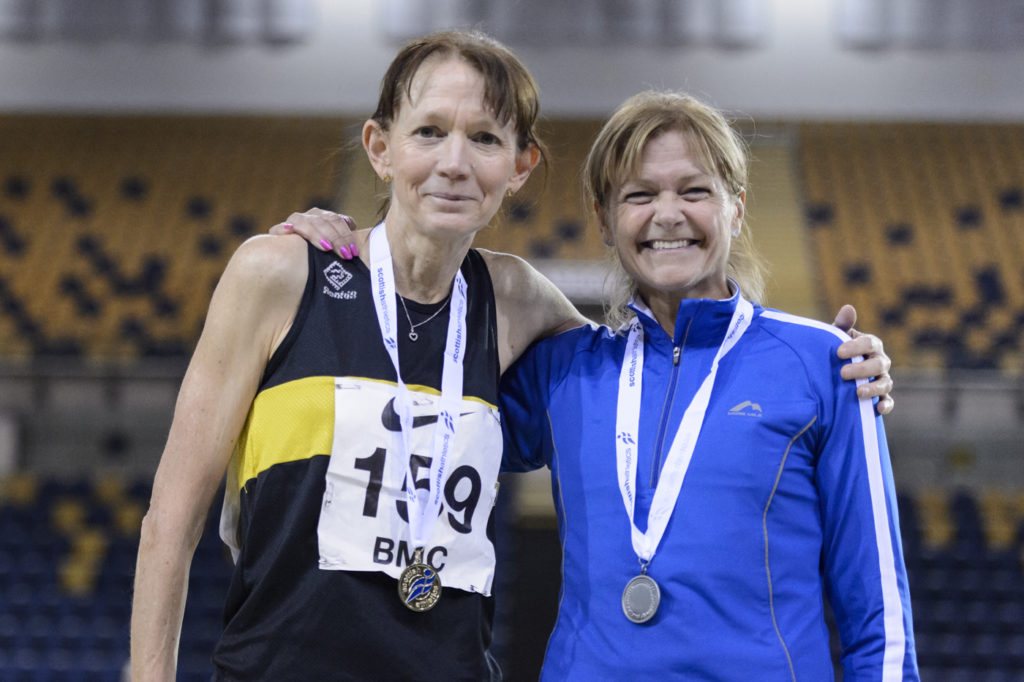 Fiona Matheson won V55 gold with Sharyn Ramage taking the silver medal (photo by Bobby Gavin)
There was another stunning run by Falkirk Vics athlete, the incomparable Fiona Matheson.
Fiona bettered her own time from this event last year to lower her W55 World Best for 3000m to 10.18.83 with a superb run that surprised her – and with her husband, Grant, setting a personal best a bit further back at 10.43.
'Sometimes you get a performance when you least expect it and I'm really chuffed with this one,' said Fiona.
'To come straight in and run that time surprises me because it's been difficult training through the Festive period and some tough weather. Grant and I found a hilly field near where we live in Falkirk for one session and then used a cleared mile path at Forth Valley Hospital to do nine x 1 mile reps!  He's getting quicker, now, so I need to watch my back!
SCOTTISH 3000M MEDALS AT THE GAA MILER MEET:
Senior Women:
1 Laura Muir 8.37.21; 2 Melissa Courtney 8.55.10; 3 Katie Snowden 9.13.54
Senior Men:
1 Sol Sweeney 8.19.03; 2 Daniel Mooney 8.22.13; 3 James Donald 8.32.63
Women's U20
1 Naomi Lang 9.49.98; 2 Kate Gallagher 9.52.73; 3 Lauren Dickson 10.17.40
Women's U17:
1 Lily-Jane Evans-Haggerty 10.08.89; 2 Kate Richardson 10.25.25; 3 Hannah Anderson 10.32.25
Men's U20:
1 Christian Graham 8.50.86; 2 Jamie MacKinnon 8.50.96; 3 Cameron Wright 8.53.86.
Men's U17:
1 Kane Elliott 9.03.59; 2 David Addison  9.10.73; 3 Joe Ewing 9.20.55
Men V35:
1 Darrell Hastie 8.51.06; 2 Chris Mooney 9.24.13; 3 Mark Gardner 9.24.46
Men V40:
1 Darran Muir 9.08.19; 2 Malcolm Lang 9.29.16; 3 Michael Healy 9.36.16
Men V45
1 Kerry-Liam Wilson 9.02.23; 2 Gordon Barrie 9.20.54; 3 Ian Johnston 9.34.58
Men V50
1 Brian Scally 9.48.58; Howard Elliott 9.50.24; 3 Ross McEachern 9.58.10
Men V55
1 Rob McLennan 10.15.58; 2 Ben Hands 10.38.89; 3 Grant Matheson 10.41.78
M60
1 Allen Marr 11.07.05 2 Tony Quinn 11.38.53
M65
1 Ray Aiken 12.48.98
M70
1 Colin Youngson 13.24.64
Women V40
1 Claire Thompson 10.59.45; 2 Cath Ferry 11.42.58
Women V50
1 Susan Ridley 11.33.50; 2 Julie Wilson 11.34.77; 3 Karen Dobbie 11.41.03
Women V55
1 Fiona Matheson 10.18.87; 2 Sharyn Ramage 12.56.73
Women V60
1 Phyllis Hands 13.36.11
*Big thank you to all our scottishathletics Officials and to the Glasgow Athletics Association and British Milers Club for help at Sunday's event.
Tags: Eilidh Doyle, Emirates Arena, Fiona Matheson, GAA Miler Meet, Laura Muir, Scottish 3000m Champs, Sol Sweeney