Josh thrilled with European U20 gold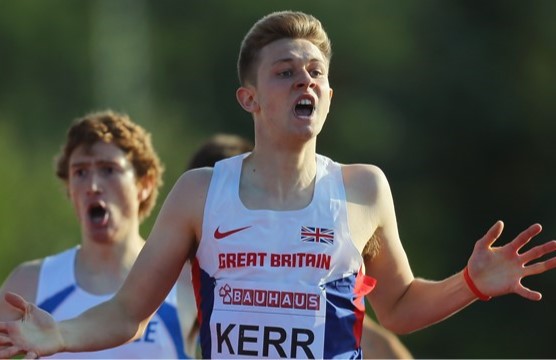 Magic moment – for Josh Kerr in Sweden 
British Athletics website report from Euro U20s
Josh Kerr led the way for the Scots at the European U20 championships in Sweden with a superb run to land 1500m gold.
The Edinburgh AC athlete followed in the footsteps of club-mate, Jake Wightman, to take the metric mile crown at U20 in Eskilstuna amid a stunning overall performance by the GB and NI team.
And three of Kerr's fellow members of the scottishathletics National Academy backed up his win with top five finishes as Jack Lawrie took fourth in the 400m hurdles and Mhairi Hendry and Kathryn Gillespie were each fifth in the 800m and 1500m respectively.
All at scottishathletics warmly congratulates those athletes – and 4 x 400m squad member Kelsey Stewart – and their families and coach teams in the certain knowledge their progress to this level comes as the result of serious hard work and total dedication to their sport.
All were still at school when the London Olympics took place so maybe, indeed, there is a legacy helping 'inspire a generation' as Seb Coe put it three years ago.
Josh of course is well-known to the athletics community in Scotland following a series of wins over the past couple of years at cross country under the tutelage of Dave Campbell.
With help and coaching support recently from Mark Pollard, the Edinburgh teenager has developed into a terrific middle distance talent and he won the European title with a superb finish that saw him surge from around sixth place to victory in Sweden over the last 200m.
'It feels so good – I've been looking forward to this moment for a long time,' said Josh, who won it in 3.49 .62. This after reaching a superb PB of 3.44  en route to selection for Eskilstuna.
'The goal for these championships before selection was confirmed and we arrived here was just to get to the finals here and then get as close as I could to the medals.
'But coming into this race I felt so strong and watching the heats back from Thursday and there wasn't much in it among a few of the guys. It was all about the racing and I had the right head on today and was able to come through.'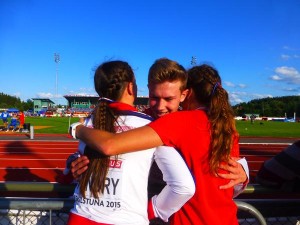 Congrats – Josh is welcomed after his win by Mhairi Hendry and Kathryn Gillespie
Mhairi Hendry is a VP-Glasgow athlete who is being coached by Andy Young and trains with Laura Muir.
Hendry came through her heat  in Sweden with a run of 2:06.21. In the final itself, the scot and fellow GB athlete Molly Long duly finished fourth and fifth in times of 2.06.38 and 2.06.00 respectively.
Mhairi said: 'There's a good vibe amongst the Scottish athletes in the team. Being in the National Academy together, we're all close so it's nice to have them as a part of the team. '
Lawrie had to come through heats and a semi-final in his 400m Hurdles and he was just outside the medals with a run of 52.09. The bronze was won at 51.74.
Coached by John MacDonald at Pitreavie AAC, the whole experience of reaching Sweden and competing there has been an important one for Jack – who had to PB to reach the qualifying standard for GB selection a week after winning the England Athletics U20 title.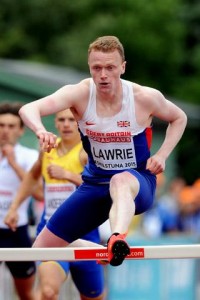 Jack Lawrie – Mannheim PB with GB en route to Sweden
As Jack put it neatly on Twitter: 'Tough to swallow a 4th place finish but really proud of the journey I've made over the last two years. It will do until next time.'
Kathryn Gillespie, the Central AC athlete coached by Amanda Gillespie, was part of a very strong British contingent who featured in the women's 1500m – which went as a straight final on Sunday afternoon. Bobby Clay and  Amy Griffiths duly took gold and silver with Kathryn coming home in fifth place at 4.25.64.
Aberdeen AAC athlete Stewart was with the GB women's 4 x 400m squad in Eskilstuna. Unfortunately, the Scot didn't receive a run as the event went to a straight final with the British girls claiming gold medals.
With thanks to Alex Ferguson of British Athletics for assistance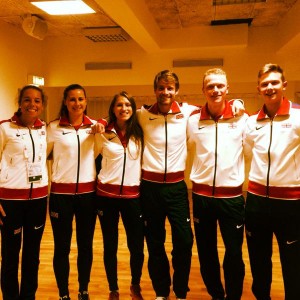 Scots in Sweden – with Allan Scott (photo via Kelsey Stewart Twitter)
Tags: Eskilstuna, European U20s, Jack Lawrie, Josh Kerr, Kathryn Gillespie, Kelsey Stewart, Mhairi Hendry