Jo and Stef add to medal tally in Berlin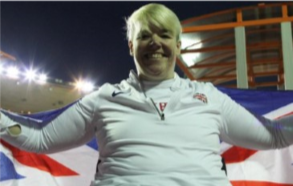 Jo Butterfield and Stef Reid added further medals to the Scottish haul with GB and NI at the final three days of the WPA European championships.
Maria Lyle, Ross Paterson and our race runners had already set the tone over the opening four days by claiming   .
Come Friday evening and it was silver for Butterfield in the Club Throw and Reid added a bronze in the long jump on Sunday – with Maria unfortunately having to pull out of her 200m race through injury.
With Libby Clegg in a captaincy role, and unfortunately no more than that due to an injury to her guide runner, a seven-strong Scottish contingent proved highly competitive – with all those athletes coming home from Berlin with medals to cherish.
Congratulations from all at scottishathletics to all these athletes and their families and coaches and indeed to all involved in Para athletics in Scotland (and beyond) at our clubs who have helped contribute in whatever way.
Here's the summary of the final three days of action:
For Jo Butterfield, who is coached by Phil Peat and Shona Malcolm, it was a return to the podium at the Championships, throwing a solid series, her best effort coming in round four, with a best of 21.53m. Zoia Ovsii (UKR) won the event in a world record of 24.31m.
'It has been a tough year; I had surgery earlier in the year, so I am just very happy to be competing here,' said Jo.
'I would have liked to have thrown a little further, but it is pretty good to be out there.
'I would have preferred the gold to be honest but wouldn't we all. But getting a medal for the team is a big thing. Whatever happened on the day, I was still able to come out here and win a medal. It has been a rough year and a lot of rehab, I still have more to come. To take that silver medal is quite special.
'I was perhaps a bit sluggish but I still lacking a bit of range so maybe that is why I felt like that. I was glad to get one really big throw out there where the speed was right but the others, I didn't feel like that.
'I have a lot of work to do over the winter to get stronger, but I look forward to doing that and coming back fighting in Dubai next year.'
Stef Reid, who is coached by Aston Moore, took to the long jump after competing earlier in the week over 200m. On the day, her 5.9m leap took bronze.
'It was a historic moment; Marie-Amelie [Le Fur, France] set a fantastic world record so I am really happy for her, but I really wanted it to be me,' said  Stef.
'We still have a lot of work to do so you have got to recognise that and take notes and see what they are doing and then you go back and make a plan ready for next year.
'I think I will need more speed. I think I will need to change a few things about my equipment – I think that has become quite obvious. But I think we are still in the mix. This has left a lot of fire in my belly – I don't like coming third.
'It's great to come away with hardware, it is a special thing and you should never discount it and you should always be grateful because often these events there are just seconds or centimetres between having something and having not.
'Sport is tough, there are very fine lines and I think you should celebrate every time you do get something.'
Ross Paterson, who is coached by John Kinder, took fourth place in the men's T38 200m final with a run of 24.96.
Tags: Berlin, Jo Butterfield, Maria Lyle, Ross Paterson, Stef Reid, WPA European Champs