Medal rush for Scots at the WPA Europeans in Berlin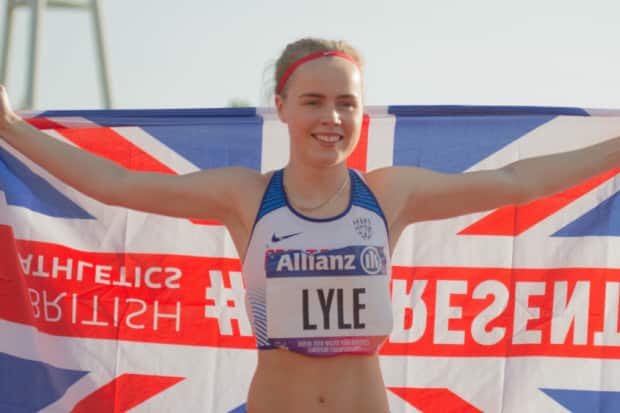 Maria Lyle celebrates her third European 100m title in Berlin
Strong Scots cohort heads for Berlin
Teenager Maria Lyle started the party for the Scots at the WPA European Championships in Berlin – with her third successive Women's T35 100m title in these championships.
Lyle set the tone on Tuesday evening as she stormed to gold with the 18-year-old making the most of her strong start to win gold by 0.73 in a time of 15.32.
Ross Paterson followed that with silver the following night on his GB and NI debut at a major championships and then on Thursday three Scottish race runners made joyful visits to the podium – as Hannah Dines and Gavin Drysdale each claiming gold and Kayleigh Haggo claiming a silver behind Dines, too.
Many congratulations to these athletes and their coaches and families on special moments in Berlin for Para athletics in Scotland.
Here's our summary of the performances over the opening four days of the WPA Europeans, with thanks to the British Athletics media team in Germany:
Dunbar athlete Lyle, who is coached by Jamie Bowie, stormed to her third third successive European title in the women's T35 100m.
'My start was good,' said 18-year-9ld Maria. 'It is not the time I wanted but I have been really struggling this season [with mental health issues] so for me just to get there, run and cope with the occasion was the main thing.
'People forget that it is a European Championships, it is a big deal for people like me. It is another learning step for Tokyo. It is not something you do often. I am pleased, it has been a great experience and I hope to learn from it.
'It is good to show Para sport in Europe and how it is becoming very professional and how you can't just rely on rankings, you have got to go out and do your best.'
+++
Come Thursday and GB and NI secured gold and silver in both the Men's and Women's RR3 100m; RaceRunning – the new discipline to these championships.
After both setting world records in their classes in the morning's heats, the Women's race was expected to be a competitive final and it certainly lived up to the billing.
Red Star athlete Dines was pushed all the way to the line by team-mate Kayleigh Haggo and stopped the clock in 19.00 (-0.7) – 0.13 seconds outside the world record she set in the heats.
'Having the opportunity to compete on the world stage is incredibly important and I am delighted to be given the opportunity and win gold,' said Hannah, who is coached by Janice Eaglesham.
'I think I am going to have to train pretty hard to stop Kayleigh grabbing that off me.'
Silver medallist Haggo, who is coached by Janice Eaglesham and set a time of 19.46, said: 'I can't put into words how much I enjoyed it. I went out there to have fun and I certainly did that. Hannah and I train together so it's really good having each other to push one another.'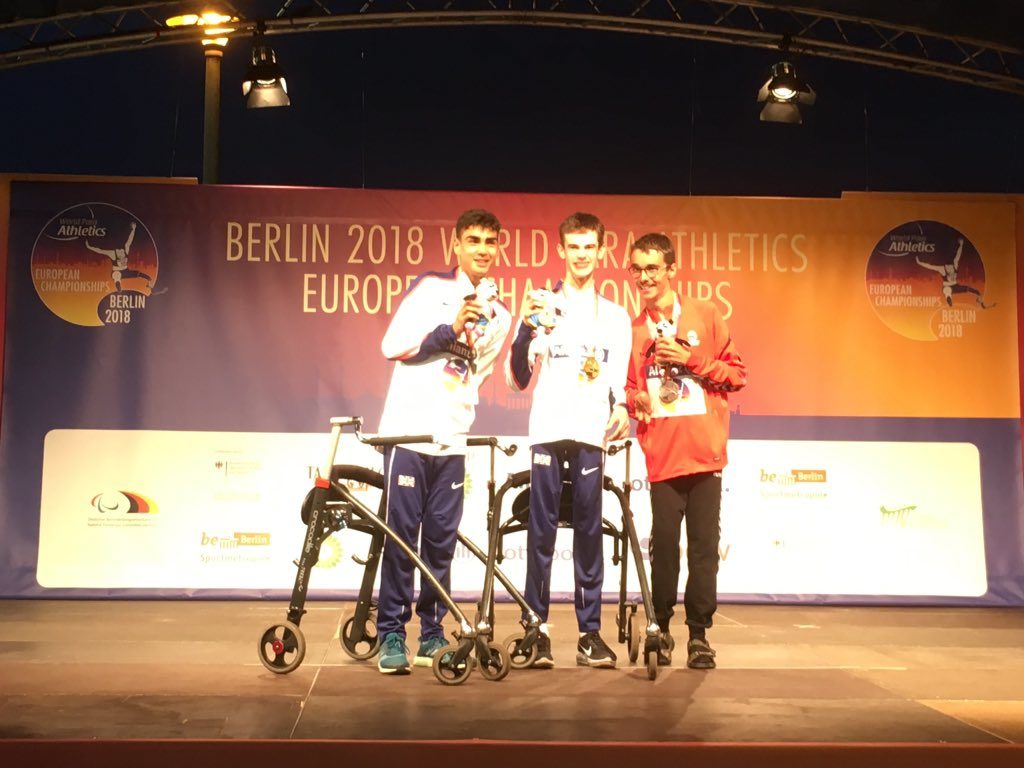 Gavin Drysdale on top of the podium in Berlin (photo via Twitter)
The next race on the track also saw a British one-two as Gavin Drysdale surged to victory in the men's equivalent, with Rafi Solaiman (Sheffield & Dearne) taking the silver medal, with the times 17.37 and 19.33 respectively. That was a World Record for Gavin.
Drysdale, coached by Janice Eaglesham, said: 'I felt like I had already won a gold medal just by being here so to win a real one is absolutely incredible.
'It means the absolute world to me to be competing here in Berlin, I still can't believe we are actually here, I am usually cheering everyone from my TV screen at home and now I am on the other side having just competed.
'Race running is one of the very few sports I can do independently so to be given this opportunity to come and compete at a European Championships and something which I can participate in independently and, more importantly, something I love has just been totally surreal.'
+++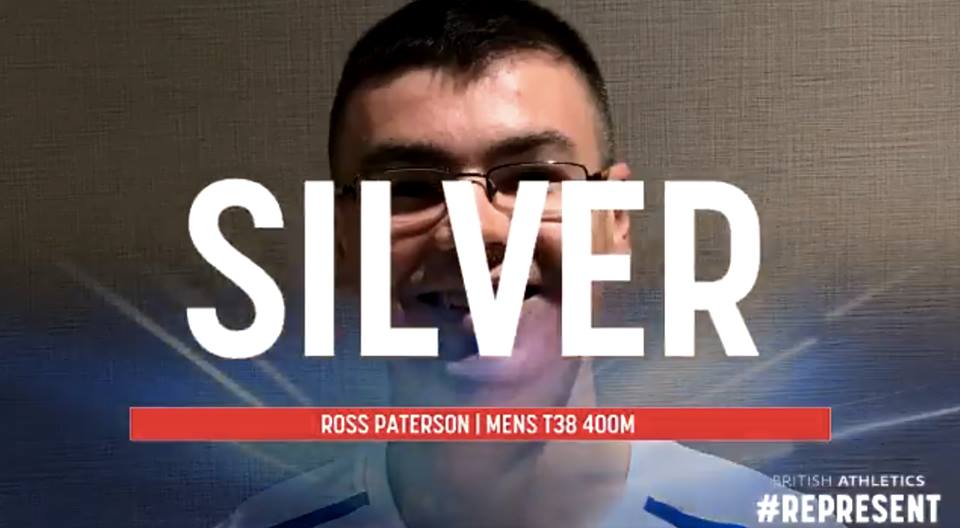 On Wednesday, Ross Paterson had taken a silver medal in the T38 400m final with a solid run of 56.82 ensuring he reached the podium in second.
'It is unbelievable,' said Ross, who is coached by John Kinder. 'Even just being here is brilliant so I am glad that I went out and put in a performance. I will come back next year even stronger. I knew what it would be like. It was a great race and hopefully I can come back stronger.'
Stef Reid finished fourth in her T64 200m final and has the long jump event to come on Sunday. Stef, coached by Aston Moore, clocked a time of 29.49.
Tags: Berlin, Gavin Drysdale, Hannah Dines, Kayleigh Haggo, Maria Lyle, Ross Paterson, WPA European Champs