Jemma lands two more British Records and Nikki clears 1.93m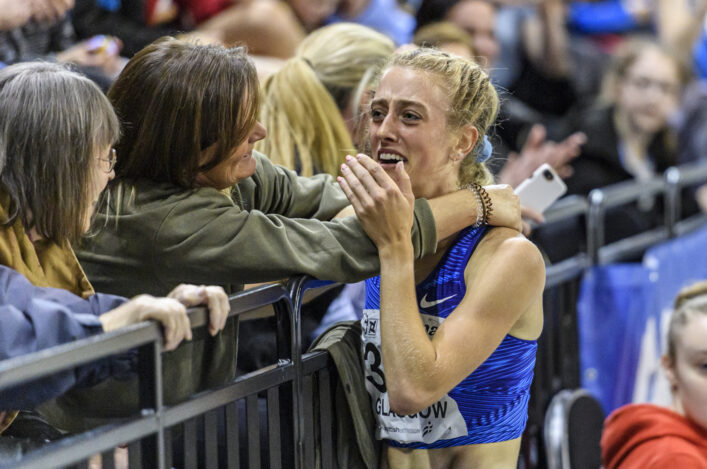 Jemma celebrates at the Emirates last week after her 800m run (photo by Bobby Gavin)
Jemma Reekie sets new British Record at 800m
Jemma Reekie claimed another two British Indoor Records only one week on from her unstoppable 800m run in Glasgow.
This time the young Scot was in action in New York and improved the UK marks for 1500m and the mile at the NYRR Millrose Games in New York.
On a remarkable day for athletics in Scotland, the feel-good factor stretched across the globe – with Nikki Manson breaking her own Scottish High Jump Record with a leap of 1.93m in the Czech Republic.
That gave Nikki a notable competition win in Hustopece and, back in New York, Chris O'Hare was another big winner as he took the Wannamaker Mile Men's race at the Millrose Games.
Jemma clocked 4:17.88 in the Women's Wannamaker Mile for third place, with the race won by Elle Purrier in an American record of 4:16.85 as Konstanze Klosterhalfen was second in a German record of 4:17.26.
Those times move Purrier and Klosterhalfen to second and fourth respectively on the world indoor mile all-time list, with Reekie now fifth on the global all-time rankings.
Their 1500m split times recorded en-route also rank them all highly in that world all-time list, with Klosterhalfen clocking 3:59.87, Purrier recording 4:00.20 and Reekie running 4:00.52 on the way to the finish.
Reekie had beaten her friend and training partner Laura Muir when breaking the UK indoor 800m record which had been held by Jenny Meadows and this time it was Muir's marks at 1500m and 4:18.75 for the mile which Reekie improved.
'I actually phoned my coach (Andy Young) and said, 'is that ok?' I had no clue of what a good mile time was,' Reekie laughed.
'But yeah, it's a new British record, so I'm really pleased that I've realised that's what happened. After running 1:57 (in Glasgow) I was like 'woah', can I do that again?
'I'm getting more confident. I tell myself, you deserve to be on this start line. I'm not a junior any more, I'm not an U23 any more, I need to step up to be a senior.'
Finishing fourth was another Andy Young-coached athlete, with Gabriela DeBues-Stafford breaking the Canadian record with 4:00.80.
+++
Nikki Manson has made a wonderful start to 2020 and she maintained that in fine style in the Czech Republic.
The Giffnock North AC athlete had cleared 1.92m at our 4J Studios Senior Champs a couple of weeks ago to set a new Scottish Women's Indoor record.
And she pushed that up again – this time clearing 1.93m to take the victory in a strong competition.
Well done to Nikki, her family and coach Ray Bobrownicki on recent top performances.
+++
Back in New York and there was further Wanamaker men's mile success for Reekie's fellow Scot Chris O'Hare as the European indoor 3000m silver medallist clocked 3:55.61 for victory ahead of Australia's Olli Hoare with 3:56.47.
US-based O'Hare, who claimed his first Millrose Games victory in 2018, then celebrated his win with his two young sons joining him on the track.
+++     
Tags: Chris O'Hare, Jemma Reekie, Millrose Games, Nikki Manson