Hoka Highland Fling preview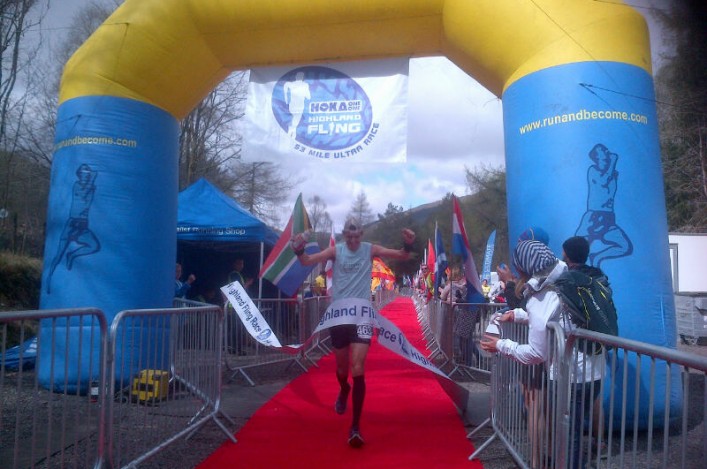 Matt Laye cross the finishing line to win last year's race
Many of the UK's best ultra-distance runners will toe the line on Saturday for the 11th Hoka Highland Fling Race.
As host to the UK Trial and Scottish National Ultra Trail Championships 2016, the depth of talent is arguably the best that any UK ultra has ever seen.
Since its humble beginnings in 2006 – when only 18 people entered – the race has grown to be one of the biggest ultra-distance events in the UK.
This year, over 750 runners (with an additional 200 relay runners) will take to the West Highland Way, Scotland's oldest official long distance footpath, and race the 53 mile route through The Loch Lomond and The Trossachs National Park to reach the finish line in Tyndrum.
The distance is long enough to ensure that experience and pace judgement will shine through, but short enough to unearth some new raw talent.
The race also attracts a large number of international athletes, keen to take in the scenic Highland course.  Last year the race was won by American Matt Laye.
In 2014, Norwegian Sondre Amdahl was first home. This year we have representation from Norway, Sweden, France, Germany, Poland, Brazil, Hungary, South Africa, Australia, the USA and more.
We are excited to see what American Devon Yanko can bring to the women's race. The baker from California has competed in over 30 ultras, including running on the USATF 100k National Team, taking 3rd at the prestigious Two Oceans Marathons and 5th at Comrades. Last year, she finished 2nd overall behind West Highland Way Race record holder Paul Giblin at the Javelina Jundred 100 mile.
In 2016, she has already won the American River 50 mile and the Sean O'Brien 100km Trail Race.  We think Devon could challenge Lucy Colquhoun's course record of 8:10:03, which has stood since 2010.
Also fighting for podium places will be GB Trail Team athletes Sally Fawcett and Lizzie Wraith.  Sally was second at the Hoka Highland Fling in 2014 with an impressive 8:39.
Both will be keen to get back on the GB team for the Trail World Championships in Portugal this October.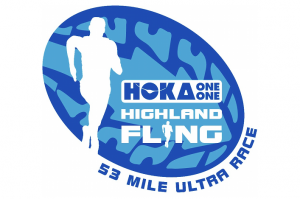 The rest of the field is wide open. GB Trail Runner Bonnie Van Wilgenburg and local athletes Caroline McKay and Nicola Adams-Henry (who finished 2nd and 3rd respectively in under 9 hours last year) will both be looking for a top five finish.  Katie Samuelson and Sophie Mullins will be hoping their legs have recovered from representing their home countries at last month's Anglo Celtic Plate 100km.
Debbie Martin-Consani, GB 24-hour runner and 2nd behind Sally at last year's Lakeland 50 will be looking to perform well on her home turf.  Triathlete turned ultra-runner Mel Varvel might mix things up at the front end too.
Other notable starters in the women's race include: Helen Pickford, Lorna McMillan, Linn Erixon Sahlström, Myvanwy Fenton-May, Joanne Thom, Sophie Grant, Heather Mochrie, Morgan Windram Geddes, Emma Wright, Helen Leigh and Clara Horswell.
The men's race is stacked. Unfortunately course record holder Lee Kemp has withdrawn with injury, leaving at least 10 athletes who will be vying for that record of 7:02:50 and the UK Champion title.
Local man and GB Team mountain runner, Joe Symonds is favourite to win.  His list of achievements are endless and he has made the podium in most of the hill races he's competed in.
With a marathon PB of 2:20 and a recent win at the D33 in Aberdeen, he's also got the leg speed to do some damage on the flat, too.
Kim Collison was the UK Ultra Trail Champion in 2014, after winning the Lakeland 50. He ran on the GB team at the Trail World Championships last year and placed top 20 at UTMB and TransGranCanaria.
GB 24-hour runner, Robbie Britton took world bronze and led the men's team to gold at the 24-hour World Championship in 2015.  He was second in the 2014 West Highland Way Race with an incredible time of 14:47.
Jez Bragg is practically a household name when it comes to running on the West Highland Way.  The North Face runner and previous West Highland Way Race, HOKA Highland Fling and Devil o' the Highlands course record holder, he will have his eye on a podium place.
Last year's Lakeland 100 winner Paul Tierney and Lakeland 50 winner Jayson Cavill will both be looking to recreate their Lake District performances. Both performing well at Skyrunning races, they will push the front runners on the hills.
Local lad Donnie Campbell  will be battling it out for UK and Scottish Trail Championship medals. Donnie was 3rd in last year's HOKA Highland Fling with 7:17 and has a list of impressive wins including at England's 3×3000 80K Ultra Trail and Turkey's Iznik Ultra.
Irishman living in Scotland, Eóin Lennon was 4th in last year's Highland Fling with a PB of over an hour.  Neil MacNicol ran some impressive times at all three of the races on the West Highland Way last year, giving himthe record for the unofficial Triple Crown.
And Nathan Montague will be hoping to find his hill legs after representing England at the 100km in Perth last month.
Other names of interest include: Martin Cox, Kevin O'Donoghue, Grant MacDonald, Hugh McInnes, Alan Ross, Damian Hall, Chris Brookman, Rob Soutar and Richard Waldron. 
For further information, visit www.highlandflingrace.org
With thanks to Debbie Martin-Consani