Glasgow 2014: Athletics Day Two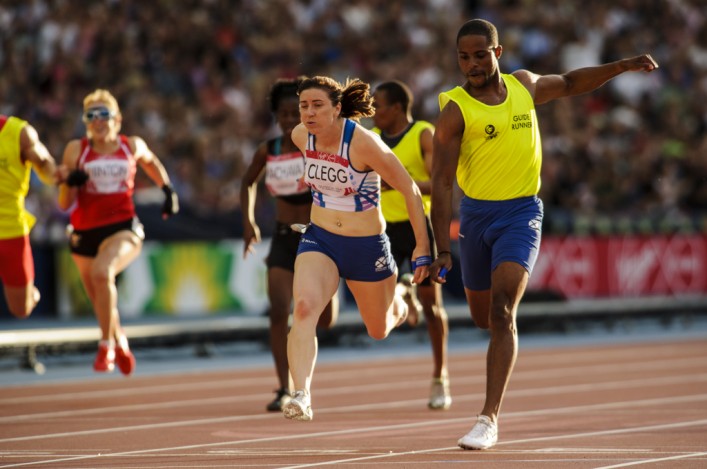 Golden moment for Libby Clegg at Hampden
Libby Clegg claimed Scotland's first Gold medal at a Commonwealth Games for 20 years – since Yvonne Murray won the 10,000m back in 1994.
The Para sprinter and guide runner, Mikail Huggins, lapped up the moment at Hampden with their World Lead 12.20 seconds securing emphatic success in the T12 100m final.
It was a decent day all round for Team Scotland, with Susan McKelvie (sixth) and Rachel Hunter (seventh) reaching the top eight in the women's hammer final and Mark Dry, Chris Bennett and Andy Frost all qualifying for the men's hammer final.
Laura Muir (1500m) and Ray Bobrownicki (high jump) both have finals to look forward, as well, while Jason MacLean savoured a PB of 12.93 in his T37 final after coming through his 100m heat earlier on Tuesday. Jason finished fifth in a fine performance by the Inverness Harriers athlete.
Clegg took pride of place on the podium with a raucous Hampden crowd delighting in her success.
'I was totally aware of the crowd beforehand and it was so uplifting,' said Libby.
'I didn't feel huge pressure over the past couple of years to win this medal but I was definitely a little bit nervous this morning before the heat.
'We've ran well in both races today and I am happy with the performance and the time. I didn't realise it was Scotland's first track Gold at a Commonwealth Games since 1994 (Yvonne Murray). Wow. That's a big thing.
'The lap of honour took a fair bit of time because we kept meeting people. I met old friends from school, my mum, my dad, my boyfriend, family of Mikail (Huggins, guide runner) and everyone was so happy for us. We will savour this moment and then look to the Europeans.
Mikail Huggins (Guide Runner) said: 'We did it together and we ran well. At about 60m I had the feeling it was in the bag. I just told Libby that we could keep it controlled and we'd win.
'The people of Scotland have been great for me and I've loved the support.'
In the women's hammer final won, McKelvie threw 63.76 in the women's hammer final with Hunter one place below her at 63.29. Myra Perkins finished 10th with 60.16 in her third round to narrowly miss out on the additional three throws for the top eight.
Susan said: 'I am 5ft 3in and working full-time so I'm pleased to be sixth in a Commonwealth final. I had a look at the women around me and they are full-time, class athletes.
'I'd love to have managed a PB and I did think I could get that but I'm pleased to be top Scot. I will carry on throwing because I love doing that for Edinburgh AC.'
Rachel said: 'If you had told me a year ago I would be at the Commonwealth Games and finish seventh I would have been delighted. But it was not a pipedream, it was a definite target so I am pleased.
'It has been awesome to compete here against some really top athletes. And I know I can learn for this because it has been way bigger than other competition I've ever been at.'
MacLean ran 12.96 in his heat – one hundredth outside his PB – and then came up with 12.93 in the final for fifth place.
Three Scottish men will contest the hammer final with progress from qualifying by Mark Dry, Chris Bennett and Andy Frost.
Dry made it with 71.62 in his first throw to directly qualify. Mark said: 'I had to take a deep breath. The dream scenario on these occasions is one throw and then you are through. Now I've had a taste for it and we will see what happens in the final.'
Bennett went through with 68.01 and Frost came up with 66.54 on his second throw to join his Team Scotland team-mates in Tuesday night's showdown.
Chris said: 'There was a problem marking the first throw so they gave me an extra one at the end. That helped because I came up with 68.01. It was all about making the final and I'm looking forward to that now. This is my town, my rules and I can't wait.
Andy said: 'I did what I had to do. I was a bit frustrated come the last one but it has proved enough. It is good for hammer throwing in Scotland that we've three in the men's final and in the women's.'
Lewis Clow ran 13.41 to miss out on T37 100m final.  Lewis said: 'I will take it on the chin and try and get better. It is my first major competition – I was a footballer and switched my attention to athletics about 10 months ago.
'I will stay with it and see if I can improve. The atmosphere was electric, I could hear the roars from the Call Room.'
Laura Muir, through to 1500m final in third in 4.05.19, will be back in action late on Tuesday evening – third fastest in qualifying.
Laura said: 'The noise was something else. It was like a wave of sound following me round the track. Even when I was walking out I could hear the cheers of come on Laura and that was before I lined up.
'I am happy with today. My focus is Tuesday now. I am really looking forward to it.'
In the high jump, Ray Bobrownicki progressed with 2.20m to reach Wednesday's final but David Smith exited with 2.11m his best clearance. Allan Smith had withdrawn himself from competition
Bobrownicki said: 'I'm pleased with that. I've put everything into peaking for Monday and Wednesday this week and hopefully things can keep going according to plan.
'It is because I am in Scotland that I am high jumping. I lived in Glasgow near the Kelvin Hall and went along there and started working with coach John Melvin.'
David Smith, out of high jump with 2.11 clearance: 'It is not what I had hoped for. I will keep working and I will be at the Scottish Champs at Kilmarnock. Everyone tells me there is a big jump in there and I believe that, too. It was a good experience to compete at the Games at my age and I will learn from it.'
*Hampden pictures by Bobby Gavin
Tags: Andy Frost, Chris Bennett, David Smith, Glasgow 2014, Jason MacLean, Lewis Clow, Libby Clegg, Mark Dry, Mikail Huggins, Myra Perkins, Rachel Hunter, Ray Bobrownicki, Susan McKelvie