Glasgow 2014: Athletics Day Three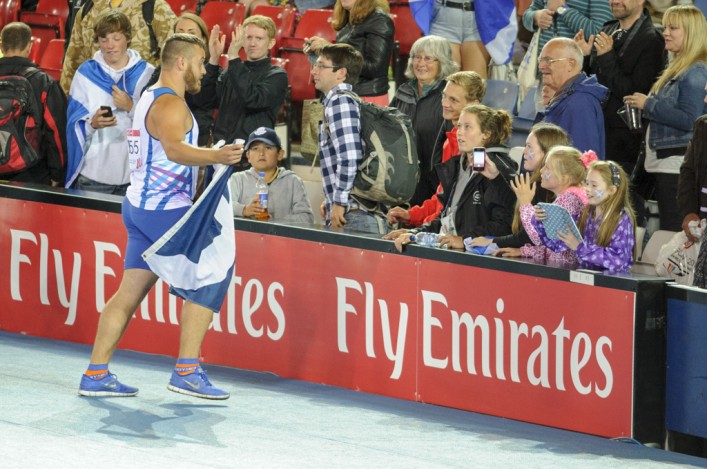 Mark Dry claimed Scotland's second track and field medal in 24 hours at the Commonwealth Games – with bronze in the hammer.
The 26-year-old from Burghead, Moray, edged out Olympian Alex Smith for third place in the competition with his best throw at 71.64m.
It is Scotland's first field medal in the Games for 20 years since Geoff Parsons in the high jump.
Dry had wanted gold at Hampden but ended up doing a lap of honour as the stadium emptied on a night when Laura Muir missed out on 1500m glory with a stumble on the final bend.
'I am extremely happy to be a medallist at the Commonwealth Games in Glasgow,' said Mark.
'In front of my home crowd, that is partially a dream come true. But I really wanted to win here. It was a good competition and everyone did their best but I wish I had thrown it a bit further.
'The other guys threw well and hats off to them. I am honoured to be in this position. I could have failed to qualify, I could have been injured or not here for whatever reason.
'Now I have a medal at the Commonwealth Games in my own country and I'm proud of that and having a Scotland flag around my neck with the vest on.
'My family are here and they are delighted with me and for me. I went around Hampden and tried to savour it a wee bit.'
Andy Frost finished ninth, missing out on the final three throws with Chris Bennett at 12th place.
Muir, who finished 11th in her 1500m in 4.14.21, said:  'I felt I was in a perfect position with 100 metres to go.  I was ready to make my move and my leg got clipped and I lost my pattern a bit. It couldn't have come at a worse time.
'I felt so strong in this race, enough that I could have medalled.  It is really disappointing.
'I will now speak with my coach and we will decide if my legs can cope with the 800m tomorrow.  On a positive note I was so proud to run this race and the atmosphere in the stadium really lifted me.'
Beth Potter had delivered her a half-hour to remember in the 10,000m final.
The 22-year-old former National Cross Country champion sliced 12 seconds off her PB to finish fifth in 32.33.36, as English athletes Kate Avery pipped her for fourth on the line in a race won in an equally dramatic finish by Joyce Chepkirui in a Kenyan 1-2-3.
Beth said: 'That was amazing – it was the best race of my life. I have managed a PB and fifth in the Commonwealth final – almost fourth. I'm very happy with that.
' The crowd were roaring me on and leading at 10 laps to go was good – but you know there's an awful long way to go at that stage. Kate pipped me on the line, I just didn't realise she was finishing so fast.
'I've the 10,000m coming up at the European Champs for Team GB and I will talk to my coach, Mick Woods, now about the 5000m here on Saturday. We've yet to make a decision on that.'
Eilidh Child had earlier eased into the 400m hurdles final with a winning run in her heat at 55.56.
The Delhi medallist feels she may need to break her own Scottish record if she is to beat Jamaican Kaliese Spencer in Thursday's final.
Eilidh said: 'I think I will have to get under 54 seconds and PB on Thursday (won win) because Kaleise Spencer has run a second faster than me in the past. We will see what happens. I'm sure the crowd will help me.
'My schedule has changed three or four times now. I was due to race three days in a row but now there is no semi-final on Wednesday. The way it works out I will be able to chill tomorrow and gear up for Thursday night.
'I tried not to react too much with the crowd and focus on my race – but I couldn't help waving back because the roar was so loud. My coach, Malcolm Arnold, is making me think only about the lane and 10 hurdles and block out everything else. I was a little nervous but I am rooming with Laura Muir and quizzed her a bit about what the atmosphere is like.'
Guy Learmonth made it through his 800m heat into the semi-finals. Guy was fourth fastest in David Rudisha's heat but, after the other three races had unfolded, the Scot was actually the fourth fastest of those to progress at 1.47.85 seconds.
'I've never experienced anything quite like that crowd – not even in the Diamond League or anywhere else,' said Guy.
'There was a massive roar for David Rudisha but I think as the Scot it was even louder for me. That was quite nice! I always wanted to race him and now I just want to do it again.
'I was checked with 120 or so to go and I've spike marks high up my thigh but it is not the schools sports, it is the Commonwealth Games.'
Wheelchair pair Meggan Dawson Farrell and Sammi Kinghorn both qualified for the T54 1500m final  with 3.58.78 and 4.03.41 respectively.
Meggan said: 'I've kept going right to the end and I'm happy to be through. I actually didn't hear the crowd – I just 'zone out' when I am racing and hear nothing. All my family were here, though, and I hope I have done them proud.'
Sammi said: 'I'm pleased with a direct qualification and I think there's plenty left in the tank for the final. That was always my goal and we have a day's rest now before Thursday. I am seeing my family tonight and that will give me a bit of a break from the Village and Commonwealth Games and maybe bring me down to earth a wee bit.
'I saw my mum and dad when we went from the warm-up track to the stadium itself and they were wearing 'Team Kinghorn' shirts and everything. Inside, the atmosphere was everything I'd imagine and a whole lot more.'
Tags: Andy Frost, Beth Potter, Chris Bennett, Eilidh Child, Glasgow 2014, Guy Learmonth, Hampden, Laura Muir, Mark Dry, Meggan Dawson-Farrell, Sammi Kinghorn