From Shetland to Shettleston – well done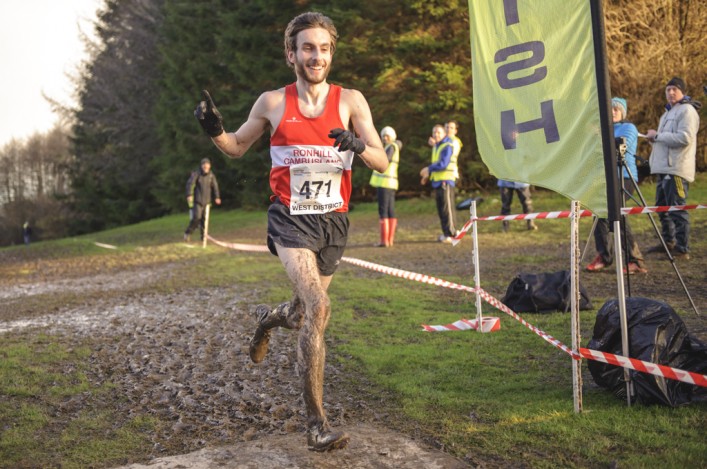 Kyle McLellan of Cambuslang wins West District XC Senior Men's race – photo by Bobby Gavin
West District Champs 2015 Results 3
Here is a late result from the weekend: scottishathletics District XC Champs 1 Hurricane Desmond 0.
As the weather battered the country from Friday to Monday and a number of Scottish sports fixtures fell by the wayside, cross country prevailed in the North at Elgin and the West at Bellahouston!
Many congratulations to all involved, in whatever way, in these LindsaysXC events with the dedication of volunteers and commitment of our clubs so firmly to the fore at both venues.
We're hearing, indeed, of a 17-hour boat journey by Shetland AC to make the North District XC Champs with a couple of medals and some fine performances duly returning back over the sea. That is above and beyond.
In Glasgow, there was a certain relief amid extreme mud at Bellahouston that the overhead conditions were near-perfect with no rain (barring a brief shower late in the men's race) for about the only time in about a full week!
So thanks to those who contributed to the annual battles and good luck to those in the East planning for Saturday's event at Livingston – the Forth Road Bridge closure notwithstanding.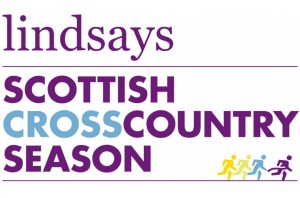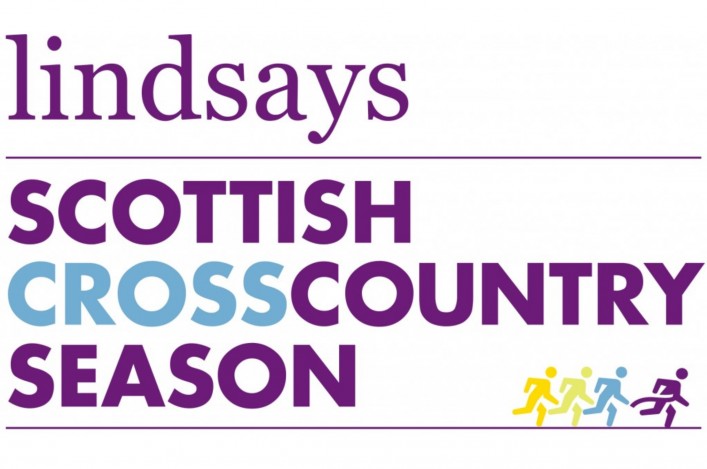 North District XC
Photos from Elgin by Grant Nairn
Despite severe forecasts, the atmosphere at the North District Championships could not be dampened and the event was a massive success with increased numbers in most age groups and a high standard of competition with lots of close finishes. The talk was all about Inter-district selection as well, so there was a lot to play for.
It was also a day when the Senior titles delivered success which can aptly be described as 'his and hers' with Mark Mitchell taking the Men's race in a great finish as his partner, Eilidh Mackenzie, won the Women's gold for the fourth time.
The U13 Championship went to Catriona Garvie, Inverness Harriers, and Joshua Milne, Moray Road Runners with both clubs also securing the team titles.
The U15 Championships were won by the favourite Grace Whellan, Moray Road Runners, and Kieran Chalmers, Inverness Harriers with Inverness also taking 2nd place through Mackenzie Brown and Shetland AC's Seumas Mackay taking bronze. Team titles went to Inverness Harriers in both the girls and boys races with 1 point splitting the first three teams in the boys race.
In the U17 Women's race, Anna MacFadyen, Forres Harriers, ran an outstanding race to beat Mary MacIntosh who took the Under 20 title.  The bronze medal placing was decided on the last climb with Lauren McCulloch, East Sutherland AC, taking the final medal placing and securing the team title.
The U17 Men saw a runaway victory for Finlay Todd, Ross County AC, ahead of Cameron Main, Moray Road Runners, in silver and Aiden Ferry, Inverness Harriers in bronze place. Team gold went to Inverness once again with East Sutherland AC and Ross Country AC taking silver and bronze.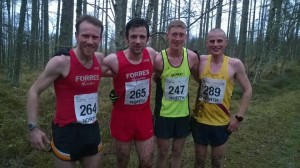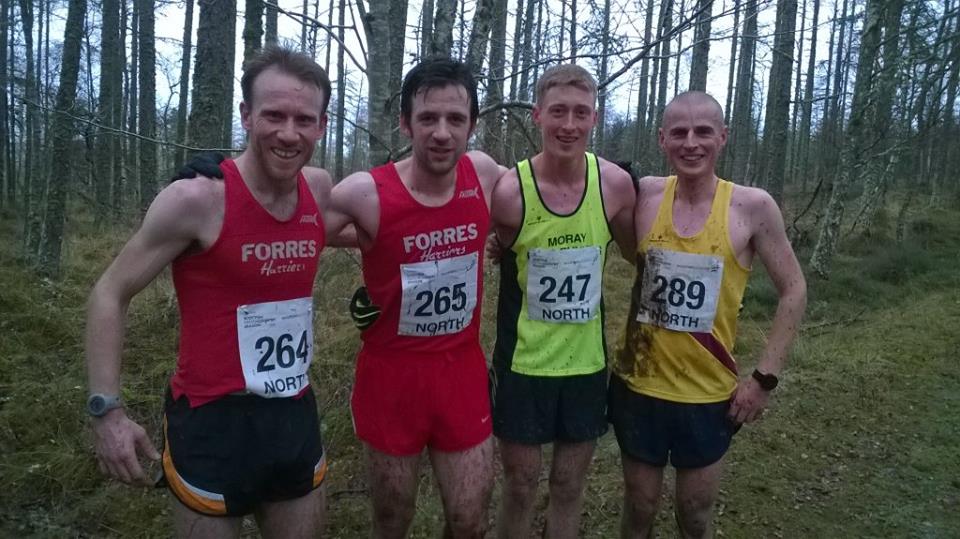 Top four in the Men's race – with Mark Mitchell champion again
The U20 Men's race saw two North athletes return from the States to battle out on their local course and the race lived up to expectation. Sean Chalmers, Inverness Harriers took a clear victory eventually from Connor Maclean, Stornoway RAC with Cameron Young, Inverness Harriers in third place.  The level of competition in this race was extremely high which was pleasing to see in this age group.
The Senior Women also did not disappoint with a exciting battle between eventual winner Eilidh Mackenzie, Stornoway RAC from Sarah Liebnitz, Inverness Harriers, with Rhona Grant, Highland Hill Runners taking the bronze place.  Fourth place winner saw an excellent run by Sheila Gollan, East Sutherland AC take the Masters O50 category.
Another medal for Shetland AC came with Charlotte Black, Scottish Ultra Internationalist securing gold in the Masters category ahead. The team placings went to Inverness Harriers in both the Senior and Masters categories with Highland Hill Runners and Forres Harriers taking second and third.
The Senior Men's race also had a field packed with high standard athletes and internationalist delighting the spectators. Mitchell won it from John Newsom, of Inverness Harriers with Kyle Greig, Forres Harriers, in third.
As in the women's race, the Master O50 winner came in ahead of the Masters winners in the shape of Mike Stewart, Keith and District AC. Masters accolades went to Gareth Jenkins, Moray Road Runners. Inverness again picked up the Senior and Masters team prizes with Forres Harriers and Highland Hill Runners taking second and third.
Many thanks to everyone at Moray Road Runners for a fantastic event and to all of the athletes and officials for a very friendly and sporting Championships.
With thanks to Sophie Dunnett
+++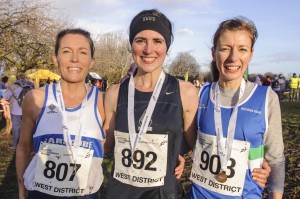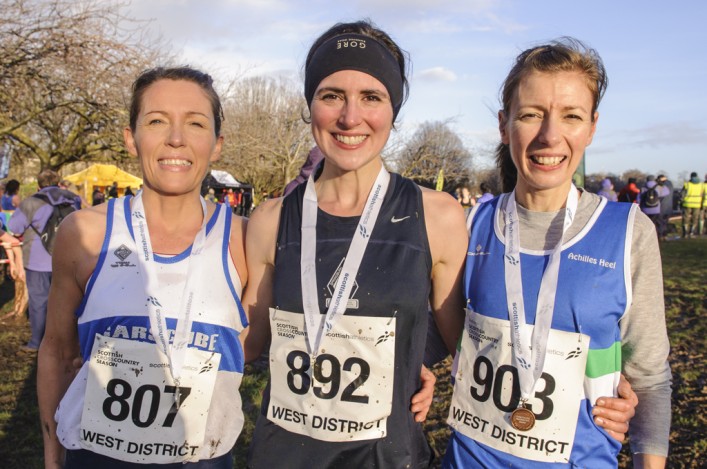 Women's podium at the West District XC – photo by Bobby Gavin
West District XC 
Bellahouston photos by Bobby Gavin
If it feels like Shettleston Harriers are rarely outside the medals in the Senior races at the West District XC in team terms then the facts back up the assumption.
Only twice in the past three decades or so has that happened – and Sunday at Bellahouston was the rule rather than the exception.
Shettleston women, in fact, currently rule the roost in the team race at the West with their efforts through the cloying mud enough to make it four-in-a row and join their men at the top of the podium.
Michelle Sandison of Springburn Harriers won the individual gold and she was followed home by two vets as Lesley Chisholm of Garscube took the silver and Suzanne Gilmour of VP-Glasgow the bronze.
Shettleston were well served by Jessica Oliver-Bell (sixth), Ruth Joss (ninth), Clara Horswell (11) and Avril Mason (15) with the silvers headed for Inverclyde AC and the bronzes to VP-Glasgow.
Kyle McLellan of Ronhill Cambuslang made his intentions clear right at the start of the Men's Senior race and he never relinquished a lead established early on to win by 30 seconds from Shettleston pair Matthew Turner and (a further 13 seconds back) Jethro Lennox.
With Lachlan Oates at fifth and Joe Symonds at sixth, Shettleston had two more athletes in the top 20 in Daniel Bradford and Brian McGarrity to win by 10 points from Cambluslang with Garscube Harriers taking the bronzes.
There are participation and development stories aplenty at the moment at Garscube so it is good to see performance starting to bloom, as well, with that third place and a set of Masters golds on the women's side.
Further down the age groups there were some familiar names on the podium but also one or two surprises on a day when the mud-level was so high it influenced some runners more than others. The fact that only 10 Senior Men broke 40 minutes for 10K – in a race where maybe 100 or more men have achieved that time on the road – tells everything about the effects of the mud.
Giffnock North, VP-Glasgow, Kilbarchan, Inverclyde and Cambuslang often have individual and team medallists on these West occasions and 2015 was no different.
Inverclyde in fact had gold medallists at U17 and U20 in Ryan Gray and Jonny Glen while Erin Wallace and Gillian Black took those titles for the women as they finished 1-2 in a combined race.
Giffnock North added to Wallace's success via Heather Barnes at U15, with the boys title there headed for Kilbarchan AAC – as Cameron Wright edged ahead of club-mate Andrew McAngus.
Lily-Jane Evans-Haggerty of VP-Glasgow followed up her Liverpool success with U13 gold as Kilbarchan's Jack Patton won the boys race by five seconds. All the team medallists are listed on the Results.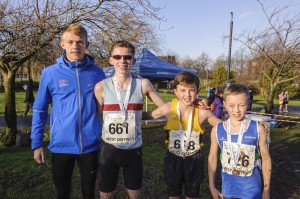 Luke Traynor with the U13 Boys medallists at the West
Tags: Bellahouston, Eilidh MacKenzie, Elgin, Kyle McLellan, Lindsays Cross Country Season, Mark Mitchell, Michell Sandison, North District XC Champs, West District XC Champs