Five aim to thrive with GB at Holyrood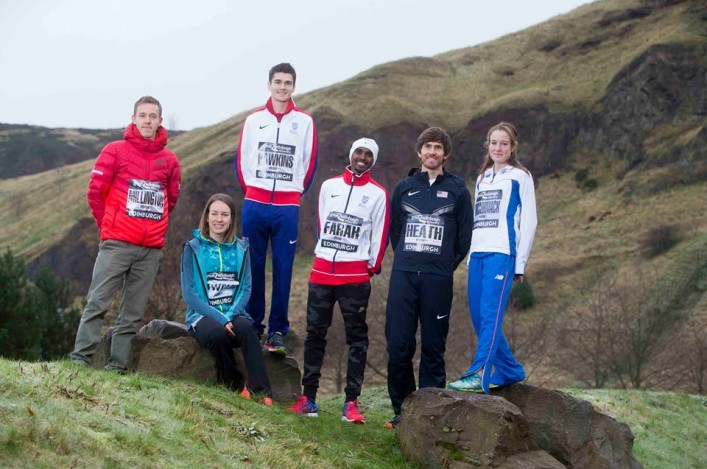 Mo Farah and friends in Edinburgh on Friday
GREAT EDINBURGH XC 2016 – START LISTS
Five Scots will pull on GB vests on Saturday at the Great Edinburgh XC – and for Callum Hawkins and Andrew Butchart there's the added bonus of racing in the same team as Mo Farah.
Hawkins and Butchart compete for GB against America and Team Europe in the Senior Men's 8K race as the double Olympic champion returns to Holyrood Park after a five-year absence.
In the Senior Women's race, Beth Potter represents GB again while for Josephine Moultrie there is a first British vest for six and a half years since appearing at the European Juniors at 1500m as an U20 athlete.
And 18-year-old Edinburgh University student Euan Gillham makes his second appearance in a GB vest as he repeats his Junior Men's run from last year at the Holyrood event.
Farah's presence after a five year absence gives added lustre to what is always an exciting day, with fun runs, Inter-District action and, this particular year, Celtic Nations XC races, as well. There is television coverage on BBC on Saturday between 1pm and 2.30pm.
For Olympic marathon hopeful Callum it will be a first cross country race since finishing second at the National XC last February when Central AC's Butchart won gold for the first time at Falkirk.
Butchart relishes Great Edinburgh XC chance
'I think Holyrood Park is a great place to race and it will be good to be back on the grass again,' Hawkins told the Herald.
'It has been quite hard in recent weeks to do grass sessions because the ground has been so wet. I think every Scottish endurance athlete will have felt that way.
'I raced for GB at the Great Edinburgh XC last year but did not run well. So it would be nice to try and do a bit better this year and maybe see if I can get in the top 10.
'I have raced Mo twice before and he beat me quite comfortably – but just having a double World and Olympic champion in your team and on the start-line is exciting for all involved with the British team.'
It will be a special day for Kilbarchan AAC with Callum in the Senior race and Gillham in the Junior Men's as well as more than 20 selections in the Celtic Nations and Inter-District teams.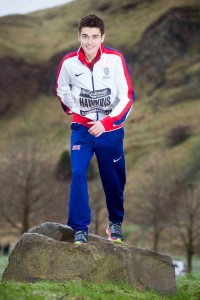 Callum Hawkins
Farah, who took his tally of global track titles to a magnificent seven with the successful defence of his World Championship 5,000m and 10,000m crowns in Beijing last August, will be tackling his first cross country race for five years – since he triumphed in Edinburgh in January 2011.
'It will be an important year for me in 2016 and I'm looking forward to returning to the Great Edinburgh International XC to kick off my season,' said Farah.
'For many years cross country was a key building block for the year ahead and I'm pleased to add it to my schedule for the first time since I ran in Edinburgh back in 2011.'
The senior women's 6km race pits 2015 European Cross Country Championship runner-up Kate Avery of Shildon AC against GB team-mate and 2014 European champion Gemma Steel and Ireland's Fionnuala McCormack, winner of the continental crown in 2011 and 2012 under her maiden name of Britton.
McCormack is likely to be the leading challenger from Team Europe, while Team USA includes Amy Van Alstine, winner of the recent US Clubs Cross Country title.
For Moultrie there will be real significance in competing in the Women's 6K race after a long wait to pull on a GB vest.
'I'm thrilled about winning a GB vest again and the British women's team is strong,' she said.
'I'd like to try and improve my standing within the GB team and there are Americans coming over that I used to race when over there at Uni on a scholarship – so I want to see how I do against them.'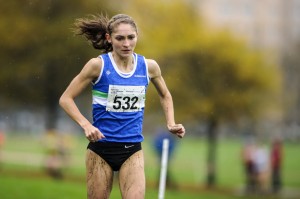 Josephine Moultrie – friendly rivalry with Americans
+++
Steph Twell teams up with Laura Muir for Scotland in the 4 x 1K International Relay team with Cameron Boyek and Jake Wightman also in that selection.
Emily Dudgeon and Carys McAulay combine with Neil Gourley and Josh Kerr, with the two Scotland teams facing America, GB, Europe, England, Wales and Ireland in what should be an exciting race.
'I could not turn down this chance to run for Scotland,' said Steph.
'You don't get that many chances to run for your country. I was at the Commonwealth Games and then ran the Abbey Dash in Leeds for Scotland last year – so when this one came up I right away said I was willing to do it.
'It is an exciting race and the idea of 1K of cross country appeals! I think it should be a really good race and it is also great that Scotland has eight athletes involved with two teams at that kind of level. It means four more athletes are getting a chance to compete in televised international race and for the likes of Josh Kerr and Carys McAulay that is excellent for their development.'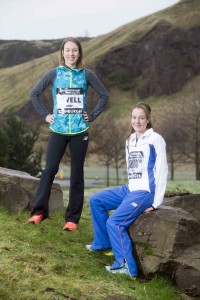 Steph Twell and Fionnuala McCormack
*Scott Stirling of Falkirk Victoria Harriers/Edinburgh Uni Hares and Hounds lands a Scotland vest at U23 level in the Celtic Nations event.
Ben Stevenson has unfortunately had to withdraw through injury, so Scottish Students XC champion Stirling steps up to join the team with Sean Chalmers, Jonny Glen and Jamie Crowe. Many congratulations to Scott.
Two Scotland teams compete for the Stewart Cup in 4 x 1K International Relay event
Tags: Andrew Butchart, Beth Potter, Callum Hawkins, Euan Gillham, Great Edinburgh XC, Holyrood Park, Josephine Moultrie, Mo Farah