Eilish and Eilidh add golds amid nine medals in Birmingham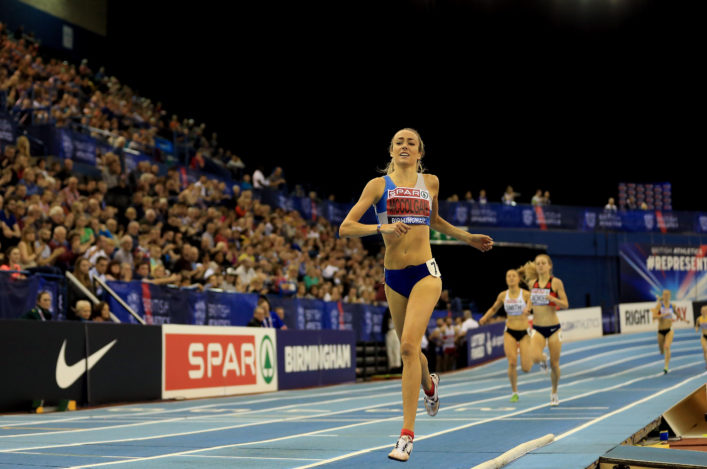 Photo via Getty Images/British Athletics
Eilidh Doyle and Eilish McColgan booked their places for the World Indoors with gold at the British Champs and Mhairi Hendry and Zoey Clark could well join them back in Birmingham early next month.
Doyle delivered a Season Best performance of 51.84 to head fellow Scot Clark in the two-lap race at Arena Birmingham. Zoey clocked another indoor PB with 52.12 and, like Eilidh, has the qualifying standard for the World Indoors.
McColgan, after a silver medal to Laura Muir in the 3000m on Saturday evening followed by a 1500m heat, took the gold in the 1500m with an aggressive run that saw her home in 4.13.84 after tactical early laps.
But the best Scottish performance arguably came in the Women's 800m final as Mhairi Hendry took a fine silver medal in a time of 2.01.30 which lowered the PB she set recently in Glasgow and opened the door for World Indoors selection.
In all, it was nine Scottish medals  – the same tally as last year and despite a few high-profile absentees:
GOLDS for Muir (3000m), McColgan (1500m), Doyle (400m), Wightman (1500m)
SILVERS for McColgan (3000m), Clark (400m), Hendry (800m)
BRONZES for Plenderleith (400m), Asante (Triple Jump)
'I will be working really hard over the next two weeks to make sure I continue my best ever form into the World Indoors,' said Eilish, with Jemma Reekie in fifth.
'I won the 3000m indoor title last year so it is really nice to add the 1500m title this year. I never thought I'd ever be able to win a 1500m title.'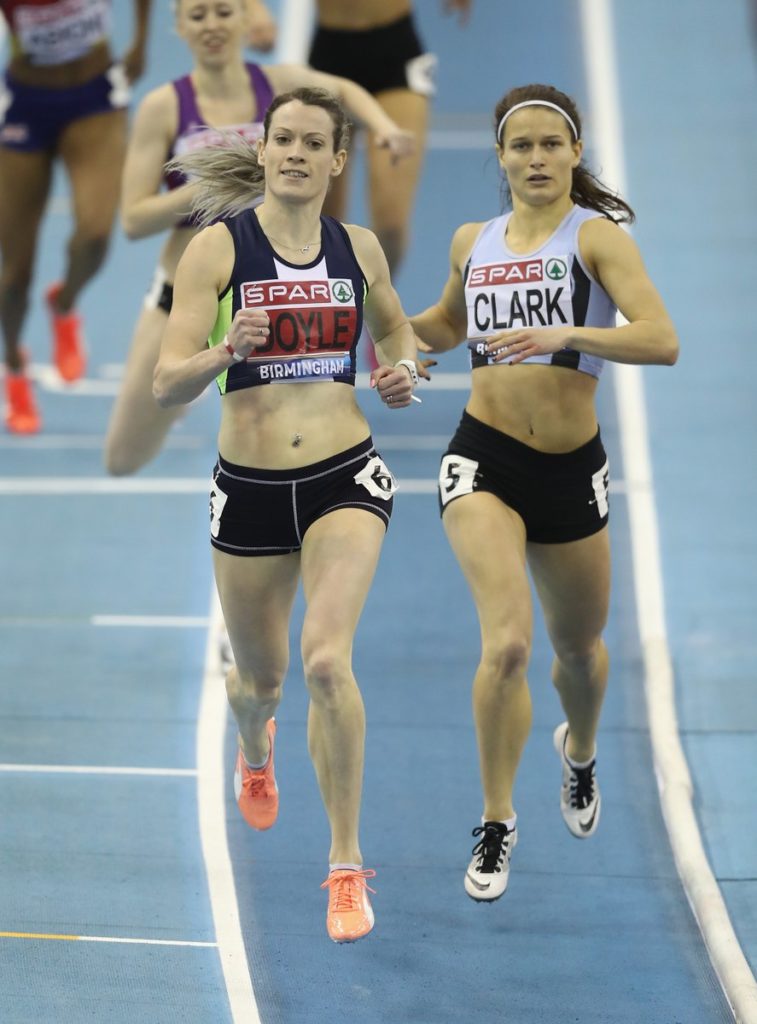 Doyle won the British Indoor 400m title for the third time.
'I am delighted with that,' said Eilidh. 'It was going to be tough against Zoey – I knew if she broke ahead of me it would be really difficult to get passed her so thankfully I got there in front.
I am always proud to win the British title – I love competing at these championships. It was a really tough field so we all had a really entertaining battle.
'I love an indoor 400m, it is so different to the outdoors. It is so tactical and I think I thrive on that.  Everything is geared towards the Commonwealth Games at the moment. I
'I am trying to imagine that this is May time and April will be how I'm usually performing in July. We want to peak in April but this is all fantastic preparation.'
Beth Dobbin was a semi-finalist in the Women's 400m, after running a PB in the heat on Saturday.
Zoey said: 'I didn't necessarily find my race plan. I went off a little too slowly over the first 200m so I was always chasing it. It did feel quite comfortable so I can't complain too much.
'Two qualifying standards in the semis and final leaves me in a good place so I do hope to go to the World Indoors. The race was really strong today so I do hope we can get a strong relay team out; the girls ran very well today. '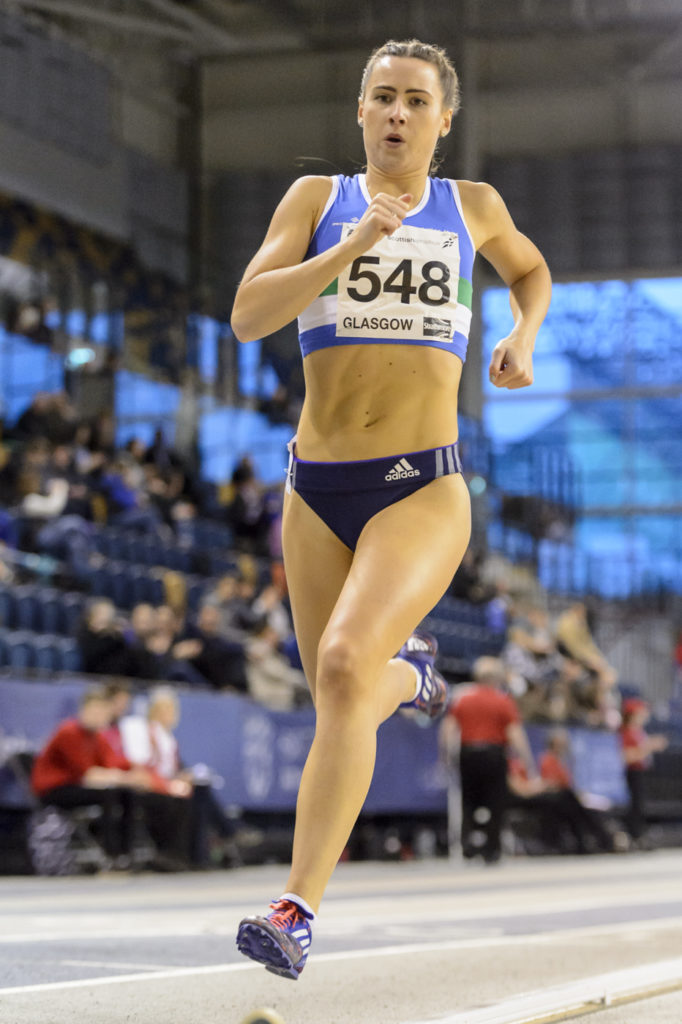 Hendry landed a superb silver in the Women's 800m final – with another PB performance of 2.01.30.
Mhairi had run so well behind Laura Muir at the FPSG Senior Champs and she took that form into Birmingham to follow Shelayna Oskan-Clarke home and emphatically see off bronze medallist, Adelle Tracey.
'I think after I raced at the Scottish Champs against Laura (Muir), I knew I could go again and go even quicker,' said the VP-Glasgow athletes, who clocked a World Champs qualifying standard with that run.
'I didn't know what would happen on the day so to see that time come up on the board was very surprising.  I was surprised how quickly they went off but I tried not to panic as I was off the front. But I kept my composure and I'm so pleased with a PB.'
Zara Asante took the bronze in the Women's Triple Jump with a 12.75 SB performance. Zara was fourth on the day but the winner was Jamaican athlete, Kimberly Williams.
Sprinter Grant Plenderleith had impressed on Saturday to reach the Men's 400m final. He came up with another PB run of 47.27 to take fourth place in that race, with the three athletes ahead of him also all recording PBs.
Sol Sweeney, seventh the previous day in the 1500m came up with a PB performance in the 3000m final with 8.06.12 for 11th  – a really fine effort after a tough weekend.
There was a fourth place in the high jump from David Smith, with 2.17 his best, as Nikki Manson cleared 1.76m in the women's event. Stacey Downie featured in the 200m heats with Praise Olatoke and Liam Fotheringham in the men's 200m. In the men's Triple Jump, Chuxx Onyia was fifth and Aidan Quinn was seventh.
Tags: Birmingham, Eilidh Doyle, Eilish McColgan, Grant Plenderleith, Mhairi Hendry, SPAR British Champs, Zara Asante, Zoey Clark