Dry sets Championship best at Kilmarnock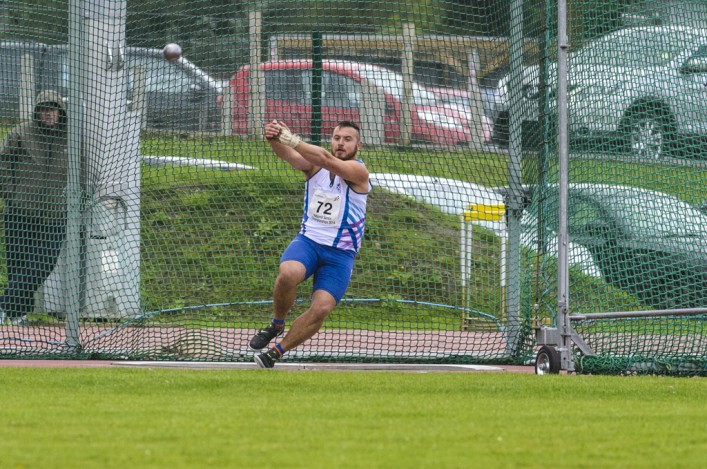 Scottish Seniors: Day Two round-up
Watch action from Scottish Senior Champs online with VincoSport in association with East Ayrshire Leisure and there is a Day Two highlights package
Mark Dry came back to Kilmarnock and claimed a Scottish Championship best in the hammer.
The Commonwealth Games bronze medallist threw 74.63m to better by 4cm the record he had set himself two years ago at Scotstoun.
Dry has savoured the excitement of being Scotland's first field medallist for 20 years for the past couple of weeks and milked the applause at the Athletes Parade and Dinner thereafter in Glasgow on Friday evening.
But it was back to business at the Ayrshire Athletics Arena and other Team Scotland members also returned to their pre-Games training venue and won gold – like Diane Ramsay, Sarah Warnock, Emily Dudgeon, Kirsty Law, Greg Louden and Kirsty Yates.
There's no dispute that weather conditions, with the winds stronger on Sunday than the previous day, affected performances and indeed decisions by some to compete.
So credit, then, all those who did and thanks as ever to the officials and the volunteers who make these events possible. We value and appreciate the support.
'I am delighted to win it and get a championship best,' said Mark.
'I had a better series of throws back in 2012 at Scotstoun but one of them today has gone out further. It has been the best four weeks of my life with the Games, the aftermath, the Parade on Friday and now this.
'I honestly believe I can get better and be in Rio for the Olympics in 2016. We are planning some technical changes and I think if I can start to throw consistently at 77m or 78m then that will really challenge people for medals at major championships.
'I want to perform when it counts at championships. I don't want to be someone who throws far in lesser competitions.
The good thing is I will never have the pressure I had at Hampden. You wanted so much to do well for Scotland that everyone was tightening up. I felt looser out there today and I know I can do even better.'
Shot putter Kirsty Yates was quick to stress that she could see no alternative to competing at Kilmarnock.
Kirsty said: 'I came here to win the Scottish title and I've managed to do that so I am happy with that.  I was at a Highland Games event on Saturday so was a bit tired but I could think of no reason why I should not compete.
'It is the Scottish Champs and I think you have to respect that and support the event a wee bit. Training has not been full-on since the Games, either, so it was a case of getting along and trying to win.
'I will probably throw the hammer at the Alan Bertram Memorial event. I don't throw the hammer all that much but, again, I'd so much respect for Alan and what he did for throwing in Scotland. Again, I can think of no reason not to be at Livingston that day.'
There was a second successive 5000m title win for Sean Fontana on the track. The VP-Glasgow athlete won it in 15.07 with Lachlan Oates snatching silver from Luke Traynor in a tight finish.
Prior to that, there had been a 400m hurdles win for David Martin in 52.91. That was a fifth title win in a row for David as he won in 52.91 from Ewan Dyer and Jack Lawrie.
Chris Watson of VP-Glasgow picked up the men's 800m title, holding off Central Ac namesake Tom Watson,  and in the women's race there was a good victory for Edinburgh AC's Emily Dudgeon.
The Team Scotland athlete was close to reaching the final at the Commonwealth Games but lost out in the semi-final. At Kilmarnock, she held off Katy Brown to win it in 2.04.29– a decent enough time in the very windy conditions.
Emily said: 'I came here to win it and I've done that so I'm pleased. The time is quite good under the circumstances because it was a bit of a hurricane blowing out there to say the least.
'I spoke with my coach, Stuart Hogg, and we wanted to try and use the strong wind in the first lap and get ahead of people. I knew if someone was going to come back it would be really hard work.
'Katy was always going to give me a good race and that's what happened so it was nice to win my first Scottish Senior title.  Does it make up for what happened at Hampden? Not really, no, I can't say that.'
Emily's Edinburgh AC team-mate, Sarah Warnock, successfully defended her long jump title with 6.09m edging out Hampden team-mate Jade Nimmo.
'The Scottish title means a lot to me and 2013 was my first year,' said Sarah. 'I wanted to defend and I've achieved that which is pleasing.'
Richard Hurren won the men's pole vault and the men's 400m title went to visiting athlete,  Adam McComb, of North Down.
The women's 400m race arguably featured the finish of the afternoon with Diane Ramsay and teenager Kelsey Stewart only separated after a photo finish. They were timed together at 55.52 but Diane won the gold medal verdict.
Grant Muir took the men's 1500m title and the women's race was won by Edinburgh AC's Madeleine Murray with a good PB for Kathryn Gillespie in second.
Anthony Daffurn won the triple jump and Kirsty Law was another Team Scotland event winner in the discus with 50.29m. Greg Louden won the 200m and it was a good day for Lasswade with his club-mate, Robert Ferguson, winning the men's high jump with 2.05m.
Teenager Katie Purves is the new Scottish champion for women in 400m hurdles after on day on which youngsters regularly climbed onto the podium.  Devota Nyakama of Border Harriers won the women's javelin  with 45.81m.
Edinburgh AC athlete, Kathryn Christie, clinched a sprint double when she won the 200m  late in the Sunday programme.
*Results from both Saturday and Sunday action are on the fixture page on this website (see the downloads on left of page).
*There are photos from Kilmarnock on Bobby Gavin's website
Tags: