Douglas wins Home Countries XC gold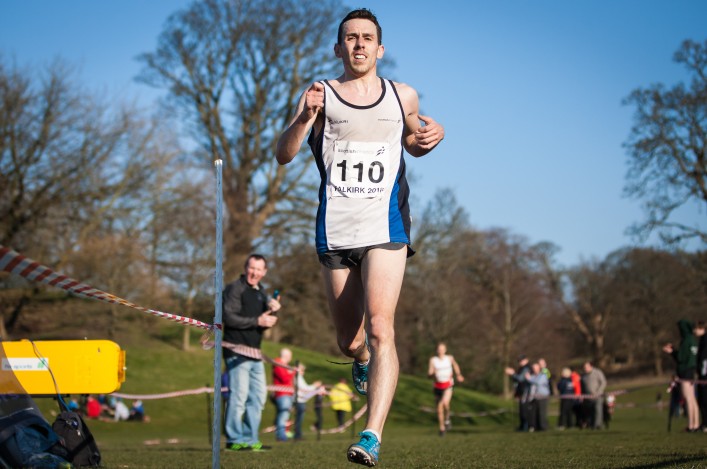 Home winner – Andy Douglas wins gold at Falkirk (photo by Steve Adam)
Andy Douglas crowned a fine cross country season with a superb 'home win' in the Home Countries XC International at Falkirk on Saturday.
The GB international hill runner picked up where he had left at the National XC at the same Callendar Park venue – over a different course – to land gold in the Senior Men's race.
Sarah Inglis took a bronze medal in the Senior Women's race as England dominated the team golds in all four of the races.
But there was another individual podium place as Forres Harriers athlete, Anna Macfadyen, representing the Scottish Schools, took third in the Women's U20 race just ahead of Gillian Black and Steph Pennycook.
Douglas, remember, started 2016 with a remarkable week when he won road, hill and cross country races inside the first nine days of the calendar year with the last of those his Inter-Counties win at Holyrood Park on January 9.
He took the title by a margin of five seconds with a time of 31.27 over the 10K course with England's Alex Teuten and Alastair Watson in second and third.
'I am absolutely delighted to win that medal,' said Inverclyde AC athlete Douglas, who replicated the individual win achieved by Derek Hawkins when Scotland last staged this event back in 2012 at Rouken Glen in Glasgow
'England always have good quality athletes at these events because they have so much depth to call on. I believe they had guys there from the top 10 or 15 at the English National XC and that's all you really need to know.
'I really enjoyed it early on and felt comfortable for about three of the (five) laps, but then it became harder. I could feel the lead getting eaten away a wee bit and I really had to dig in to get the win.
'But it has been a good cross country season for me and this just tops it off.  Liverpool was decent enough and then I won the Scottish Inter-Counties title at the Great Edinburgh XC. I did well for Scotland in Antrim and then was second in the National XC. Now I've picked up an Inter-Counties gold – I'll settle for all of that off the season.
'I started 2016 with road and hill race wins and then, in the same week, won that cross country Inter-District title at Edinburgh. I think that just about sums up my running at the moment – road, hills and cross in the same week!
'So all in all I'm pleased to have built pretty well on that start to 2016 and in a few weeks I will look to the hill running again in the summer.'
Aberdeen AAC's Michael Ferguson had a good run to finish eighth in his first Senior Scotland appearance and the team, backed up by Ben Stevenson and Alex Hendry, took silvers behind England with bronze medals to Northern Athletes.
That was the same 1-2-3 in team terms in the Senior Women's race that was won by Claire Duck in 28.32 – with the same time given to second-placed Jane Potter. Inglis was ten seconds behind at 28.42.
'It is nice to pick up a medal in this one and I always love running for Scotland,' said Inglis, instrumental in an Armagh Road Race success for Scotland back in February.
'I was with the other girls right the way around – well, until about 1k to go! They pushed on then and although I managed to get a bit back, they were off again down the hill very fast just before the finish and I had to settle for the bronze.
'This is almost a home course for me as I live only 20 minutes away and I enjoyed the conditions.
'Do I wish I had run the National XC? With the benefit of hindsight, and after a good run over Callendar Park, I do wonder about it a wee bit I guess. I went to Birmingham for the British Champs and made the 1500m final – but then didn't really do my best in the final.'
As Inglis took third, Scotland had three in the top nine as Mhairi Maclennan took fifth place and Fiona Rudkin finished ninth. For Spain-based student Maclennan it was worth the trip as she raced for the third week in a row after being second U23 in the Spanish National Champs the week before. Stornoway's Eilidh Mackenzie was 11th.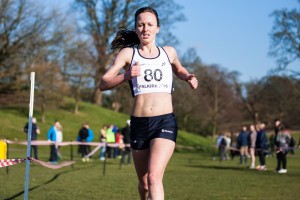 Sarah Inglis – bronze medal
Scotland won silver medals in the U20 Men's race with Ryan Thomson best-placed at seventh. Euan Gillham was ninth and there was a fine effort by Fife AC's Tristan Rees, running for Scottish Schools, to take 12th place. Backed up by Aidan Thompson and Callum Symmons, Scotland were second to England with Northern Athletics third.
Thomson replicated his National XC performance in many ways – coming through strongly after a slow start.
Ryan said: 'I was right at the very back with the Schools athletes in front of me but I just found that kind of worked before for me here (in the National XC) and I got stronger as we went through the four laps. I'm really happy with that because I dipped mid-season, when it didn't go as well as I had hoped in Liverpool.'
England were 1-2 in the U20 Women's race as Gemma Holloway won it from Amy Donnelly by six seconds in 21.31. Macfadyen came home in 21.56 for a surprise third.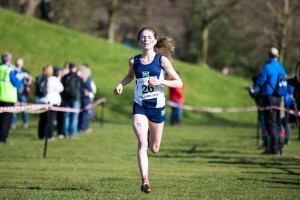 Anna Macfadyen – pride of Forres
Doug Cowie of Forres Harriers said: 'We are so proud of Anna and that was a brilliant run! We thought she had the run of her life in Birmingham at the Inter-Counties – but I think this was even better.
'Her family are all into running and her dad, Gary, is club captain at Forres. She is working very hard in her training and she's now a role model for younger athletes. If they can see what she's doing then hopefully they will want to copy that.'
Mum Susan said: 'It has been quite a few weeks after winning the National XC here. She trains with the club three times a week and does a bit more – once with the school and on her own.'
Black and Pennycook were supported by 12-placed Louise Mercer and Eve Mackinnon to take team silver medals. Really good run there, also, by sixth-placed Laura Stark (for Scottish Schools).
+++
Scotland picked up three sets of silver medals at the SIAB International Schools match.
England dominated, winning team golds in all four races, with the Scotland Intermediate Girls giving the best show by the hosts. The Junior Girls and Intermediate Boys also took silvers ahead of opposition from Welsh and Irish Schools.
The top ranked Scottish Schools athlete in the four races were as follows:
Junior Girls – Lily-Jane Evans-Haggerty at seventh; Junior Boys – Hamish Armitt at 10th; Intermediate Girls – Lauren Dickson at sixth; Intermediate Boys – Freddie Carcas at 12th.
Tags: Andy Douglas, Anna Macfadyen, Callendar Park, Falkirk, Home International XC, Sarah Inglis