Douglas ninth at Worlds; Bedford medals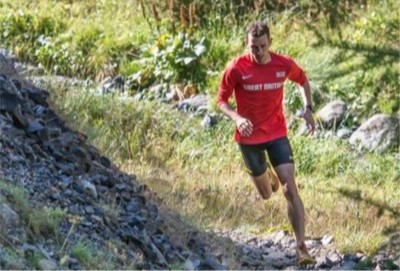 British Athletics website report
Andy Douglas continued his remarkable run of top ten finishes at global championships, placing ninth in the idyllic Italian mountains.
The Scottish athlete completed the course in 57:32 and that was a significant placing to ensure the men's team ended the competition on fifth place.
With a Ugandan 1-2-3 dominating the head of the field, attention turned to the rest of the Brits with Chris Smith (Philip O'Dell) and Graham Gristwood (self-coached) producing fantastic displays for 23rd and 25th place respectively. Cutting his teeth at the senior level of international mountain running, East Cheshire's Joe Steward (Harry Kelly) was 51st.
Douglasm, who is coached by Sophie Dunnett, has made a real impact now at the World Champs for the past three years.
Back in 2014, he was just outside the top 20 but since then has finished sixth in 2015, 11th in 2016 and now ninth in 2017. Andy has also had top ten finishes in the Europeans over that period.
Coach Sophie tweeted: 'Andy 9th place at World Mountain Champs. Super proud.'
+++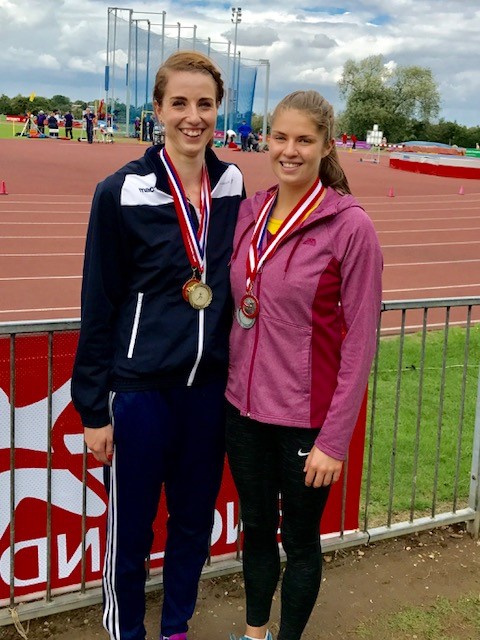 Emma Nuttall and Nikki Manson with medals at Bedford (with thanks to Ken Allan for photo)
England Athletics website report from Sunday
There were a number of fine Scottish performances at the England Athletics Senior Championships at Bedford over the weekend, which took in the Inter-Counties Champs.
Kirsten McAslan, making a success of a switch to the 400m Hurdles from the flat, and high jumpers Emma Nuttall and Nikki Manson are probably due a share of the spotlight.
Glasgow 2014 Relay runner McAslan won the 400m hurdles event with a fine run to gold as she brought her PB down from 58.10 in the heat to 57.31 in the final.
That takes her to fourth in the 400m Hurdles all-time list with the only disappointment for Kirsten being that she missed the 57.29 Commonwealth Games standard for Gold Coast 2018 by such a narrow margin.
Nuttall and Manson did bank standards, however, in an excellent high jump comp by both athletes. Each went over at 1.86 (which is the mark for Gold Coast 2018) with Edinburgh AC's Emma taking the gold from Giffnock North's Nikki on count-back. The 1.86 was a PB for Nikki.
There was a third Scottish gold medallist came in the hammer as Susan McKelvie triumped with a best throw of 61.80m. Myra Perkins was third with 59.75m. Other women's medallists were Beth Dobbin's silver in the 200m with 23.62 and a bronze for Stacey Downie in 400m with 54.91.
Jack Lawrie won bronze in the 400m Hurdles with 51.74 while Scott Huggins took third in the pole vault with 5.05m. In the Para events, there was a gold for Nathan Fleetwood over 400m and a bronze for Lewis Clow at 100m.
(Medal references here are England Athletics Champs)
+++
There were a couple of other performances over the weekend are worthy of note – including a 4.16.17 over 1500m for London-bound Lennie Waite, as she prepares for steeplechase at the World Champs.
Incidentally, Lennie is among 10 Scottish women ranked this year at under 4.20 for the 1500m, which is good to see for this particular event.
There are also a further six athletes between 4.20 and 4.30 – namely Philippa Millage, Megan Davies, Anna Tait, Rebecca Burns, Kerry MacAngus and Holly Rees. Of these, Millage and Burns set new PBs at the GAA Miler Meet on Friday night in Glasgow.
Scottish Women's 1500m ranking for 2017 on Power of 10
*Kelsey Stewart took on a 600m race at the BMC meeting in Oxford on Saturday and finished sixth in a mixed race with her time of 1.27.5 comparing well to runs indoors at this distance.
Tags: Andy Douglas, Emma Nuttall, England Athletics Senior Champs, Italy, Kelsey Stewart, Kirsten McAslan, Lennie Waite, Nikki Manson, Susan McKelvie, World Mountain Running Champs