Clubs so important – Eilidh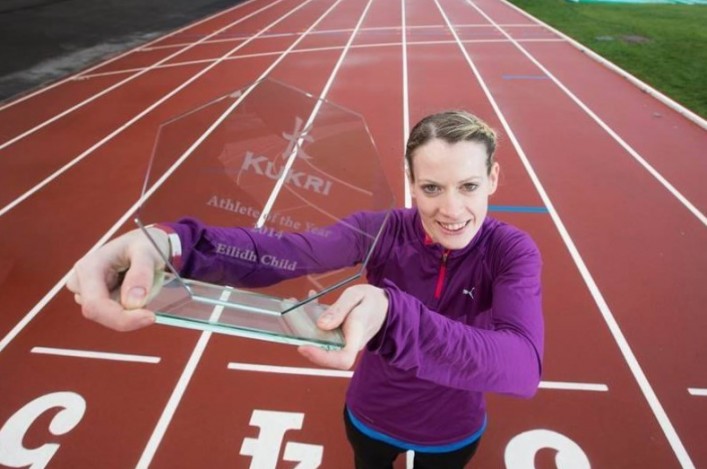 Photo: with thanks to Jeff Holmes
Eilidh Child celebrated her KUKRI 'Athlete of the Year' accoldade at a scottishathletics media conference this week and insisted the title was one of the toughest to win in her time in the sport.
The 27-year-old also acknowledged how the club structure helps put our elite athletes on the road to success following her own progress with Pitreavie AAC more than a decade ago.
At scottishathletics, we're absolutely clear on the crucial role our clubs and coaches play in developing athletes to both participate in the sport and perform to their highest possible level
'The club system is really important,' said Eilidh.
'Pitreavie AAC introduced me to athletics and put me on the path for the future. They helped me fall in love with the sport.
'I first went along to the club at the age of nine – really just to keep my big sister company as she was going along at that time.
'Iona was a good athlete and I started joining in at training. I tried a few events and the club started to point me in the right direction in terms of what I was good at – and they gave me coaching. It all began to progress from there.'
We've interviewed Eilidh on her roots in the sport at Pitreavie AAC and there's also a special video on our YouTube channel in which she offers advice to young athletes.
The advice to young athletes footage was first shown to our Youth Academy when they met at a residential training camp in October and in many ways the messages apply across the spectrum of the sport.
While training and focus for the World Champs in 2015 has already started for Eilidh, there's still time to reflect on 2014 and that Athlete of the Year award which saw five medal-winners on the short-list – Child, Libby Clegg, Mark Dry, Chris O'Hare and Lynsey Sharp.
'I have been lucky to have had plenty of success on the track this year,' said Eilidh, who was back on the Hampden track from the Commonwealth Games at its new Grangemouth home in midweek (check out an album of photos by Jeff Holmes).
'But winning the KUKRI Athlete of the Year award was always going to be a tough race. Probably the toughest-ever, in fact.
'I had won this particular award three times in the past but this year was different because of the level of competition. Just to be nominated you had to have at least won a medal at Commonwealth or European level or both.
'Libby Clegg, Mark Dry, Chris O'Hare and Lynsey Sharp could all easily have landed the Scottish Athlete of the Year title. So to win it again probably meant just a little bit more because I was up against top-class opposition.
'We all get on well and there was a bit of banter. I always think it is hard to compare events in athletics. Like my gold at the Euros over 400m Hurdles in relation to Chris O'Hare's bronze over 1500m.
'It was much the same when I won the first Scottish Women in Sport Sporstwoman of the Year award when up against the Rennicks sisters and Hannah Miley. How do you compare a judo player and a track and field athlete?'
*With club development so important to us, we were delighted with a large and enthusiastic turnout at our Club Leaders Conference at Hampden – earlier in the day of the Annual Awards.
Presentations from that conference are now online and these include case studies from clubs with contributions from North Ayrshire AC, Kilbarchan AAC, Whitemoss AAC and Falkirk Victoria Harriers.
Tags: Club Development, Club Leaders Conference, Eilidh Child, Pitreavie AAC