Butchart fifth as four Scots land Euro Cross team golds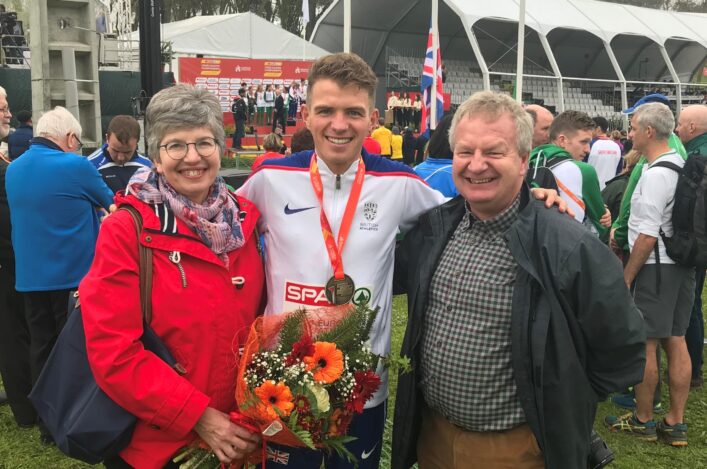 Photo by Mark Pollard in Lisbon
British Athletics website coverage
Four out of five Scots will return from the Euro Cross in Lisbon with team gold medals with GB and NI.
Andy Butchart made a big contribution to the victory for the British Senior Men in Portugal.
And joining him in landing team medals with the U20 trio of Cera Gemmell of Team East Lothian, Megan Keith of Inverness Harriers and Hamish Armitt of Giffnock North AC, (albeit they were not in the three counters).
Central AC stalwart Butchart was very much in the hunt for the second individual podium place at this event in his career until the latter stages in Lisbon – but ultimately but had to settle for fifth place.
That helped GB and NI to team golds with Ben Connor in ninth place and, crucially, third counter Kristian Jones (of Dundee Hawkhill Harriers) home in 22nd.
The British team thus took the win by just two points from Belgium with 36 points to 38 as Spain took the bronze medals.
It was great to see Andy in good cross country form and excellent also, for the Scottish endurance scene, to have Kristian Jones once again proving his class at this level.
Sol Sweeney was the third Brit home in the Men's U23 race in 29th place but unfortunately for the Glasgow Uni/Perth Strathtay athlete, the team finished fourth.
Team East Lothian's Cera was 17th in the U20 Women's race with Megan at 27th place as they made a contribution to the overall win.
Similarly, Hamish Armitt of Giffnock North was 31st in the U20 Men's race.
'Firstly, I'm buzzing for the team, to get a gold medal is incredible,' said Andy.
'Individually, it is hard. I'll take fifth place on such a hard course. It didn't really suit me on paper but I'm happy with how I did.
'It was chaotic – there were a lot of bodies in such a small space. It was a matter of trying to get through as many people as you could and once you were at the front, hanging on for as long as you could. I was so close yet so far.
'This course is so short and tight, it feels like you are miles away from a medal but you are actually pretty close, but that is cross country.
'There is something special about the European Cross Country Championships, it's exciting, it's exhilarating. Missing last year was hard so I made sure I was here this year.
'Adam Hickey has done a great job as team captain, he's kept the spirits high, so to win a team medal is very special for all of us.'
With thanks to British Athletics media and Euan Crumley of Athletics Weekly in Lisbon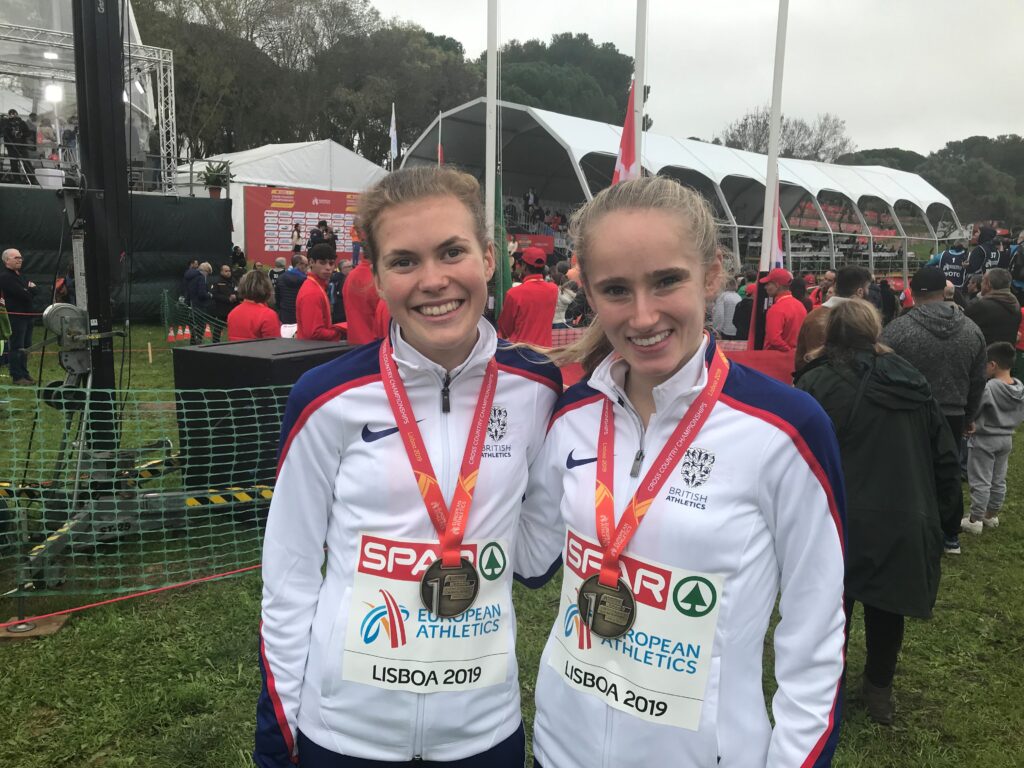 Megan Keith and Cera Gemmell in Lisbon (photo by Mark Pollard)
Tags: Andy Butchart, Cera Gemmell, Euro Cross, Hamish Armitt, Lisbon, Megan Keith, Portugal, Sol Sweeeney