Beth books London ticket in Scots 1-2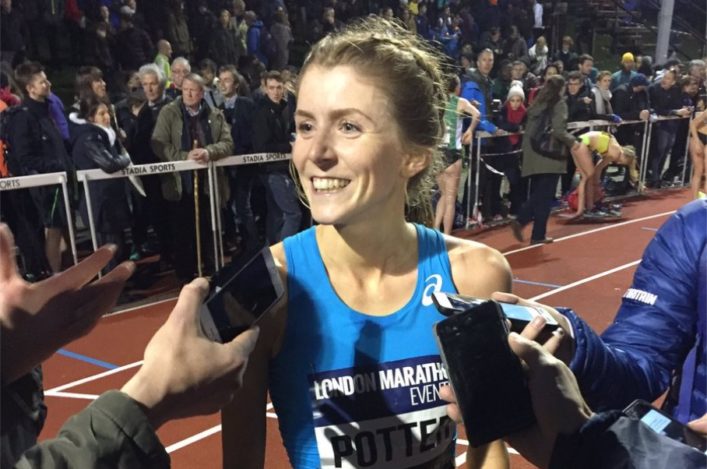 Photo via Twitter
Beth Potter has become the latest Scottish athlete to nail down a place on Team GB and NI for the London 2017 World Champs.
The Olympian led home a Scottish 1-2 in the British Champs at 10,000m with a superb performance at the Highgate Night of the 10Ks.
Potter clocked 32.04.63 to get inside the qualifying standard being asked for by British Athletics and she led home her Rio team-mate, Steph Twell, to second place and silver medal.
Twell recorded 32.16.23  to miss by a fraction the 32.15 standard for London but still has the option of seeking to add that standard to her top two finish on Saturday night to ensure selection.
Eilish McColgan has the World Champs time under her belt with a 32.10.59 run from April in the United States.
All three of those athletes are now inside the Gold Coast qualifying standard for the 10,000m for Scotland (32.45) as the battle for slots in the endurance event heats up – with the British Champs at 5000m coming up five weeks from now.
Beth has been working on triathlon training in Leeds since the Great Edinburgh XC in January and finishing second at the National XC at Falkirk in February. She broke clear of her good friend with five laps remaining to win in fine style.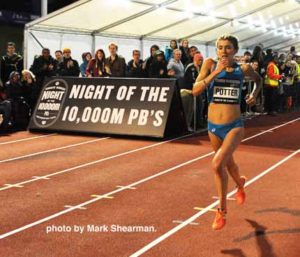 Photo by Mark Shearman
'Last year, I felt like I was getting chased down but tonight I was getting stronger and stronger,' said Beth, who is ciached by Mick Woods, as is Steph.
'I wasn't surprised, I'm running well – my sessions were going great but I hadn't raced (on the track) since Rio so I didn't really know.
'I'm just going to carry on with what I'm doing (the triathlon training) – it's working, I'm improving in the tri and in the running so there's no point in changing anything at the moment.
'I run about 30-miles a week less now, I'm only in the mid-50s but I'm getting my aerobic work from the biking and the pool as well, so my legs are fresh – win-win!
'I came here with no pressure and it was good to have a battle with Steph – it's nice to come away with number one this time after finishing twice before. I was smiling and grinning, looking at my coach and thinking 'this is good!'.'
After a fine season opener, European 5000m bronze medallist Twell said: 'It was a different sort of race, it was just about touching my foot in the water today so qualifying would have been nice but it was just about seeing the over-distance work and see where I am ready for 5,000m and 1500m.
'It was just about touching up as my coach really believes in pushing endurance and pushing the pathway so it was a different sort of pain. I'm happy to have done my first one in London here, with the great support – it was awesome.'
In the Men's A race, Luke Caldwell was at 29.01.76 and Michael Christoforou at 29.37.83. In the B race, there was a good run by Logan Rees of Fife AC for a PB of 30.19.68 as Inverclyde AC's Jonny Glen came home in 30.49.27.
Tags: Beth Potter, Highgate, London 2017 World Champs, Night of the 10ks, Steph Twell