Age Groups Champs – Saturday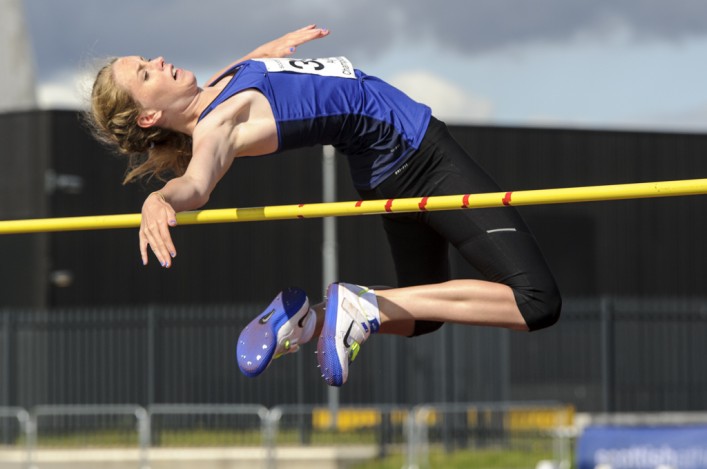 All the Saturday results for U13 and U17 action are online on this website on fixture page
Alisha Rees posted a sprint double in Aberdeen at U17 level and came up with a fine performance for the 100m.
The 15-year-old, who runs for Banchory Stonehaven, clocked 11.55 in the shorter sprint on Saturday morning with a strong wind behind her.
And she added the 200m title later with victory over rival Selina Henderson on a good day for the sport at the Aberdeen SportsVillage venue.
It was a sixth sprint double in just over a year for Rees, with that record spanning indoor events, Schools events and championships in England last summer.
Among the other gold medallists in the U17 age group were the likes of Gemma Reekie, Ben Greenwood, Cameron Tindle, Andrew Smith, George Evans, Christopher Stewart, Emily McNicol, Craig Moriarty, Connor MacLean, Sarah Pearson, Freddie Rooke, Ellie McGinty, Laura Stark and Jill Cherry.
It was quite a day for multi-eventer, Tom Chandler of Central Ac, as he picked up golds in the U17 sprint hurdles and the long jump and a silver in the pole vault.
Evans came up with a new PB to win the shot with 17.24 – just 6cm short of Jamie Stevenson's U17 championship best for the event. George then followed that up with a PB of 55.25 in the discus to complete a fine day's competition for the young thrower.
Coach Duncan Flockhart said: 'We really pleased with George's throwing in the shot because he was over 17m on three occasions. So the series shows consistency as well as the big PB itself.
'He's had a bit of physio recently after doing some hammer work earlier in the year and had some acupuncture. It seems to have worked and he's looking forward to another two competitions before the end of the season – the England Athletics Age Groups in Bedford and the UK School Games.
'He was at 16.71 before today so to go to 17.24 is another bit of progression for him. The discus PB was another step forward, as well.'
In the U13 age group it was more about participation and enjoyment than performance – although there's no doubt dozens of youngsters took their event very seriously indeed as they seek to improve.
Great to see so many in that age group, too, with clubs from across the length and breadth of Scotland represented. Stornoway RAC even had a young athlete who was up at 3.30am on Friday to compete in Aberdeen on Saturday, as coach Seumas Mactaggart explained.
'We've brought over 22 young athletes and I'm sure that is a record entry for Stornoway RAC,' he told us.
'It is a four-day trip for us essentially with a 6am ferry from Stornoway on the Friday morning. In fact, our youngest athlete lives in Harris and was up at 3.30am to start the travel.
'We've covered almost every event across the age groups in Aberdeen and I think pole vault is the only one where we don't have someone. It is good for club bonding and it is a magnificent venue in Aberdeen – the facilities are so good.
'Usually we travel four or five times a season to track and field events, including the North Districts, the Scottish Schools and the Age Groups. I think it is a good experience for the kids coming away as a team and also having the 'feel' of competing in a big event like the Age Groups. The 'Callroom' processes are new for the U13 athletes and they have to learn.
'We're growing steadily as a club with 125 members and we're hosting our own event soon with Victoria Park-Glasgow coming to us and hopefully a third club as well. We're looking forward to welcoming them to Stornoway.'
Inverclyde AC and Greenock Glenpark shared a bus and hotel arrangements and did so with help from their local sports council and the Local Authority Partnership. Texas Instruments, a local employer, also helped out Inverclyde AC.
And there were visitors from Toco School in Trinidard as guests of Glasgow School of Sport.
Over in Scotland on an exchange visit, seven athletes were to compete at the ASV over the weekend as some of the parents and adults went sightseeing and shopping in Aberdeen! Toco ended the day with four medals . . .
*All at scottishathletics would like to say a huge thank you to all who entered for Aberdeen and the athletes, clubs, coaches, volunteers and parents who supported the U13/U17 events. Special word of thanks and praise, too, for our scottishathletics officials who always  put in such hard work for these competitions.
Tags: