The Bellshill Bullet – Tom McKean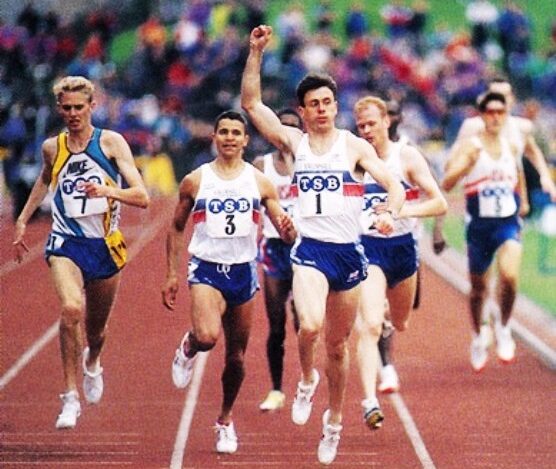 Tom McKean wins from Martin Steele (3) and Matthew Yates (7) – photo by Robert Perry
By Arnold Black
The event was the Dairy Crest Games at London's Crystal Palace on 28 July 1989.
The big name in the field was the Kenyan Paul Ereng, the 1988 Olympic Games 800m champion. Ereng set the perfect pace: 24.43 at 200, 50.14 at 400, and 76.57 at 600, before Scotland's Tom McKean (24.55, 50.48, 76.87) attacked off the final bend and hit the front some 35m from the line.
'Ereng ran such a perfect pace,' said a surprised McKean afterwards. 'But I won on strength in the home straight, rather than speed.'
It was Ereng's first defeat in 19 races since his Seoul Olympic success. It was the fastest time in McKean's career – 1:43.88 to Ereng's 1:44.25 – and remains the Scottish national record some 30 years later.
Six days earlier, Tom McKean had an easier victory, winning the Scottish title at Crownpoint Stadium in Glasgow by over four seconds, blasting away right from the start to go through 200 in 24.78 and 400 in 49.91.
Only David Strang tried to go with him but was 12 metres back at the bell and paid the penalty, finishing out of the medals. McKean hit 600 metres in 76.22 and crossed the line some 30 metres ahead of Kilmarnock's Alan Murray to win in 1:44.79. As with his national record, 30 years on Tom's Scottish title win remains as the Scottish native record.
Scottish middle-distance running is at a high at the present time. The current year's rankings show Jake Wightman leading with 1:45.08, ahead of Josh Kerr, Guy Learmonth and Neil Gourley.
Yet none of these athletes have approached Tom McKean's times.
These times were no one-offs either. Between 1986 and 1992, Tom bettered 1:45.00 on 18 occasions and ran under 1:46.00 on a further 27 occasions, an astonishing total of 45 sub-1:46 times.
His indoor performances were equally stunning.
In March 1990, the European Indoor Championships were held at Glasgow's Kelvin Hall. Though he had only run the first indoor race of his career two weeks earlier, McKean took the title with an accomplished front-running display in the final
In fact, he had a full second to spare when he reached the line in 1:46.22, a time which broke Sebastian Coe's European championship record and set new Scottish all-comers', national, and native marks. Again, they remain the Scottish records to this day, even surviving this year's European Indoor Championships in Glasgow.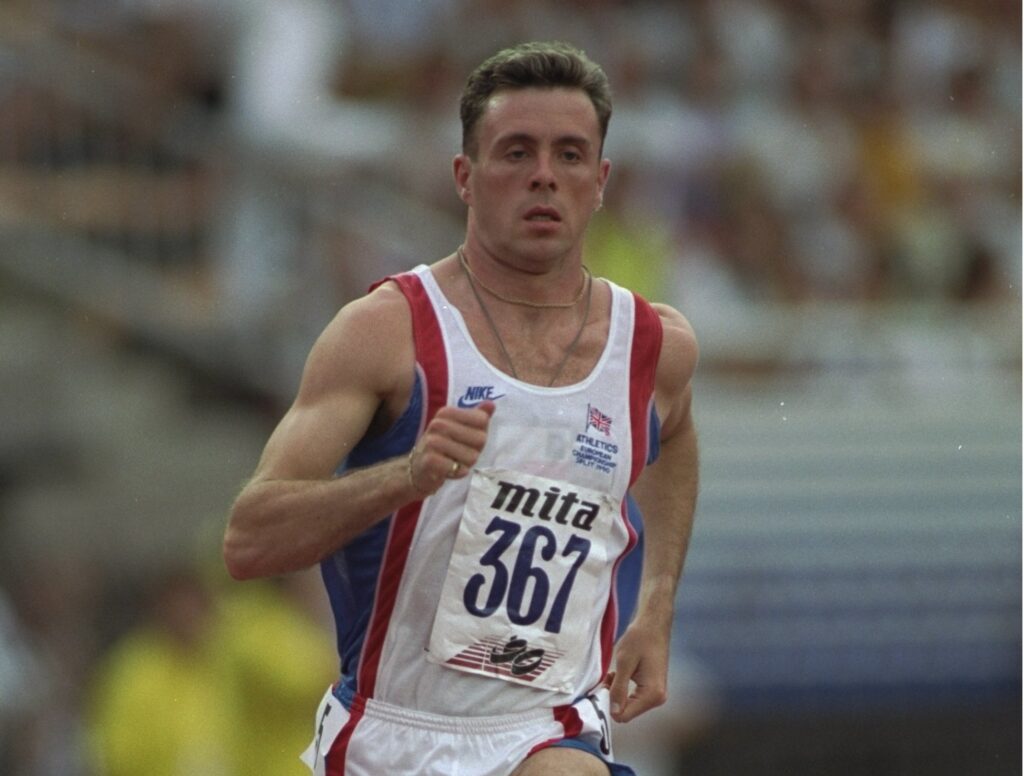 McKean's career was carefully nurtured by coach Tommy Boyle.
'Tom developed over many years in a club culture which inspired every athlete to be the best they could be,' says Tommy.
'Through years of hard work in a positive and enjoyable coaching environment he lived his dream and achieved performances which many can only dream of.'
That careful development saw McKean mount up an unbeaten run of 34 races in his early career, yet he is remembered as well by a typical Scottish ability to snatch defeat from the jaws of victory, a result of unfortunate tactical misjudgements, easing up on the line, or even disqualification.
Yet his career stands up to scrutiny as one of the greats of Scottish athletics.
In the summer of 1990, buoyed by his success at the European Indoor Championships, he achieved his first international outdoor championship victory at the European Championships in Split.
McKean won, having decided to 'go for it' at 140 metres, hitting the bell in 51.31 and simply waited in front, defying all challengers, to claim the title in 1:44.76. McKean's singlet and shoes went into the crowd.
'I don't care,' he said.
'I have this gold at last and that's all that matters. They said I could not do it, but I have proved them wrong . . . No disrespect to the others, but this was an easy victory. I don't know any other runner who has tried to front-run this race and succeeded. Two world record-holders, Marcello Fiasconaro and Seb Coe, tried it and failed.'
His third major victory came in Toronto in March 1993 at the World Indoor Championships. With his career seemingly on the wane, McKean confounded the critics one last time.
He adopted front-running tactics to great effect once more and again struck gold. The venue was the Sky Dome, and this time it was the elusive global title.
In three successive races he ran at the front from gun to tape, winning the final in 1:47.29, then missed his gold medal ceremony because he was sitting in the press box, phoning home to his family. He got to the podium just as the national anthem was ending, to collect his medal.
'I'd rather make my mistakes off the track than on it!'
He ended his career with one World title and two European titles, but that was not the limit of his success. Add in a record four consecutive European Cup 800 wins, a World Cup victory, five British titles and nine Scottish titles.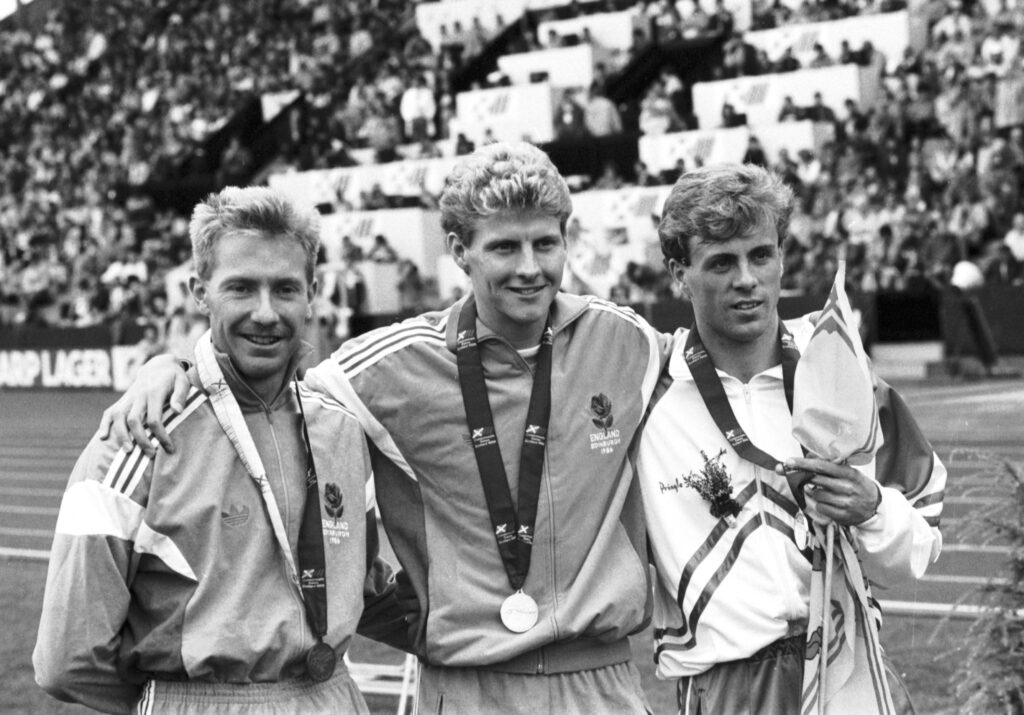 Steve Cram (middle) won a gold medal in the Men's 800m race in the 1986 Commonwealth Games at Meadowbank stadium in Edinburgh. Cram with Tom McKean of Scotland (silver, right) and Peter Elliott (bronze).  (Photo courtesy of the Scotsman)
Tom McKean's international championship record reads:
Commonwealth Games 1986, 800m silver & 4th 4x400m
European Championships 1986, 800m silver
World Championships 1987, 8th 800m
Olympic Games 1988, disqualified in 800m round 2
European Indoor Championships 1990, 800m gold
Commonwealth Games 1990, 7th 800m & 4x400m silver
European Championships 1990, 800m gold
World Championships 1991, eliminated in 800m heats
Olympic Games 1992, 800m semi finalist
World Indoor Championships 1993, 800m gold
World Championships 1993, 8th 800m
Commonwealth Games 1994, 8th 800m
European Championships 1994, eliminated in heats
Coach Tommy Boyle recalls: 'Tom was a racer, almost unbeatable in the world at his peak over that last 150, as seen when he beat Olympic champion, Paul Ereng, to set his national record in a true run race.
'Perhaps his greatest personal achievement was front-running his native record at Crownpoint. He was a world class athlete produced and coached in Scotland.'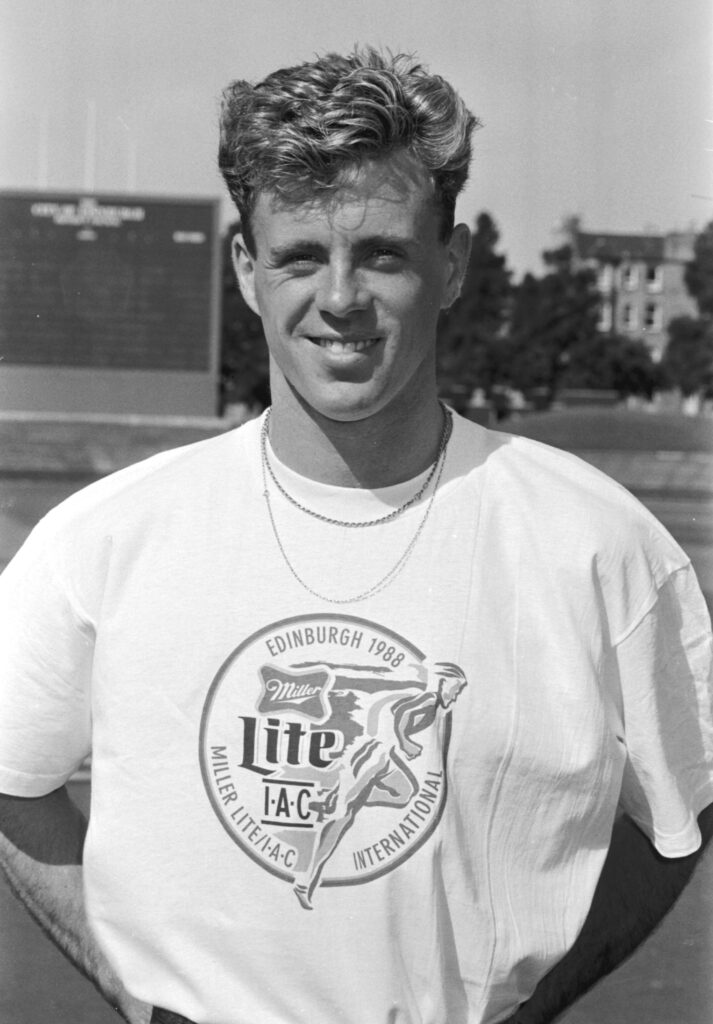 Scottish athlete Tom McKean wearing a T-shirt promoting the Miller Lite/IAC International meet at Meadowbank, July 1988. (Photo courtesy of the Scotsman)