'It's a huge honour to be bracketed with Laura and Jemma' – Jake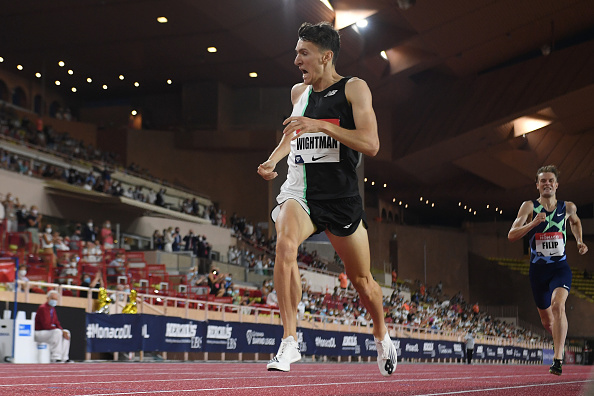 Photo courtesy of Wanda Diamond League and Herculis Meeting
'We're very lucky to have Laura, Jemma and Jake' – Stephen Maguire
Jake Wightman fully expected the 4J Studios Performer of the Year to feature a joint award – but was pleasantly surprised to find himself bracketed alongside Laura Muir and Jemma Reekie.
Muir and Reekie clocked up all manner of wins and Meeting Records across Europe during a brief but exciting track season.
Wightman for his part smashed his own Scottish Record at 1500m as he took that particular mark below three minutes 30 seconds for the first time with 3:29.47.
He also cut his own 800m PB with a run in Ostrava which hinted at further threatening Tom McKean's long-standing mark for two laps (1:43.88).
'I watched the 4J Studios Awards on YouTube and really enjoyed the broadcast,' said Jake.
'I always thought beforehand that it would be a tie between Jemma and Laura so when the announcer (Chris van der Kuyl of 4J Studios) said 'jointly' I wasn't surprised at all – until my name came on at the end!
'It was a shock because Laura and Jemma have had unbelievable years and I feel really honoured to have been put in the same bracket as them for 2020. They barely lost a race between them.
'So to be up there with them, well, I'm chuffed and it is a bit special.
'We travelled to the same races a few times this year so I was seeing them on the circuit and saw some of their great performances. It's a real compliment that Scottish Athletics feel I was up there, too.'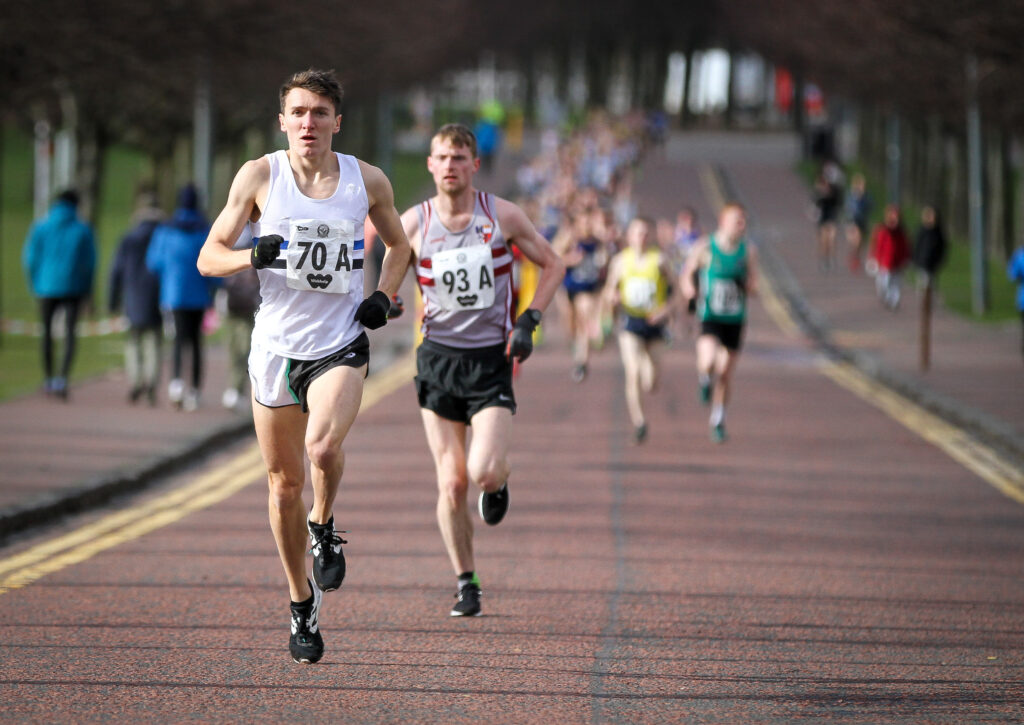 Jake raced in Glasgow at the end of February for Edinburgh AC (photo by Steve Adam)
Jake helped Edinburgh AC win the Allan Scally Road Relays with a road run in Glasgow in late February – only a couple of weeks before events began to disappear off the calendar.
'I always enjoy racing in Scotland and that day it was good to represent Edinburgh AC in a road event,' he recalled.
'It was actually one of my last events of the year because the track season didn't happen until August.
'Any chance I have I love racing in Scotland and it there's an opportunity one year to do the National XC then that's one we would like to do.
'It is always nice to be made so welcome though I think over 10k of mud at Falkirk I'd get absolutely battered – I am not sure you would notice I was there!'
Come the track season, and he burst into the spotlight with that superb Scottish Record in Monaco only a few nights after his season opener.
'I knew Monaco would probably be my only 1500m race of the year,' said Jake.
'The plan was to focus on 800m this year and we would have done that even if it had remained at Olympic year.
'I didn't need to run a quick 1500m because I had the qualifying time for the Olympics from 2019. So it was about trying to sharpen up and get some speed.
'But there's something special about that Monaco diamond League meeting and you know if can just hang in there in the race then the time will be very quick indeed.
'You just try and get as close to the pace as you can and keep going. Usually when you run that fast it is isn't easy – and it did hurt a lot that night – but because we were metronomic on the pace it did feel so good,.
Confidence wise it was great for me to mix it with those guys on the track and also to find myself at No 2 on the British all-time list and ahead of some legends of the sport.
'Those guys have global medals at Olympics and Worlds and hopefully that's what I can try and add over the next few years.
'At the bell was the first time I really looked at the clock. It was a blur prior to that. I do I recall thinking that if I ran a 58 or a 57 then I would be close to my PB (and the Scottish Record).
'And I'd been knocking out 55s in training just before that so I thought 'If I don't 'die' here then it is going to be something really quick . . .'
'Crossing the line, the clock had stopped at 3:28 and then it didn't come back on until 3:31. So I didn't have a clue what I had run. Only when it came up on the scoreboard do you know.
'I was buzzing but there was no crowd really and other athletes had just walked off, maybe unhappy with their run or whatever. So I was standing there on my own and celebrating myself which is a little bit sad!'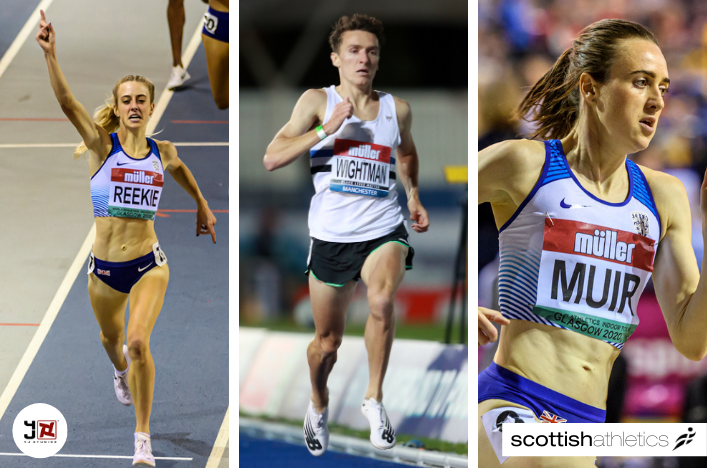 Planning the next stage is tricky for all concerned of course but Jake and his dad/coach, Geoff, will try and adjust if need be.
'This year the build-up and preparation was going well up to about Easter and then obviously a lot of disruption,' said Jake.
'I think this time it might be disrupted up to Easter 2021 and then we might be okay. Although who knows?
'I normally go to America for altitude training towards the end of the year but I don't think that will happen now.
'We will look at Europe and maybe South Africa and see if they can happen at some point.'
Tags: 4J Studios Annual Awards, 4J Studios Performer of the Year, Geoff Wightman, Jake Wightman, Jemma Reekie, Laura Muir