Jake helps Edinburgh to win 50th Allan Scally Road Relays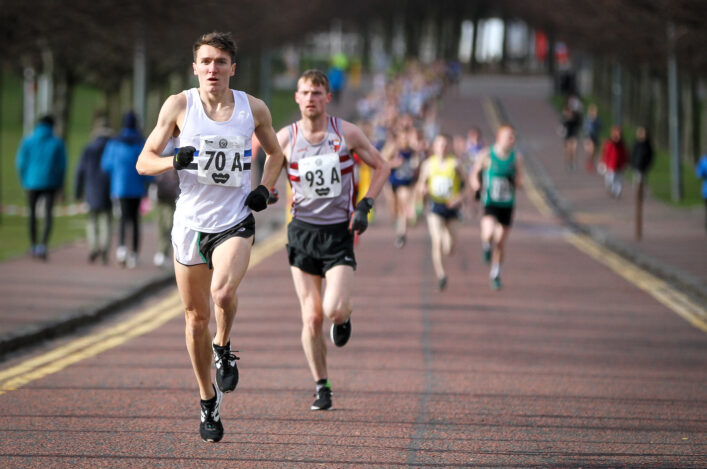 Jake Wightman and Michael Ferguson are early leaders on opening leg of the Allan Scally Road Relays (photo by Steve Adam)
Results on the Shettleston website
Jake Wightman returned to Scotland to join the celebrations at the 50th anniversary of the Allan Scally Road Relays – and helped guide Edinburgh AC to a new Course Record.
The Commonwealth and European medallist had missed out on the recent Muller GP at the Emirates through illness but felt sufficiently fit to take the opening leg in Glasgow at the Shettleston Harriers event.
Wightman's run of 14.50 was just inside the Course Record held by Alastair Hay from last year, with the event now a 4 x 5k team race on a Glasgow Green course.
But that mark was bettered by his club-mate Mike Christoforou as well as Lindsays National XC winner Jamie Crowe. Jamie's 14.33 is now the new Course Record.
Annabel Simpson of Glasgow Uni also took a Course Record with a run of 16.19.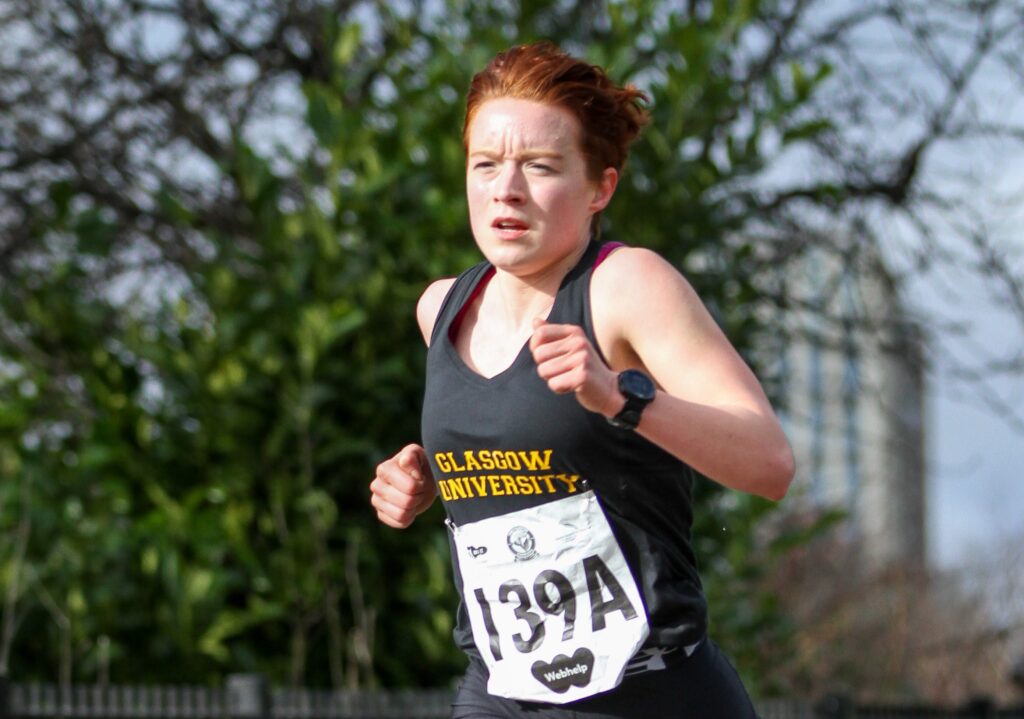 Annabel Simpson on her way to a 16.19 Course Record at Glasgow Green (photo by Steve Adam)
Christoforou pipped Hay home to lead Edinburgh to the win in 60.00.18 with Shettleston taking third and also winning the Women's race. Glasgow Uni won the Scottish Student Sport Road Relays women's gold as Edinburgh Uni took the men's golds.
'I had that chest infection a couple of weeks ago which ruled me out for the Muller GP and I missed a couple of weeks training along the way,' said Jake.
'So I was happy to come here and get the run under my belt. It wasn't too bad and it is good to help Edinburgh to the win – it was a really strong team effort with Andy, Joe (Ewing) and Mike all running really well.
'I love racing in Scotland and the Allan Scally Relays have so much history attached. It was good to see such a big turnout of teams.
'I'm planning a couple of road races over 5k and 10k in the next few weeks and then take a short break before going to America to prepare for the outdoor season.'
The event was laced with history as many of the Scally family from around the world gathered to celebrate, with teams also competing from Germany and from Armagh. Willie Drysdale, of Law and District, raced the first Scally Relays back in 1969 – and returned to do so once again at the venerable age of 84.
Tags: Allan Scally Road Relays, Edinburgh AC, Jake Wightman, Shettleston Harriers