In surreal year, we should view Manchester medals as glass half full . . .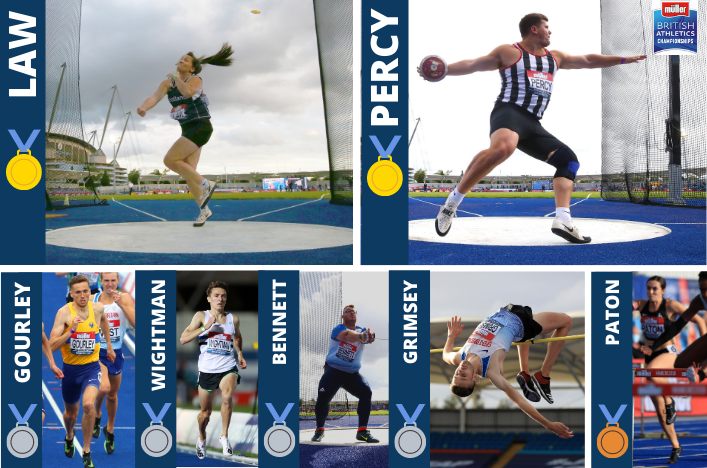 Montage created by Sue Gyford with photos via British Athletics/Getty Images
Nick wins gold as Scots add four more medals
Champion Kirsty leads medal march in Manchester 
By Peter Jardine, Head of Communications
The Muller British Championship is always one of the highlights of the track and field season and, in recent years, has been an absolute pleasure to cover in terms of reporting on the efforts of Scottish athletes.
A year ago the overall tally of medals was 15 – with six gold – to follow on from a run of 17-18-17 on the preceding three years from 2016-2017-2018.
From around the time that Scottish athletes successfully pitched into the GB and NI team en masse for the 2016 Rio Olympics, we've come to expect a large slice of podium glory at the British Champs.
This year, that was cut to seven medals with two golds, four silvers and one bronze. Before adding any further reflections, we should note  that these medals arrived via a cohort of 30 athletes (with six Para athletes not in medal events).
With the help of contextual evidence, as always, from scottishathletics Historian, Arnold Black, here are a few more thoughts on 2020 in Manchester . . .
Para Scots impress in Manchester
+++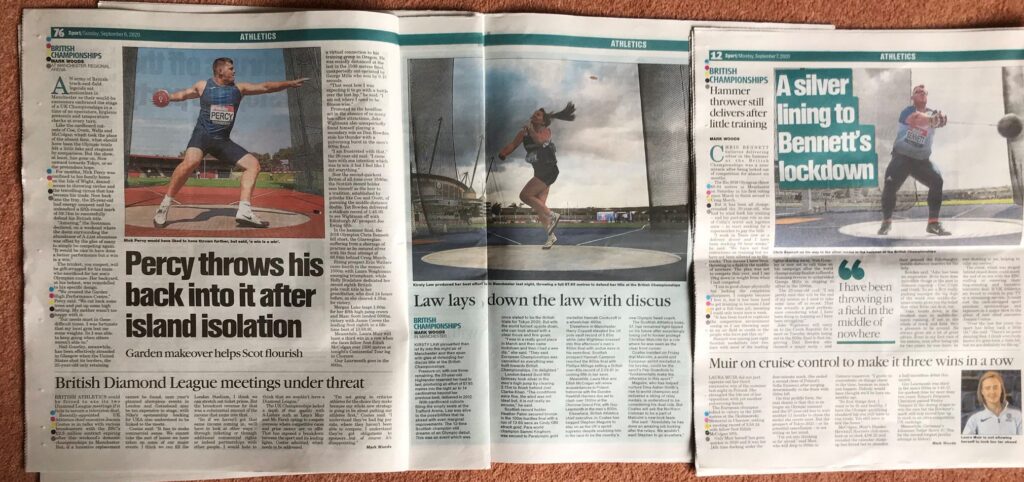 Let's start at the top with the discus success stories – as Kirsty Law and Nick Percy retained the titles they had won 12 months earlier in Birmingham.
Kirsty for her part may one day look back on this as the best performance of her career (although hopefully not).
Under the coaching of Zane Duquemin, the 33-year-old has been adamant a PB was coming along, fully eight years after throwing  57.79m back in August 2012.
Can there be a better time to do so than in the final round of a Friday night contest in Manchester to leave close pal and training partner Jade Lally staring down the barrel of defeat?
Lally had defeated Law in all nine competitions since athletics emerged from lockdown and did so again on Sunday (September 7) in London.
But, on Friday (September 5), Kirsty's 57.95m throw was enough to take the gold in a snatch of the day which had BBC commentator Steve Backley purring.
As Inverness Harriers coach and journalist,Charles Bannerman, was to mention across our Facebook page, with U15 Scottish success in the shot back in 2001 that makes it a round total of 20 seasons of championship success for Kirsty.
+++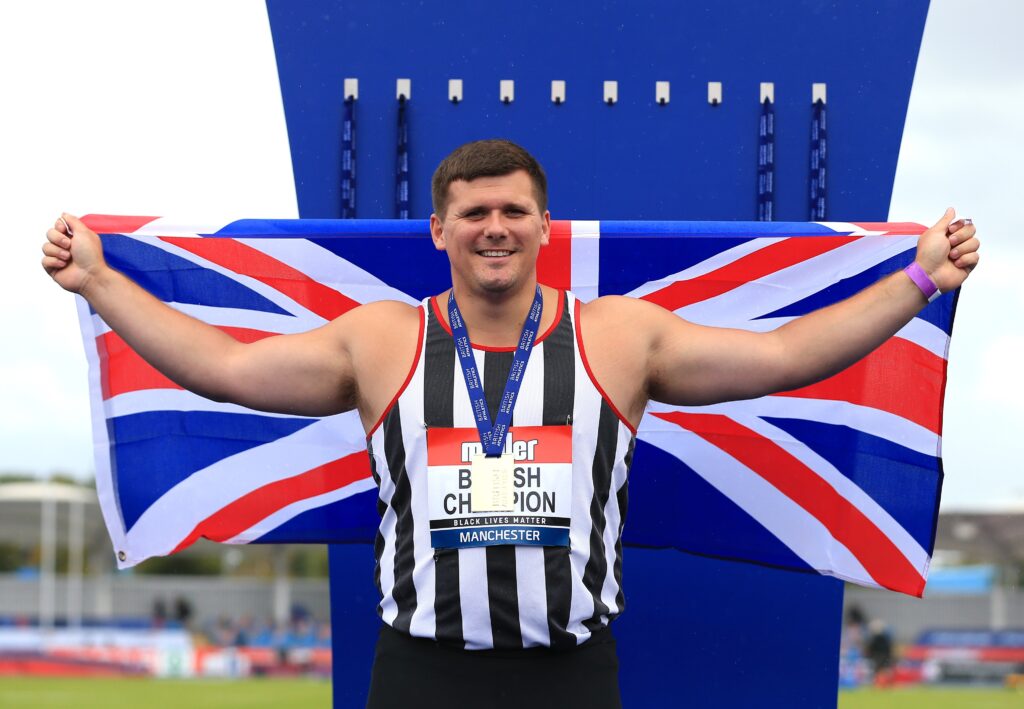 Nick has developed a great habit of winning domestic competitions.
In 2019, he won the Scottish and British titles, the Loughborough International and the Manchester International.
By his own admission, it was not a great series in the Manchester Regional Arena and when rival George Armstrong went ahead with his fifth round throw, there was big pressure on the favourite.
But Nick responded to throw further and close out a success he might have envisaged when pitching into nets in his garden in Isle of Wight isolation.
'We created the Garden high Performance Centre,' laughed Nick afterwards.
'We cut back some trees and strung up some high netting. My mother wasn't too happy but needs must in these difficult times. I was fortunate my local gym was able to lend me some weights.
'So I was able to keep going when other were not.'
It was his fourth British title win at the age of 25.
+++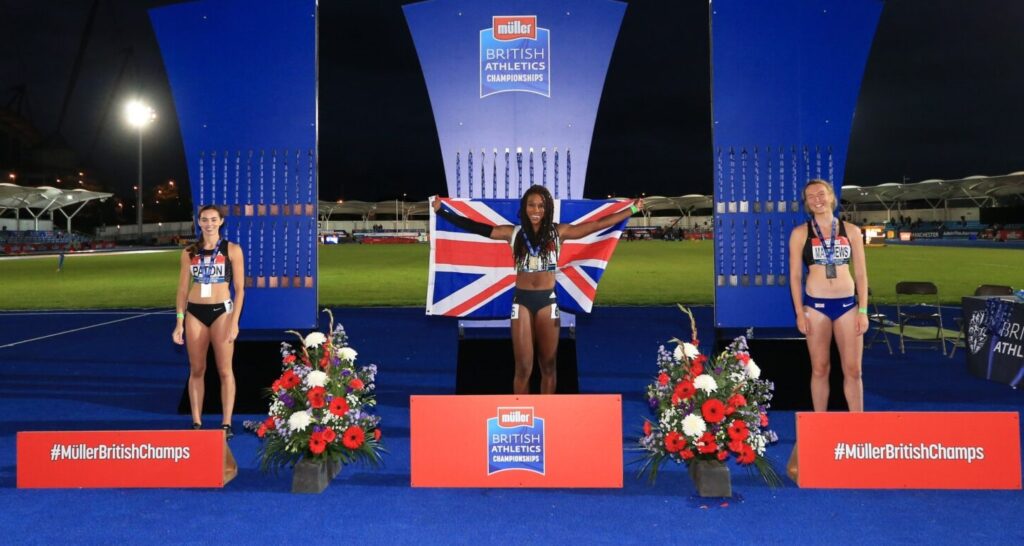 Heather Paton declared herself thrilled with a first British Champs medal to savour in the strange circumstances of 2020.
Two solid runs over the hurdles saw her qualify from the heats and then take third in 13.60 as favourite Cindy Ofili claimed the title.
Heather set a new Scottish National Record indoors for the 60m Hurdles early in 2020 and became the first Scot to medal in the Women's 100m Hurdles at the British Champs since Pat Rollo in 1984.
'I feel really lucky to even be able to compete this year because it was so uncertain. So, I'm happy to run and this is my first championship medal,' she said.
It's fair to say there have been a couple of opportunities in the past – certainly indoors – for Heather to win a British medal and those slipped by, so it was good to see her on that podium.
+++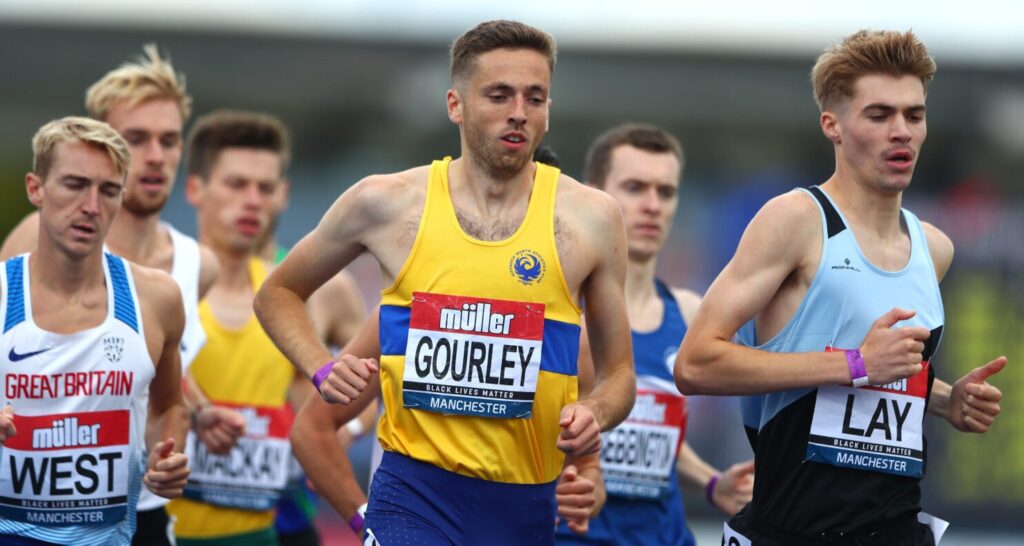 Four silver medallists all had mixed feelings with middle distance duo Neil Gourley and Jake Wightman beaten by better athletes on the day and Chris Bennett in hammer and Will Grimsey in the high jump both also feeling their performances might have been better.
Wightman declared he doesn't like be classed as a 1500m runner and would rather be known as a 800m/1500m runner in a subtle distinction.
The fact Daniel Rowden landed Muller British Champs 'Performance of the Day' for the Saturday backed up Jake's assessment that he did as much he could in terms of positioning himself to try and win what remains an elusive first outdoor British title.
Neil for his part hasn't been training too well in recent weeks but still opted not to duck the chance to try and defend his title. On Twitter, he graciously acknowledged that George Mills had been better on the day.
Will had his Scottish eligibility cleared at the start of 2020 so has made an immediate impact but one look at his Twitter suggested an attitude which won't settle for second best. 'Next year will be different,' he said.
+++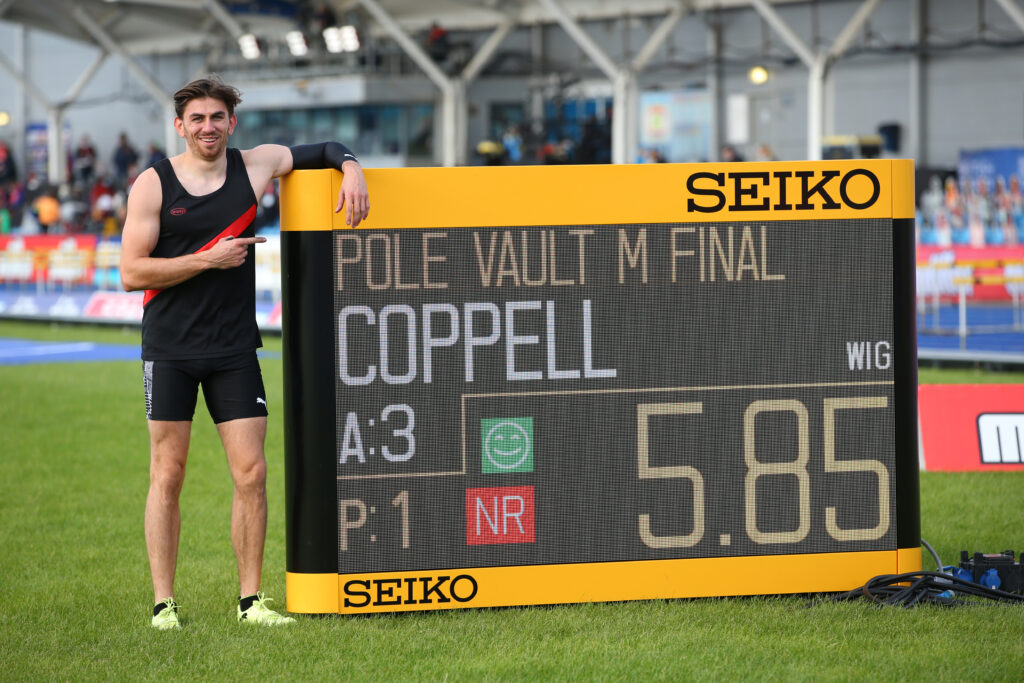 Next year will be different is a phrase which could be applied across the board.
Yet, despite the surreal nature of many aspects, it was good to see Para events involved and also to see athletics projected across BBC Sport for a couple of days.
Viewing figures of 1.4 million for Friday night on BBC Two are an encouragement – there's an audience out there for the sport.
Any journalist worth their salt would have been interested in story-lines such as: Harry Coppell's British Record 5.85m pole vault; a first British title for Harry Aikines Aryeetay at the age of 32 and just prior to becoming a dad; George Mills, son of former Manchester City, Leeds United England footballer Danny Mills, emerging to pip Gourley to gold.
Or what about Rowden's remarkable return after stomach surgery; Laura Weightman winning her fifth 1500m title; Imani Lara Lansiquot winning the 100m with her middle name a nod to a cricketing legend?
It's easier for commentators when the big names are there but it also makes them lazy: it was good to hear background stories to some of the teenagers and 'unknowns' and see more clubs being represented.
Being visible on the BBC helps the sport.
It can only be fervently hoped that UK Athletics and the BBC can resolve any contract impasse . . . because taking it onto a pay-per-view channel will cut the audience significantly.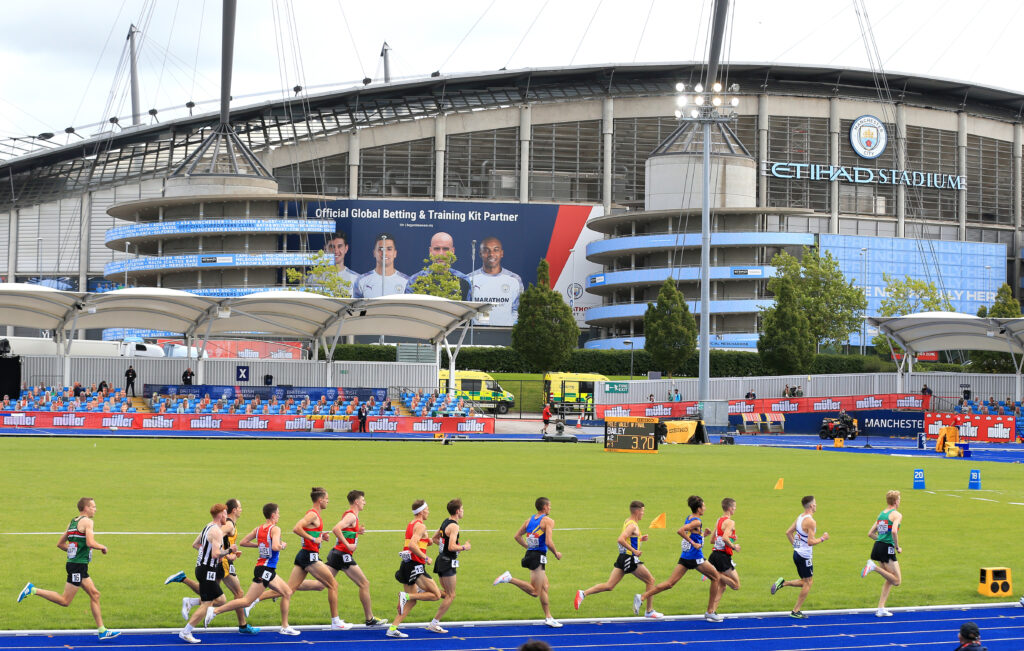 Action from the Men's 5000m featuring Jamie Crowe (Central Ac), Sol Sweeney (Glasgow Uni) and Jonny Glen (Inverclyde AC)
Tags: Chris Bennett, Heather Paton, Jake Wightman, Kirsty Law, Muller British Champs, Neil Gourley, Nick Percy, Wil Grimsey