Champion Kirsty leads Scottish medal march in Manchester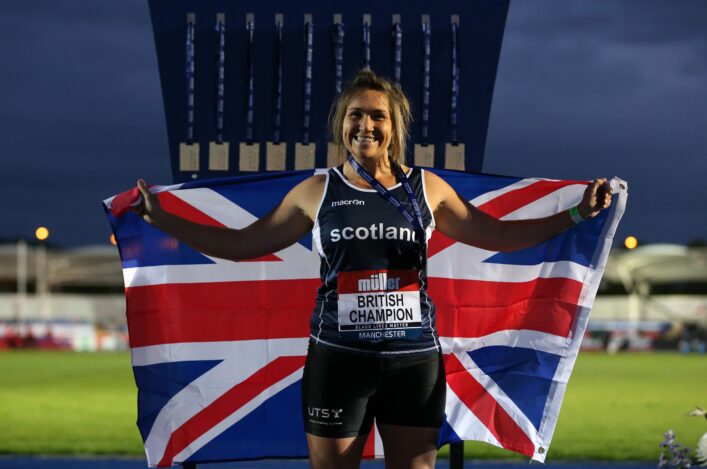 Kirsty Law came up with the best performance of her career to retain her title at the Muller British Champs.
The Scot was trailing in second place heading into the final round in a contest with her friend and training partner Jade Lally.
But a stunning PB throw of 57.95 in the penultimate throw of the competition applied all the pressure that was needed and Lally could only respond with 57.20m.
It means Kirsty is British champion for the second year in a row after winning in Birmingham last year and her pledge in recent weeks to come up with a PB – with her previous at 57.79 from a few years ago – duly delivered as she celebrated in a Scotland vest in the Manchester Regional Arena.
That performance was the highlight of a solid opening day for Scots with three medals secured – as Will Grimsey took a silver in the high jump and Heather Paton a bronze in the 100m Hurdles.
There were also a number of qualifications for finals coming up on Saturday and, of course, we will pick up on those when they happen.
Jake Wightman and Joe Ewing made it an Edinburgh AC double in the men's 800m final, with the teenager delighted with 1:51.10.
Neil Gourley also cruised through in the men's 1500m as a heat winner in 3:48.33. Stephen Mackay joined him via the second heat with fourth and automatic qualification in 3:47.28.
In the women's 1500m heats, there were final places claimed for Erin Wallace and Eloise Walker but Megan Davies and Jenny Selman missed out.
'What a day to PB after eight years! I'll definitely take that,' said Kirsty.
'My warm up was really good and I thought I was on here. But then the first three throws it really wasn't happening for me. But by my fifth throw I really did what I am meant to do and I really went for it. And I did it.
'Jade and I were both struggling going into the last round but then we both had a great round so we really pushed each other and brought the best out of each other.
'Last year I won but didn't feel I threw my best but this year, a PB and winner so I really couldn't be happier. '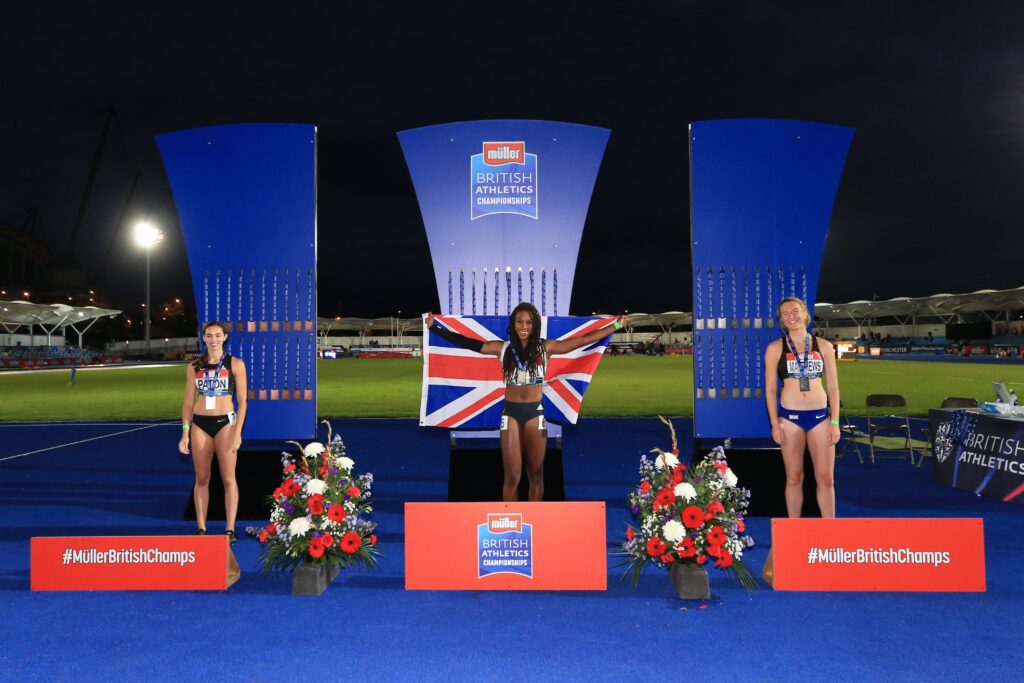 Heather Paton on the podium in the Women's 100m Hurdles after landing bronze (photo via British Athletics/Getty Images)
For Heather Paton, it was a first British Champs medal as she took bronze in 13.60 as Cindy Ofili won the title.
'It's been difficult to find any form not knowing if we was going to have a season this year,' said Heather.
'I feel really lucky to even be able to compete this year because it was so uncertain. So, I'm happy to run and this is my first championship medal.
'I'm fully aware that not everyone is here due to different circumstances but I'm just so pleased to be able to race.
'Resilience is massive, having to adapt to any environment and conditions. I'm happy.'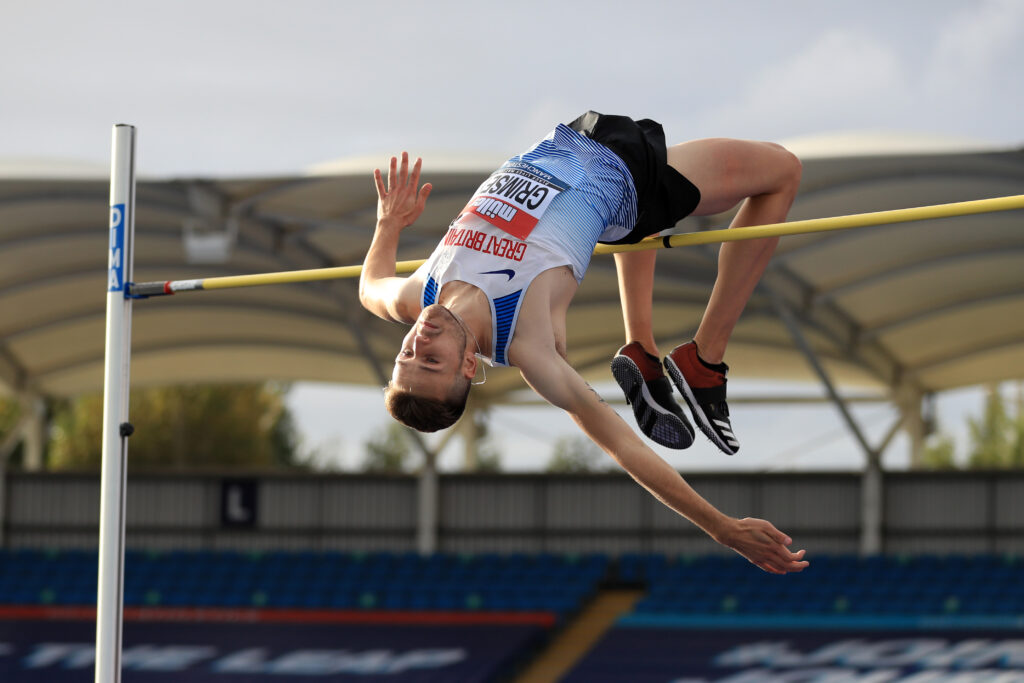 Silver medal for high jumper Will Grimsey (photo via British Athletics/Getty Images
High jumper Will Grimsey had opened up the medal count in terms of the Scots.
Will had his eligibility confirmed earlier this year and a 2.15m clearance helped him to a silver medal in a competition won by Joel Clarke-Khan, who went over 2.18m.
'I feel that result does not really reflect where I am at the moment,' said Will.
'The conditions were fine, the wind was not ideal but, it is not really an excuse. It is nice to be back in competition but, I am just looking forward to next year.'
There was a good contest between the two Scots in the men's sprint hurdles final. Andrew Murphy just edged the head-to-head with his Kilbarchan AAC club-mate Scott Connal – with SB run of 15.03, although Scott had consolation of PB at 15.07.
Jack Lawrie went through to the 400m Hudles with second place in his heat in 51.18 as Connor Henderson took fifth in SB of 53.99.
Alyson Bell, a 16-year-old sprinter from Giffnock North AC, made a very creditable debut in the 100m with her 11.99 not too far adrift of making the final.
In the early afternoon action, Greg Millar was fourth in the javelin with a best thrown of 63.35m. Michael Olsen went out in the heats of the 100m with SB run of 10.77. And Grant Plenderleith just missed out on the 400m final with fourth in his heat in 47.71.
Philippa Millage set a W40 British Record (subject to ratification) with a run of 2:0981 in the Women's 800m but missed out a final place.
Edinburgh AC's Hannah Cameron, however, had finished fourth in the first heat and her 2:08.29 was enough to qualify.
Emily Craig was another Edinburgh AC athlete reaching a final – as she took third in the Women's 400m Hurdles with PB of 61.30 with Anna Nelson in fifth in 62.52 not quite enough.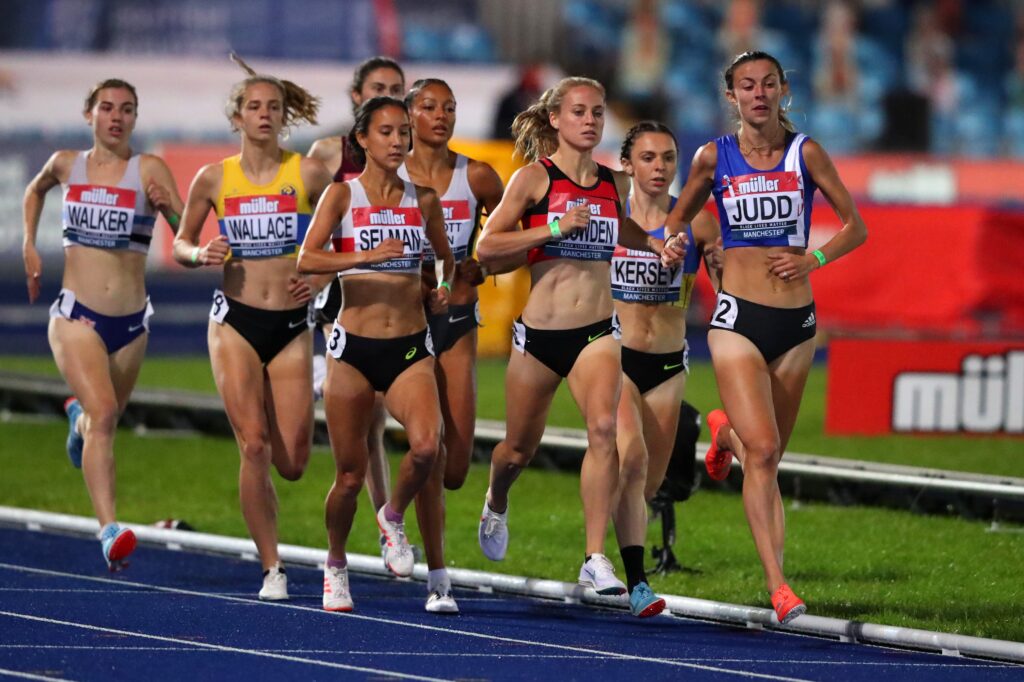 Action from the 1500m heats as Eloise Walker and Erin Wallace progress but Jenny Selman missed out
Tags: Heather Paton, Kirsty Law, Muller British Champs, Will Grimsey