Para Scots impress in Manchester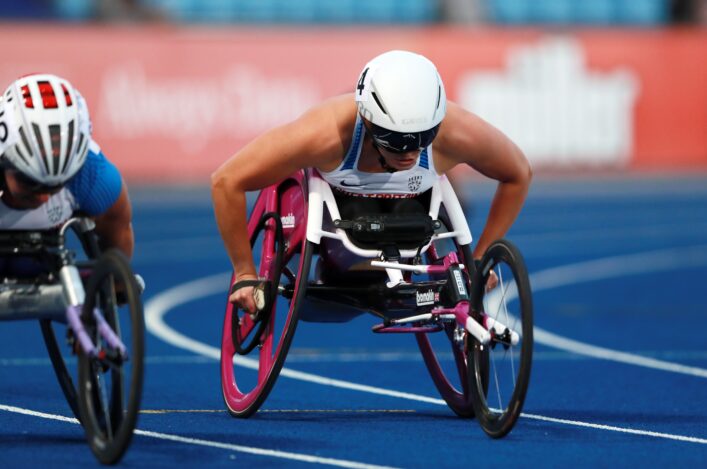 Sammi Kinghorn in action in Manchester in the 400m wheelchair race (photo via British Athletics/Getty Images)
In the Para events, there were a couple of strong performances by Scots in the 400m Wheelchair race.
These events had different classifications involved and thus were not 'championships' but Sammi Kinghorn and Melanie Woods made it a Scottish 2-3 behind race winner, Hannah Cockroft. Woods is relatively new to this level of competition and came up with a PB of 62.90.
'It is so strange to get back into it all really,' said Sammi.
'Everything in Scotland has been behind and I have not been on the track compared to some other athletes but I can't really complain. I had a little trouble with my compensator which I should know better but mistakes are made and I can learn from it.
'It is really nice to race with people again and the feeling of coming back into this environment, to have those race nerves. I did not think it was going to happen this year.
'I live in Glasgow but I have moved back into my family home on the Scottish Borders during lockdown where we have a gym and my dad could come out on his bike so I could train as best as possible. It let me zone out a get to mess around on the farm and take a step back. '
Maria Lyle clocked a SB performance in her 100m ambulant race with 14.73 seconds. Stef Reid had a best leap of 5.22 in the Women's long jump competition.
Stef said: 'It wasn't as weird as I thought it was going to be. It's quite strange just coming to the stadium by yourself with nobody else there. But once I got out the atmosphere was amazing, I loved the Crowdies.
'Everyone at the long jump pit, all the girls were really supportive and that was great. I absolutely loved it and what a great way to end the season.
'Being involved in theses champs is great. I've even had a few international para-athletes noticing what I'm doing and saying, "oh that's amazing, we wish our federation did that".'
On Saturday, there was a solid run from Alexander Thomson in the ambulant 100m as he clocked SB performance of 12.37 seconds.
And Red Star AC athlete, Luke Deighan, was fourth in the mixed category 400m wheelchair race as he recorded 57.09 seconds.
Tags: Maria Lyle, Melanie Woods, Muller British Champs, Sammi Kinghorn, Stef Reid