Harmeny AC . . . making an impact despite lockdown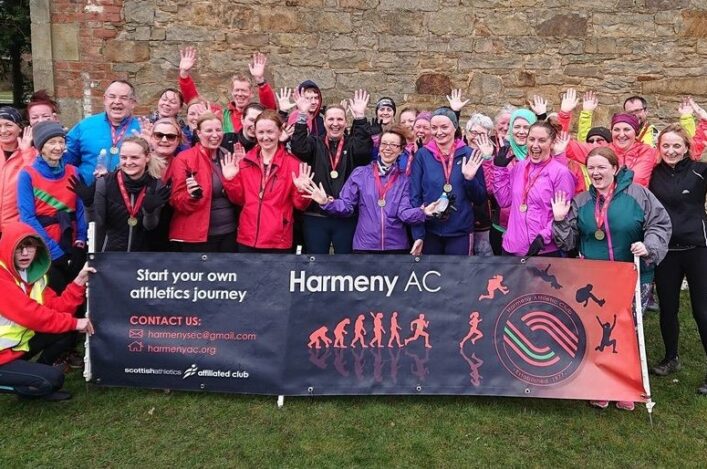 Edinburgh-based Harmeny AC were named scottishathletics Impact Club of the Year at our Annual Awards in 2019.
Making in an impact and helping in the overall growth of athletics in Scotland is somewhat more difficult this year, of course.
Lockdown and Covid-19 restrictions have affected so many areas of life and sport – but some clubs have managed to become extremely creative to keep connecting with their members via Virtual Events and online platforms.
Harmeny AC are one, as club secretary and coach Craig Stewart, explains in this special blog post:
'There's never a good time for a global pandemic (!) but it definitely felt like the lockdown in late March interrupted and undid a lot of the good work we were doing here at Harmeny AC,' writes Craig.
'In particular we'd just completed our most successful jogscotland course for years, with nearly 50 graduates. In fact, 30 of these runners completed the Oriam parkrun as their 'graduation ceremony' on March 7.
'Within a fortnight, we felt it such a shame that the group couldn't continue their development with the club having created new training groups to accommodate them.
'However, we did notice that there seemed to be more runners than ever pounding the streets of South West Edinburgh and so, rather than put the club in hiatus, we decided that we should do more to support all new runners in the area and capitalise on their lockdown passion for running.
Spring in their steps . . . Springburn Harriers still growing
'The club advertised free membership for the remainder of lockdown on local Facebook groups and the local press, the lure being support from fellow members, training plans written by club coaches Nicky and Ian, and access to Virtual Challenge events to keep the competitive juices flowing.
'The response was fantastic and the club picked up 20 brand new Senior members, all of whom have remained active throughout. Our annual handicap race is being run in late August as a Virtual Challenge event, and has record number of entries – well over 50 already with a couple of weeks to go until we virtually congregate at the start line.
'We haven't yet managed to get our big Wednesday and Sunday club runs going due to the guidelines, but have encouraged members to share their own running plans in order that small groups can train together.
'But when we are able to run in large groups again, we're ready for the challenge of retaining our new members and attracting as many new runners as possible to the club.
'Similarly, with the juniors having been inspired by the club's success in the first of the scottishathletics  Virtual SUPERteams events, the club decided to organise our own 6-week/6-event Virtual club championships.
'Once again, this was advertised locally as a free membership for the school holidays and the interest shown has been phenomenal, with another 19 young athletes joining the club, many of whom have now signed up to our new club training sessions that started in early August.  The challenge now is finding the coaches who can help us meet this new demand!.
'Harmeny AC communicate all updates via our closed Facebook pages (separate for juniors and adults), via the website and via email.
'We have had Zoom calls with Juniors including a quiz night and, a Question & Answer session with our two School to Club Coaching Officers – Laura Gibson and Jamie Crowe – about their own athletics careers.'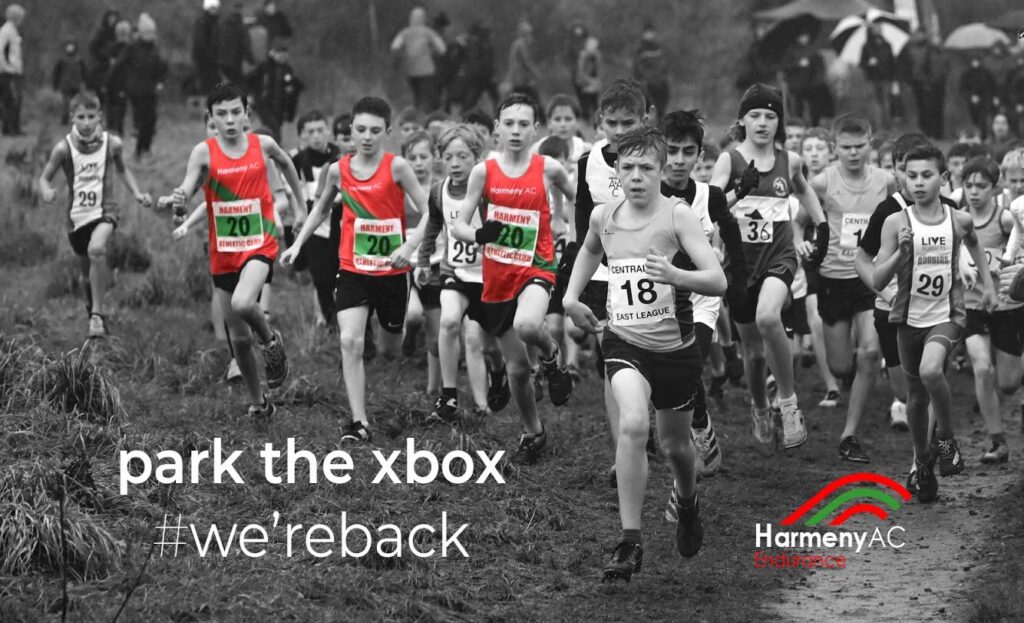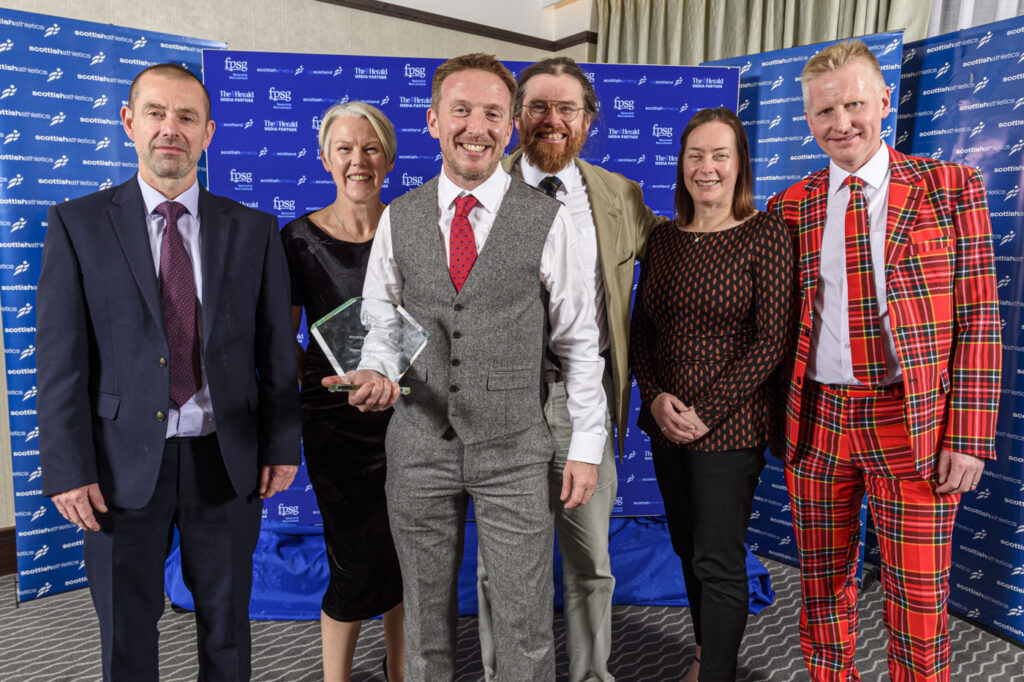 Harmeny AC receive their 2019 Impact Club of the Year award from Ian Beattie (photo by Bobby Gavin)