4J Studios National Open Series – further dates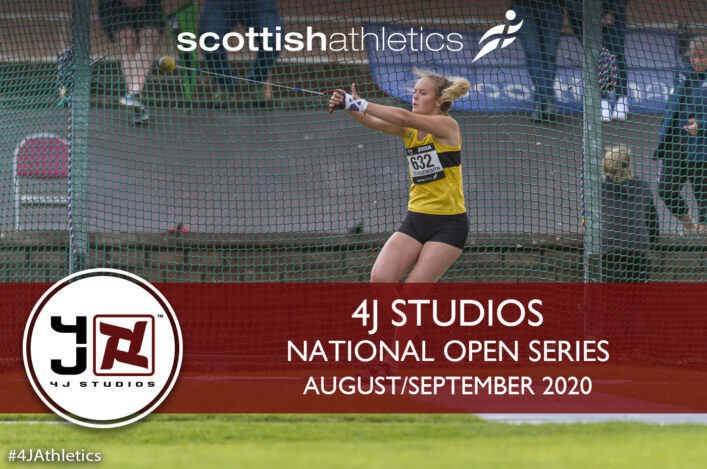 Meadowmill to host first weekend of 4J Studios National Open Series
scottishathletics are pleased to confirm the remaining competition opportunities for the 4J Studios National Open Series.
Dates and venues have now been confirmed but all of these meetings remain subject to Scottish Government conditions on the day or indeed could be affected by any local lockdown decisions.
Meadowmill hosts the first weekend on August 22/23 and all event spaces available for those dates are now filled.
Thanks for all your support for these events and for your continued patience. It is much appreciated.
Thereafter, there are three further weekends for the 4J Studios National Open Series and we will open entries for August 29/30 tomorrow (Friday 14 August) at 12 noon.
The events now scheduled are as follows:
Saturday 29 August at Grangemouth: Entries Open 14 August
400m; 100m; Long Jump; High Jump; Seated Throws
Sunday 30 August at Grangemouth:
200m; 800m; Hammer; Shot; Triple Jump
Sunday 6 September at Aberdeen: Entries Open 21 August
100m; 800m; Shot; Long Jump
Saturday 12 September at Grangemouth: Entries Open 28 August
400m; 200m; Pole Vault; Long Jump; Javelin
Sunday 13 September at Grangemouth:
100m; 800m; Seated Throws; Long Jump; Triple Jump; Discus; Shot
'Thanks for your support and patience' – Mark Munro
All fields are restricted as part of the guidance from the Scottish Government and sportscotland around us staging events.
A number of conditions will be in place at each venue. For example, all U18 athletes are asked to compete with just one chaperone in attendance.
These events are not open to spectators (to help reduce the overall numbers) and the main concept is: attend shortly before your event; compete; leave the venue.
Entries are open to all ages from U13 and to scottishathletics members only. Waiting lists will operate.
To help the entry process, we've also now 'staggered' the entries as follows:
Friday 14 August 12 noon: U17, U20 and Seniors
Monday 17 August 10am: U15, U17, U20, Seniors and Masters
Wednesday 19 August at 10am: U13, U15, U17, Seniors and Masters
Entries close at midnight on Thursday 20 August

Tags: 4J Studios National Open Series, Aberdeen, Grangemouth