Our Exit Plan – key guidance for Phase 3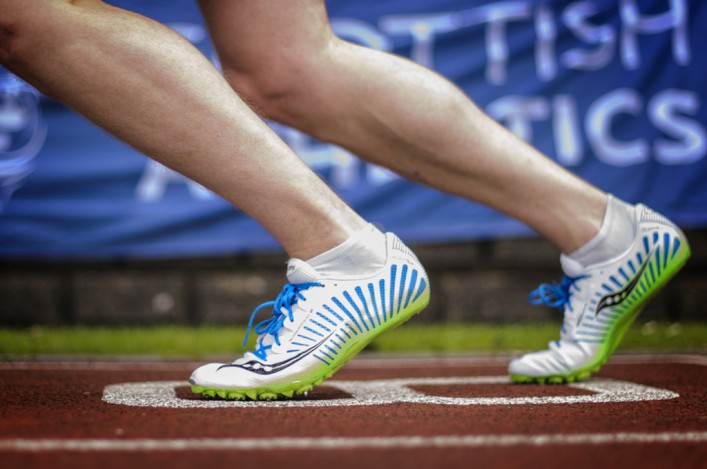 Join us for our online Update and Q and A sessions
scottishathletics welcomed the First Minister's announcement on Thursday (July 9) in respect of moving through the Covid-19 exit route map process and into Phase 3.
We have been working collaboratively with both the Scottish Government and sportscotland to progress plans for the return of sport following the coronavirus crisis as part of future phases of the route map.
Subsequently, we have now updated our own route maps based on the guidance provided and have produced Phase 3 route map guides for:
The key changes for Phase 3 include:
Travel distance – restrictions were removed previously
The rules for training group sizes (from Monday 13 July) and physical distancing are as follows:
Age 11 and under:
*Children aged 11 years and younger are not required to physically distance, as set out in Scottish Government guidance. This extends to organised sports activity and the field of play.
*Coaches and other adults must continue to physically distance as per Scottish Government guidance (2m for time being) at all times
*scottishathletics recommend a maximum group of 8 athletes for athletes aged 11 and under.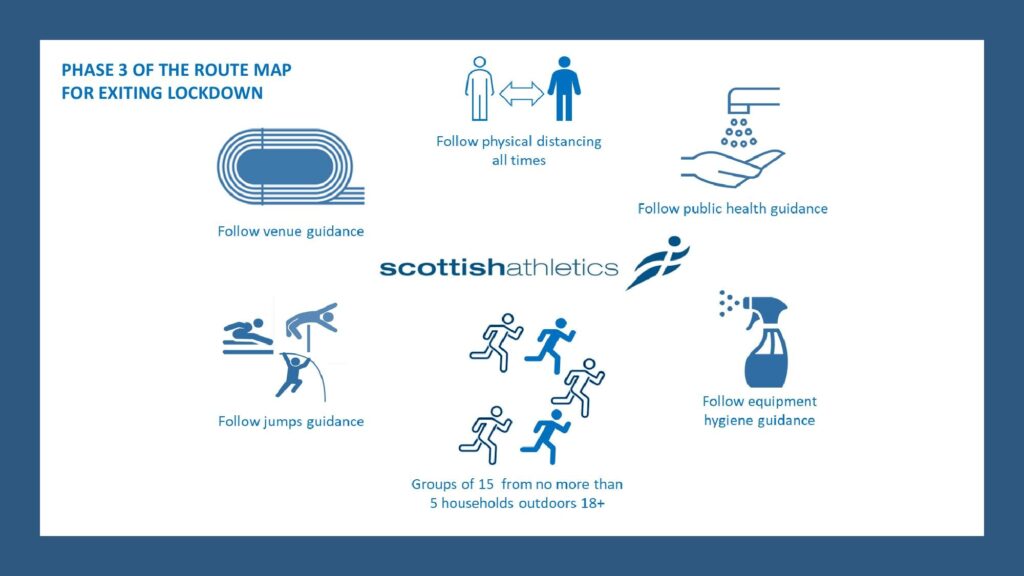 Age 12-17 years:
*For older children aged 12-17 a 'field of play bubble' can be created during organised sports activity that allows contact whilst the activity is taking place, in effect suspending physical distancing guidelines for the duration of the activity.
*Normal physical distancing guidelines will however apply before and after the activity takes place (see Scottish Government guidance).
*Coaches and other adults must continue to physically distance as per Scottish Government guidance (2m for time being) at all times.
*scottishathletics recommend a maximum group of 10 athletes for athletes 12-17 years.
Age 18 plus:
*As of Friday 10 July, the household numbers that can mix outdoors is five households (with up to 15 people).
*These guidelines remain in place for adult (18+) training groups and physical distancing must be maintained at all times. Please note that this guidance may be relaxed over the weeks ahead so please continue to follow Scottish Government guidance.
Performance athletes and coaches
*Guidance has already been updated and athletes/coaches should contact their respective scottishathletics performance manager for detail.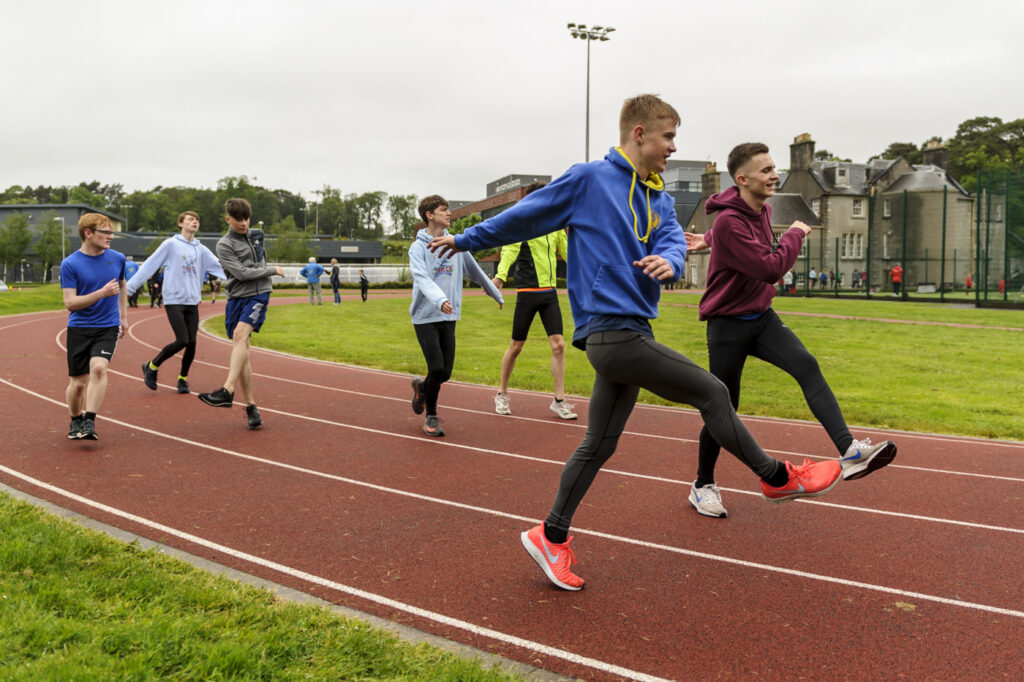 Photo by Bobby Gavin
Please be aware that this guidance can change quickly, so please refer to the scottishathletics website regularly. However, clubs, athletes and coaches must follow the attached guidelines from both a government policy, health and safeguarding perspective.
The Development Team have also arranged a series of webinar update sessions the week beginning 13 July for anyone who wishes to seek further clarification on points.
Please contact your club secretary for details or email development@scottishathletics.org.uk
These guidelines should be read in conjunction with any updated Scottish Government guidance on health, physical distancing, and hygiene.
Participants should be aware of and adapt to changes in guidance at short notice.
Information on the Scottish Government's approach to managing covid-19 is available online
Additional information can be found via Health Protection Scotland at www.hps.scot.nhs.uk/web-resources-container/covid-19-guidance-for-non-healthcare-settings/
Additionally, there is also information available at the following www.hps.scot.nhs.uk/a-to-z-of-topics/hand-hygiene/ .

Tags: Coronavirus, Covid-19