Stewart is ultra special over 134 miles . . .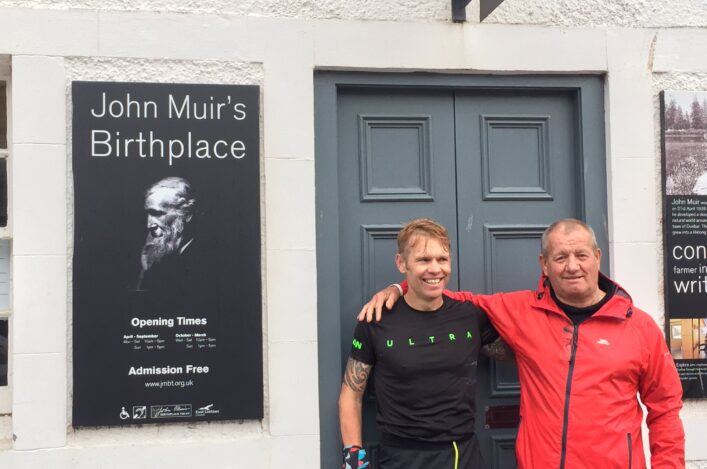 James and his dad Andy in Dunbar on Saturday morning (photo via Twitter)
READ MORE – coverage on fastrunning.com
Scotland and GB 24-Hour international James Stewart is celebrating a superb achievement which captured the imagination of the ultra running community.
Stewart set a new Fastest Known Time for the 134-mile John Muir Way as he arrived in Dunbar early on Saturday morning.
He had left Helensburgh on Friday morning to take on the trail which spans Scotland from West Coast to East Coast and arrived at John Muir's birthplace in Dunbar in 21 hours 53 minutes and 22 seconds.
The previous fastest known time was 29 hours 29 minutes by Kristian Delacour, so think we can safely say that is 'smashing it'.
Many congratulations to James, his coach Paul Giblin and all the support team – which included his dad Andy – and family. Adrian Stott, Rob Turner and Mark Munro were among those to greet James in the final stages with Rob having run with him for a spell.
'The real best bit was that I must have had 30 or more different people run with me at times, many of whom I didn't know,' the VP-Glasgow athlete told fastrunning.com.
'Add to that scores more out support and saying hello, waving flags and so on. That was very cool.
'I was sick at just over 100 miles. That was really hard. It had just gone midnight. But the experience of the 24-Hour races kicked in. Salt, Pringles and dark chocolate saved me.'
+++
Tags: Adrian Stott, James Stewart, John Muir Way, Ultra running, VP-Glasgow