Return to competition planned – but no Scottish track and field Champs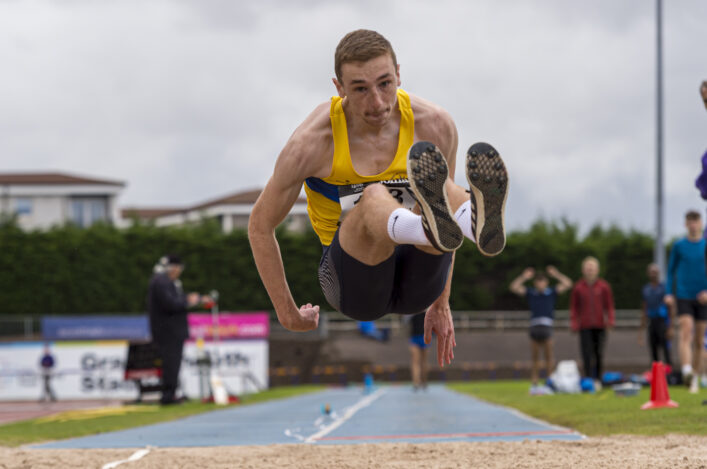 Action from the Scottish Champs last summer . . . this year the plan is to stage the 4J Studios National Open Series instead (photo by Bobby Gavin)
'It's devastating – but we can't just write off 2020' – Mark Munro (May 23)
scottishathletics are pleased to confirm we are working with all agencies concerned to deliver a return to some form of track and field competition in August and September.
But we have now reluctantly taken the decision, in full consultation with our Track and Field Commission, not to stage 4J Studios Scottish Champonship events for 2020.
The gradual lifting of Covid-19 restrictions should help hill and trail events start to take place in a few weeks and there may be opportunities for road races, too.
In terms of track and field, it is now our intention to deliver the 4J Studios National Open Series – with most of these events to happen at Grangemouth, with certain physical distancing and hygiene regulations in place.
Chief executive Mark Munro has outlined below his hopes for the return to competition and why it is felt declaring an athlete Scottish champion is not appropriate in 2020 given the likely big variance in preparation conditions for competitors across different parts of Scotland and beyond.
'As our members and partners are aware, scottishathletics have been working with sportscotland and the Scottish Government to continue our plans for exiting the COVID-19 lockdown,' said Mark.
'We continue to liaise with the Scottish Government around the exit phases and the subsequent route map guidance documents.
'It is pleasing to see signs that we are now on our way out of lockdown, but we fully appreciate that this is a national public health matter, and as such, there is a long way to go.
'From June 29 it was positive to see that outdoor facilities were allowed to open. However, because of staff availability, preparatory work, maintenance, financial situations etc, we are aware that this will take quite a while in many cases and therefore not all athletes will be able to access facilities immediately.
'We have had to urge those involved to please exercise patience at this time.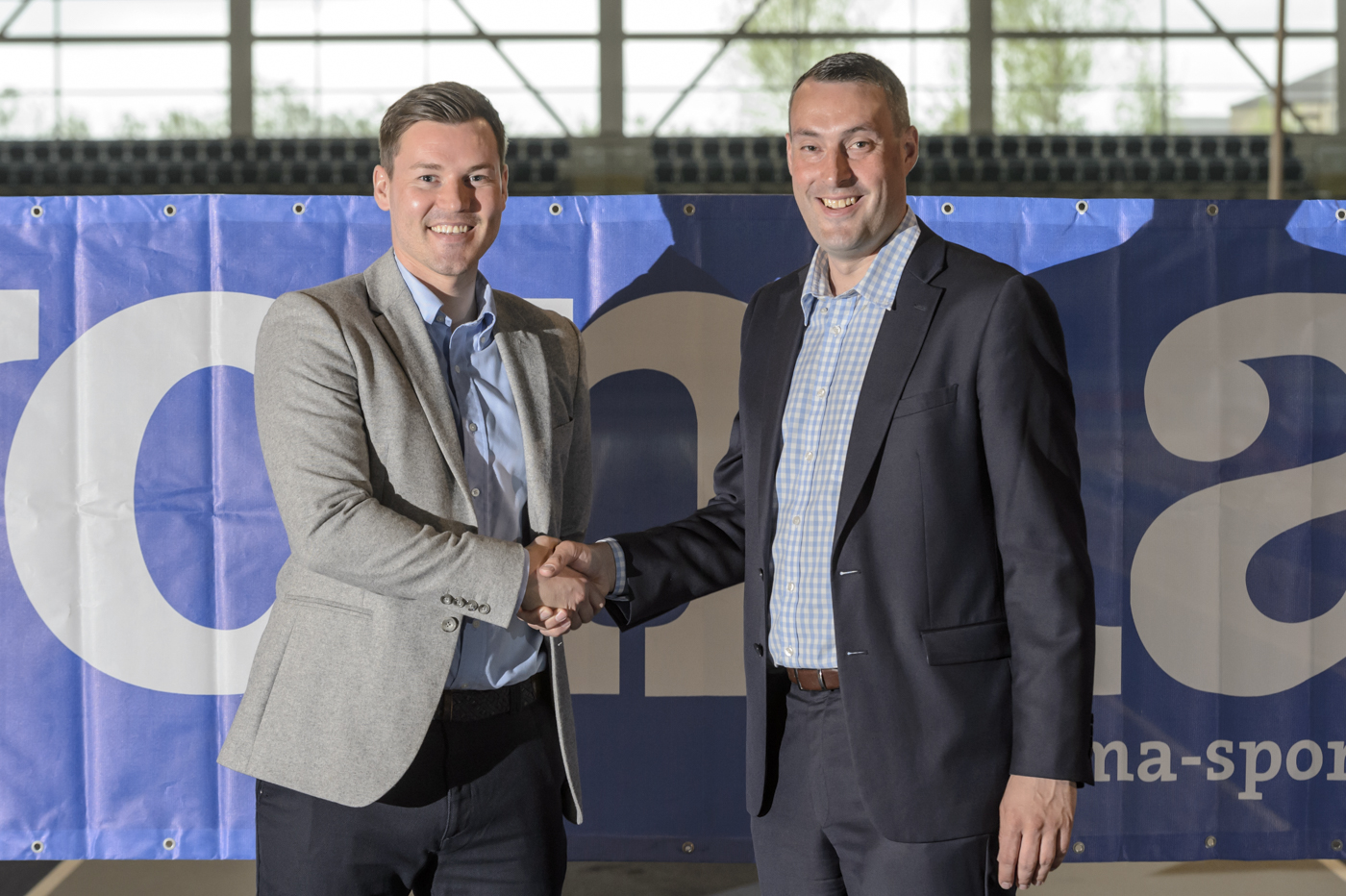 Mark Munro (right) with Andrew Barrowman of Joma (photo by Bobby Gavin)
'A 'return to competition' has been a daily discussion within the organisation and with partners, and whilst we see a return to training and club activity as the sport's immediate priority, we are desperate to see some track and field competition before the end of the summer.
'Alongside that we are working with road race providers; although this area is more complex by the nature of physical distancing challenges. But it is certainly more likely that small road events, plus hill and trail racing will likely be able to return in August.
'We are very keen that a return to track and field competition commences in August as well and we have started to plan accordingly. However, following discussions with Scottish Government, sportscotland, facility providers and many of our officials, it is going to take a lot of planning with a number of restrictions imposed upon us.
'Whilst it looks as if U17 athletes will be permitted to be within close proximity/contact on the field of play (track/field) from mid-July, it would appear that until a vaccine is available, the physical distancing elements for U20 and Senior athletes will continue for some time yet.
'There are also complications around delivering events 'behind closed doors' with limited crowd numbers, which are yet to be confirmed.
'There are also challenges in respect of Officials being within close proximity of each other, particularly track judges, timekeepers and photo finish.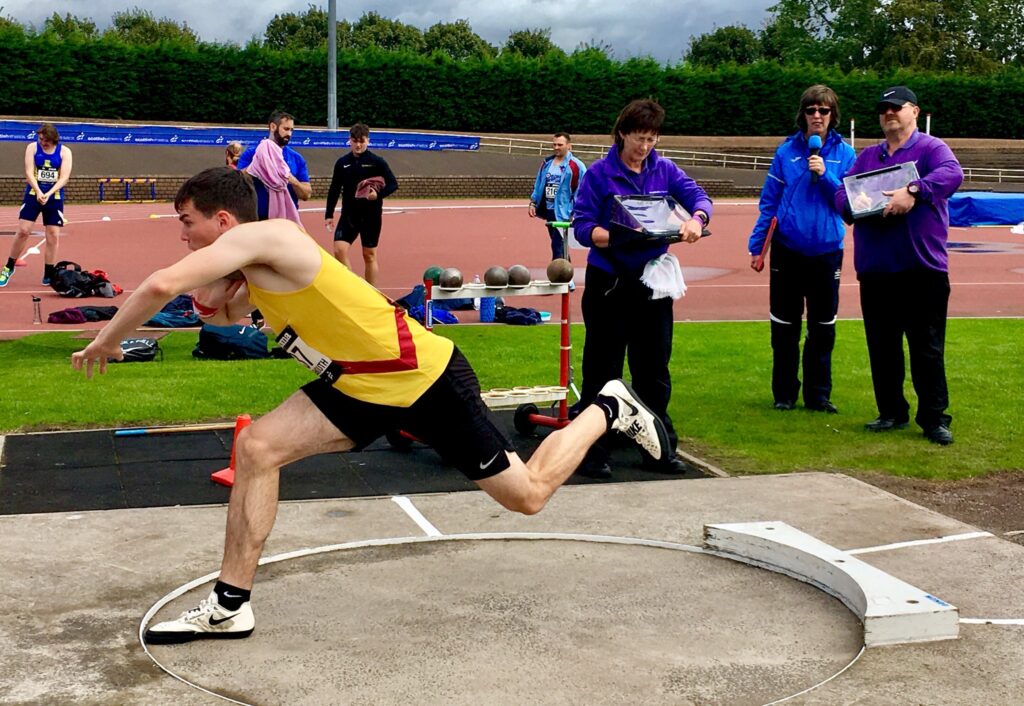 'This therefore provides many challenges: but these are challenges we will work with to try and ensure track and field athletics can start again this summer.
'However, it does mean that the delivery of Scottish Championships may prove a step too far with too many uncertainties. Ultimately, we must put the health and safety of all our athletes, coaches, Officials and spectators first.
'Subsequently, following agreement with the Track and Field Commission, the Board and our track and field national events partner – 4J Studios – we have agreed to cancel all outdoor Scottish Track and Field Championships for 2020.
It is also felt that it is not appropriate to identify someone as a 'Scottish Champion' in this particular year in track and field, when so many areas of preparation and facility availability have been affected and there may be a big variety in terms of readiness for competitors.
'So we are very much seeking to be fair to those who have not yet fully returned to training. And we must ensure safety of all in attendance.
'This has not been an easy decision for anyone, particularly when we are all desperate to deliver a successful series of championships and build on a fantastic winter.
'However, we do believe that we can work within the parameters that have been set and we will deliver a 4J Studios National Open Series during August and September to provide athletes with an opportunity to re-introduce themselves to competition safely before we move into the winter programme.
'We also propose to license club events and open graded meetings during August and September where organisers can meet the strict physical distancing and hygiene measures that we must adhere to.
'Full details of the 4J Studios National Open Series will be communicated in the near future.
'Over the next few weeks, we plan to publish two guidance documents for Events organisers – one for track and field and one for off-track events.
'These will be linked to the phase announcements from the Scottish Government, so we expect the off-track one to take a little longer.
'Those looking to host events (after our July 31 suspension of events is concluded) should apply for licences in the usual way via the licensing page of the website