Moira wins Czech title; Loch Ness Marathon is off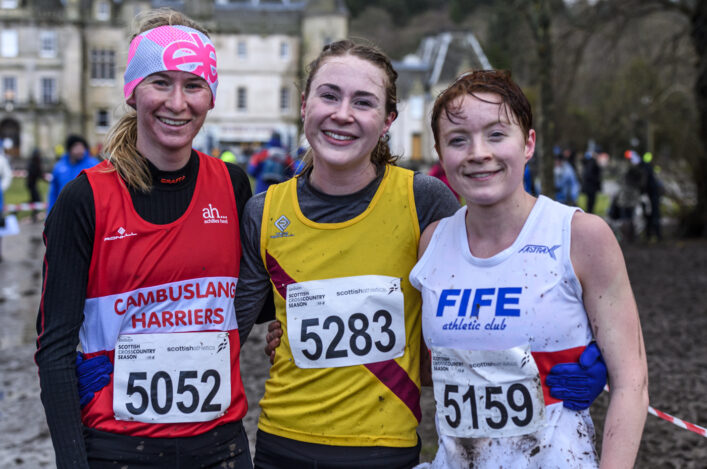 Moira Stewart was on the podium at the Lindsays National XC with Mhairi Maclennan and Annabel Simpson (photo by Bobby Gavin)
Cambuslang Harriers athlete Moira Stewart is a national champion once again.
Bronze medallist at the Lindsays National XC silver medallist at Falkirk back in February, Moira retained her title over 10,000m when track competition resumed in the Czech Republic.
Moira clocked 34.20 in very warm conditions with temperatures at 30 degrees.
Meanwhile, her dad, Eddie Stewart, took part in the BMAF Road Relays and finished fourth fastest M60 with a 17.37 run.
*In Canada, we've seen details of a 15.15 run in a 5000m track time trial by Sarah Inglis.
+++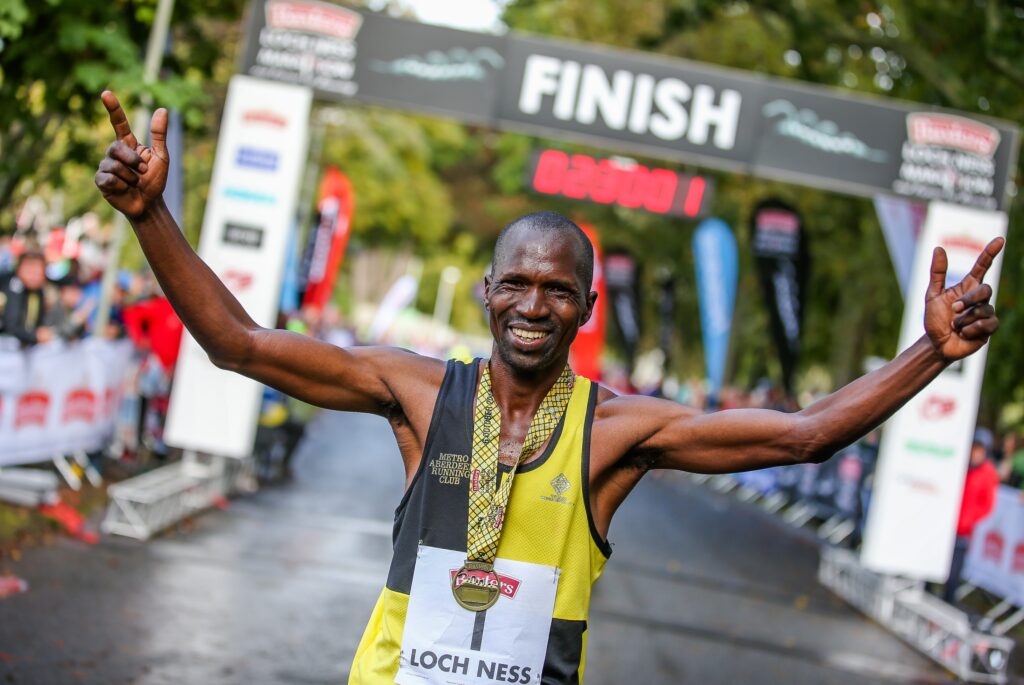 Isaiah Kosgei celebrates his win at the Loch Ness Marathon in 2019
Organisers of the Baxters Loch Ness Marathon & Festival of Running, Caledonian Concepts, have announced the cancellation of the 2020 event due to the challenges posed by the ongoing Coronavirus pandemic.
Scheduled to take place on Sunday 4 October, the Baxters Loch Ness Marathon & Festival of Running incorporates the River Ness 10K, Corporate Challenge, 5K and Wee Nessie race.
Established in 2002, the event attracted a record 9,500 participants in 2019 with 60 percent of marathon runners coming from outside Scotland and 17 percent from overseas. The cancellation is the first in the event's 18-year history.
Following consultation with partner agencies, sponsors and stakeholders over the past few months during lockdown, the difficult decision was made based on the safety and welfare of all those involved in the event. The team also conducted a survey of runners to better understand their thoughts and concerns.
The uncertainty over travel restrictions for the large number of participants who travel to Inverness and the Highlands from around the UK and abroad was also taken into account.
All those with a place in the 2020 Baxters Loch Ness Marathon & Festival of Running will automatically be transferred to the 2021 event, scheduled to take place on October 3 next year.

Tags: Cambuslang Harriers, Moira Stewart