'Understanding arthritis and diabetes shaped my coaching' – Stephen Maguire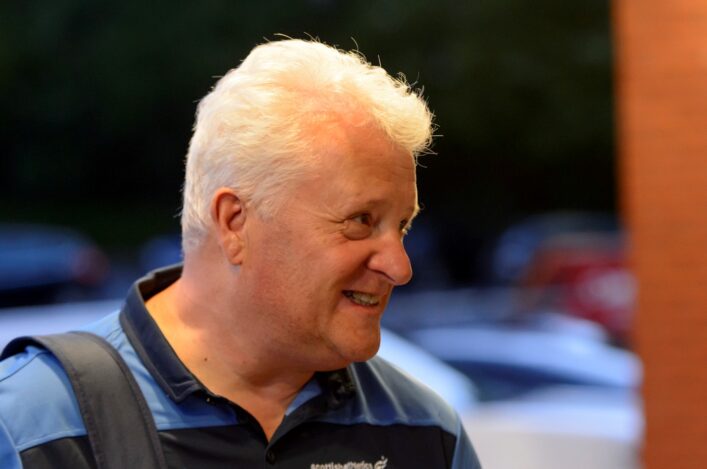 Stephen Maguire, Head of Performance and Coaching with scottishathletics – photo by Bobby Gavin
Join us on our YouTube channel – please SUBSCRIBE
Stephen Maguire guided the GB and NI relay squads to no fewer than four sets of medals at the London 2017 World Champs.
The memorable 'full house' included sensational golds for the British men's 4x100m men's team over a star-studded American quartet and cherished silver medals for Scots Eilidh Doyle and Zoey Clark in the women's 4x400m race.
It helped him to share Coach of the Year at the BBC Sports Personality of the Year awards in 2017 (with fellow relay coaches Benke Blomqvist and Christian Malcolm) and came only a few years after he led Scotland to four track and field medals at the Glasgow 2014 Commonwealth Games.
In fact, that first spell on these shores saw the talented and highly-respected Northern Irishman create the platform for 15 Scots to qualify for the Olympics in Rio – the biggest representation in more than a century.
Maguire has since returned for a second tenure with scottishathletics and the 56-year-old now has a key role ahead of a string of major events now log-jammed for 2021 and 2022 following lockdown.
But behind the relentless blarney, which can deliver charm and plain-speaking as required, lies a remarkable story of fortitude in the face of debilitating illness in early adulthood.
It ended a promising career as an athlete and, for a spell, stalled his ability to work.
Athletics may ever be grateful the man from Strabane came back via the roundabout route of working for the Arthritis Care charity.
'I was diagnosed with Rheumatoid Arthritis in my early 20s,' he explained in a special interview with Scottish Athletics.
'I was not long married at the time. And I had to try and somehow get my head around why my body was failing me.
'I knew I was a decent athlete, or could be a decent athlete, but I could not put together the kind of block of fitness that I wanted and needed.
'So, as it happened, I didn't have a Junior career – I was forever pulling my hamstring and there were other early indications of debilitating illness. I had a couple of years out of the sport.
'We were asking questions and wondering if I had over-trained. Or if I was just unlucky. I think I was just unlucky.
'The illness did not help and my body kept breaking down. I am an all-or-nothing type of guy in whatever I do and, looking back, that was not the right approach. I was Type 1 diabetic, too, and it all began to escalate.
'At one stage, I was doing absolutely nothing. I'd had to stop work and then I was not able to work. My wife, Georgina, was the breadwinner in the house. I was 24 or 25.
'It was really hard to take mentally and I was just sitting in the house doing nothing and unable to figure out what was going on.
'I had gone from trying to be the best I could be as an athlete – and like many young athletes I'd had dreams of winning the Olympics – to not being able to do anything at all.'
Our of that nadir, however, came a different road.
'I had an in-built curiosity and started to seek and find answers,' recalled Stephen.
'I started working for Arthritis Care and did a personal development course with them – and I hated that they were called a 'disability' charity – and I pushed myself to try and understand more.
'I began to figure things out about pain and pain management and also the 'inner gain' which became part of my coaching philosophy. That involves knowing what the here and now is and what you can affect and what you cannot affect.
'In my coaching, I was introduced to the 'goal model' and setting targets and options for the athlete. Mindfulness was another area that interested me, long before it became more mainstream.
'These things gelled to become my coaching philosophy. I ended up on the Board of Arthritis Care and sitting in on Risk Committees and that kind of thing – again, more learning.'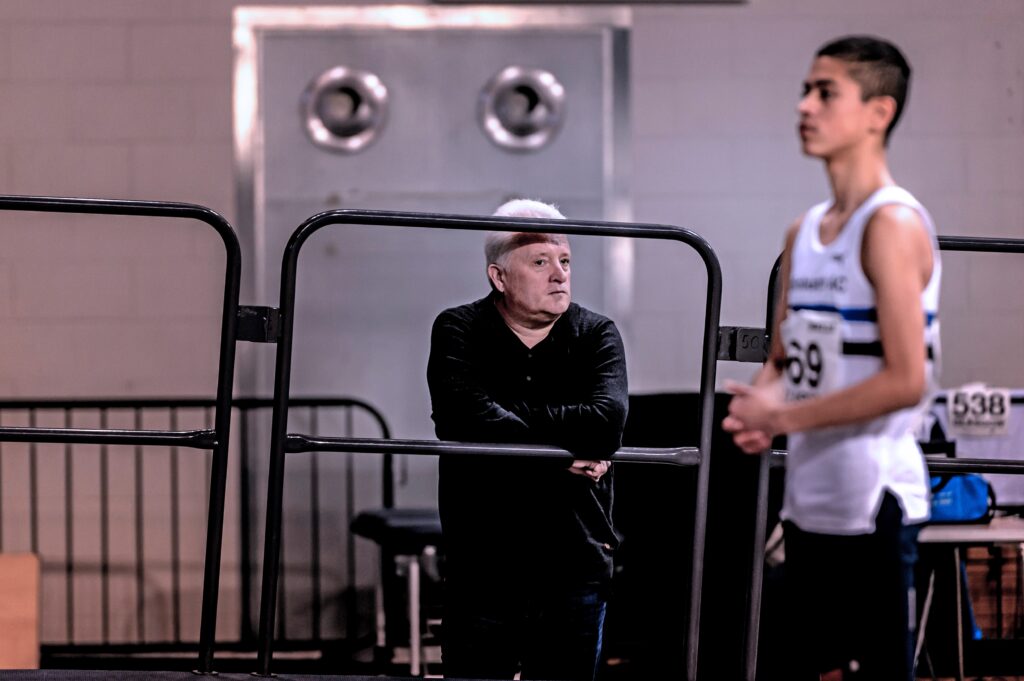 Photo by Bobby Gavin
Maguire's Olympic dreams had already stalled in his late teens – because he could recognise reality. Irish international vests at school and age group level were not much more than consolations.
'In terms of my own athletics, I started later than most people and finished earlier,' he reflected.
'I was a pain in the backside at school in that I was good at most sports but brilliant at none if you know what I mean. Growing up and in my early teens I just loved sport – I played football, Gaelic football, rugby, cricket, athletics.
'I was a good footballer but not good enough. I was a good Gaelic player but not good enough. I was fast but not fast enough. And I could long jump and triple jump . . . but not far enough.
But I loved participating and I was lucky enough to represent Ireland. In fact, my first vest with Irish Schools was the international event (SIAB) over in Scotland and we came to Grangemouth.
'Every time I walk through the doors at Grangemouth, the memories flood back and they are mostly good memories.
'I was competing in the long jump and the triple jump and the guy who won it was called Hugh Davidson from Scotland, if I remember correctly. And I was thinking to myself 'My goodness, Hugh Davidson is a very good athlete'.
'So, even then, I think I was assessing what standard you needed to reach and, really, was 'good' is.'
Those able to peak to perform piqued his interest, in short.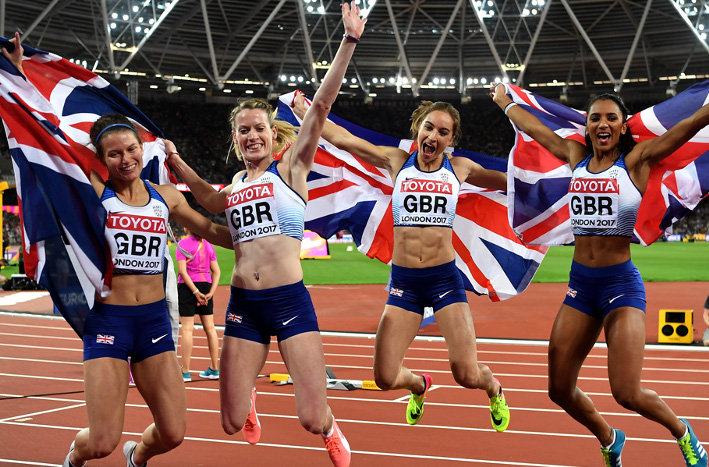 Zoey Clark and Eilidh Doyle and the Women's 4x400m team were among four British relay successes at London 2017
'I was actually coaching at 16, 17, 18,' he revealed.
'I always wanted to know why people did well. It intrigued me and I knew even then that there was more to it than the physical side of things – there was head space which sometimes needed to be worked at.
'I was 19 or 20 and I coached a Senior Irish champion and I also coached all around the club. My father was involved as chairman of the club and led it through some difficult times with the Troubles happening around then. I would always talk to people and try to learn from people.'
So why did he return to sport after working for Arthritis Care?
'Through that work, and courses I was sent on for business people, I started to develop various skills. A lot of that came from understanding myself better. And, in time, I came back into sport.
'I felt I had a lot to give and a couple of athletes approached me and asked me to coach them.
'What's my summary? Coach what is in front of you. You can have all the manuals, books and coach education philosophies, but if you cannot understand or influence what is there in front of you then it doesn't work.
'I learned patience. Setting markers to know you are on track is another. You can't eat an elephant in one go, but you can manage it in small bites. Not trying to achieve everything overnight has served me well in later roles in life.
'In terms of working as a head coach, or overseeing coaching, I like to see the reasons behind an individual's performance or if an athlete and coach have created an environment which maybe has thrown up issues. Sometimes it is something simple or just blind spots. Other times it is a lack of knowledge.'
There were no blind sports whatsoever over a memorable three or four days in London in August 2017.
'The London 2017 Relay success? It is down to working with individuals, working with individuals to be part of a team, working with coaches and asking coaches to engage in something more collective than what they are used to.
'The athletes can be competing against each other and then suddenly, usually towards the end of a championships, they work together as a team. It takes a lot of conversations.'
Nobody who meets Stephen Maguire is left in any doubt that he's never shied away from a conversation . . .