'My Christmas wish? I can't wait for return to full club competition in 2021' – Ian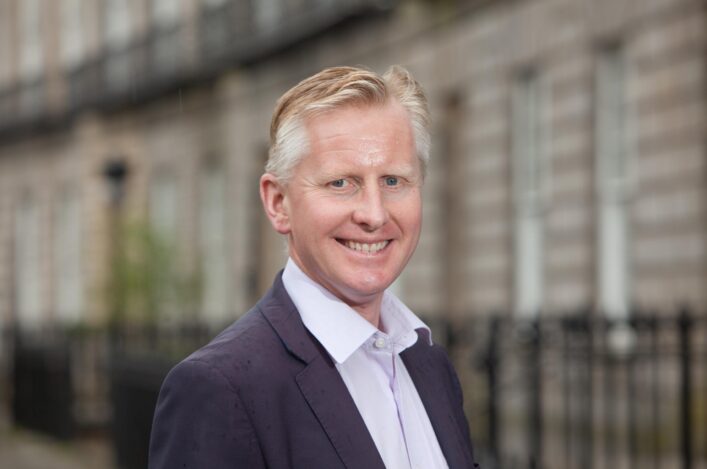 By Ian Beattie MBE, Chair of scottishathletics
'I was thinking recently how, this time last year, I attended the BBC Sports Personality of the Year Awards in Aberdeen, along with 10,000 other people.
'We were able to reflect on a full year of sport, including athletics world championships in Doha and Dubai, and were looking forward with a lot of excitement to the 2020 Olympic and Paralympic Games in Tokyo.
'It is remarkable how things have changed since that time. After some indoor and very muddy cross country competition in January and February, the full effects of the Coronavirus meant that, for many months, clubs were unable to meet and all regular competition was put on hold.
'Some competition eventually managed to take place later in the year, but this was limited either to elite races or local competition in most areas of the country, generally without spectators.
'We have not seen any of the mass participation events return so far, nor indeed many of the club organised races which form the backbone of the Scottish endurance scene.
'It was good to see a number of virtual events take place across the year which gave many of us the opportunity to compete, albeit in a different way from normal.
'So there is no doubt it has been a very tough year for everyone involved in our sport. However amongst the difficulties we have seen some great performances from our top athletes on the international circuit, despite the restrictions on training and competition opportunities.  Congratulations to them and to their coaches.
Watch 'Athletics at Home' . . . our compilation of some of the innovative approaches to athletes in 2020 (compiled by Sue Gyford for our 4J Studios Annual Awards)
'We have also seen some great innovation from our clubs, which we were able to celebrate virtually at our 4J Studios Awards event online in October.
'Our clubs have faced many issues in trying to organise Covid safe training, in an environment of frequently changing guidance, and I would like to put on record my thanks to them all for their significant efforts.
'I know it has not been easy and at times has been frustrating, but all the effort that has been put in to keep our club activity going is greatly appreciated.
'In terms of my own running, this has been the worst year I have had since I started more than 30 years ago. A reasonable National XC performance (i.e. not lapped!) was followed by a niggly hip injury which bothered my throughout the summer.
'Any hopes of an autumn come-back were put on hold by a broken ankle in September, caused by a fall as I played a round of golf, of all things.
'I am now in to my rehabilitation stage and am looking forward to a better year in 2021.
'While the situation with Covid remains very challenging, recent news of a successful vaccine allows us to look towards 2021 with more confidence.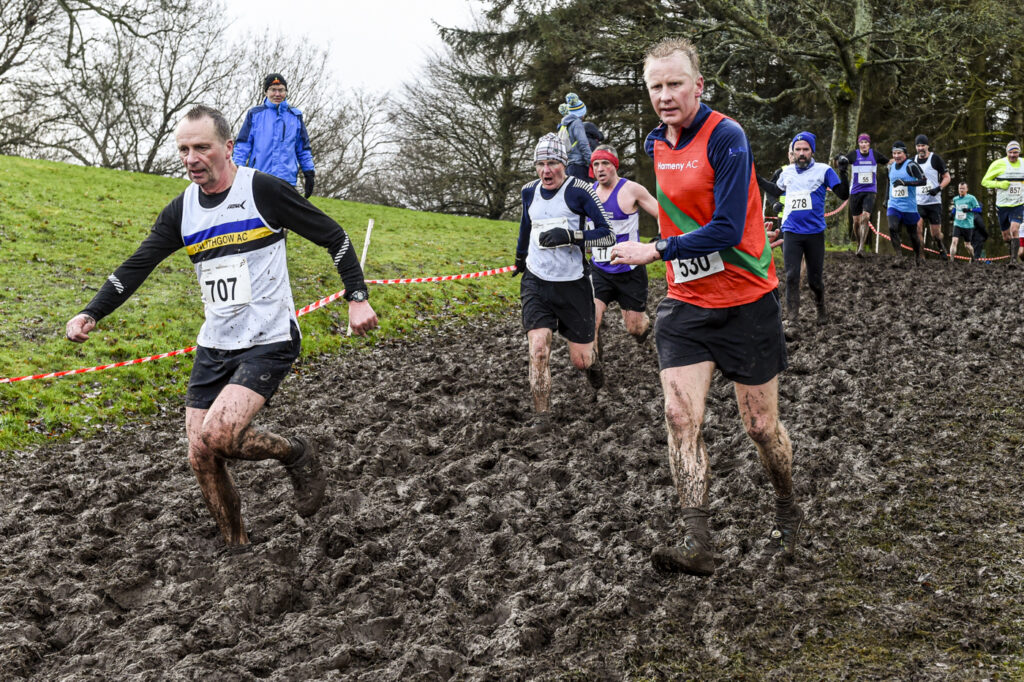 Muddy marvellous . . . Ian in action in Harmeny AC vest at the Lindsays National XC at Falkirk in February (photo by Bobby Gavin)
'We will see some significant changes in our staffing structure, with Mark Munro leaving his position as CEO at the end of January to take up a post with UK Athletics.
'I would like to thank Mark for all his work in his time with us – it has been a pleasure to work closely with him and I wish him all the best in his new role.
'We are currently recruiting for a new CEO and hope to have more news on that front in the first few months of the new year.
'Stephen Maguire, our Director of Performance and Coaching, has decided to step down from that role but will remain as a Consultant with us through to Birmingham 2022.  I would also like to wish Stephen all the best and say how pleased I am that we will continue to benefit from his experience
'Finally, I would like to thank everyone who is a part of Scottish Athletics for all your efforts in what has been an unprecedented and difficult year.
'I do feel our sport in Scotland remains in good shape thanks to the hard work of everyone involved in so many different capacities.
'At the elite end, there are exciting times ahead, with an Olympic and Paralympic Games in 2021, then a World Championship, Commonwealth Games and European Championship in the summer of 2022.
'I am equally excited at the prospect of a return to regular club competition across all disciplines. That really is my Christmas wish.
'I wish you and your families a relaxing and peaceful Christmas, and all the best for a successful and prosperous 2021.'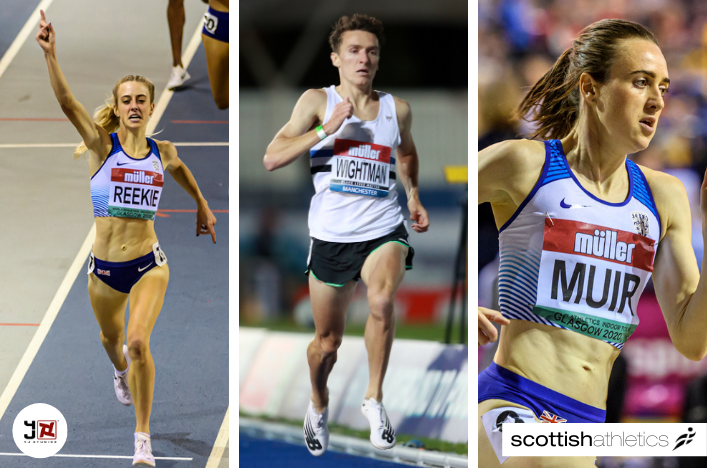 Three athletes shared our 2020 4J Studios Performer of the Year title . . . Jemma Reekie, Jake Wightman and Laura Muir
Tags: Ian Beattie, Mark Munro, Stephen Maguire