'Coach Zane helped me ditch retirement plan' – Kirsty Law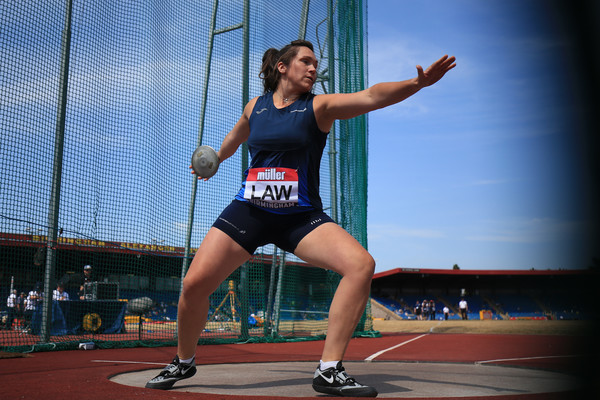 Photo courtesy of Getty Images/British Athletics
Floods of tears told Kirsty Law their own story. Normally a positive and bubbly personality, she knew she had fallen out of love with athletics and the prospect of retirement was the big red light flashing in front of her eyes.
It was the winter of 2016-17 and the discus thrower felt sure the time was right for her step away from throwing at the age of 30.
Law 'parked' her athletics for a few weeks until the zen of Zane (Duquemin, her coach) restored calm and a clearer focus.
Three years later Kirsty has a GB and NI appearance at the European Championships in Berlin in 2018 plus the British title last summer as part of a career record which also includes a remarkable 12 gold medals at the Scottish Champs at Senior level.
'At the end of 2016, I knew there was something wrong,' said Kirsty, who works as a psychiatric nurse in a hospital in the Midlands.
'I got myself in a bad place and was in tears at one stage. And that is just not me – I'm normally a bubbly person. I thought I couldn't do it (throwing) any more and took a couple of weeks off.
'I knew Zane Duquemin around Loughborough and I asked if I could come along and do bits and pieces with him.
'And then he would mention something – like the position of my left arm – and I started to enjoy throwing again. It still took quite a few weeks but the love and the spark returned and I've not looked back since then.
'In many ways I do wish I'd met him earlier in my career. He is still an athlete himself and he just 'gets' athletes and how they think.
'Zane is also a nice and open guy who will ask for help or listen to an opinion from someone else. Not all coaches think that way. I tell him everything – he's my friend now as well as my coach.
'He is in Doha so online coaching during lockdown isn't anything different for us.
'My work are amazing with me – even though I do long shifts. They have given me time off for competitions, they will help with shift swaps and they let me do some gym work while I am there at the hospital.
'People usually retire when they are ready to but it is important not to have regrets. I'm so glad now that I didn't.
'I spoke to my dad and said : 'That is, I think I'm done with throwing now . . .' And he just said to me: 'Well, make sure you don't regret that in a year or two . . .'
'He kept making the point that if you are too old and your body's not fit enough then you do have to finish. But, if you are not, then there is that danger you will regret it if you don't just try and clear the hurdle you are facing at that time.
'I won the British and Scottish champs last summer and those were great days – the ones you love in the sport.
'I will always compete at the Scottish Champs if I can and I really don't like the idea of anyone else being Scotland's No 1.'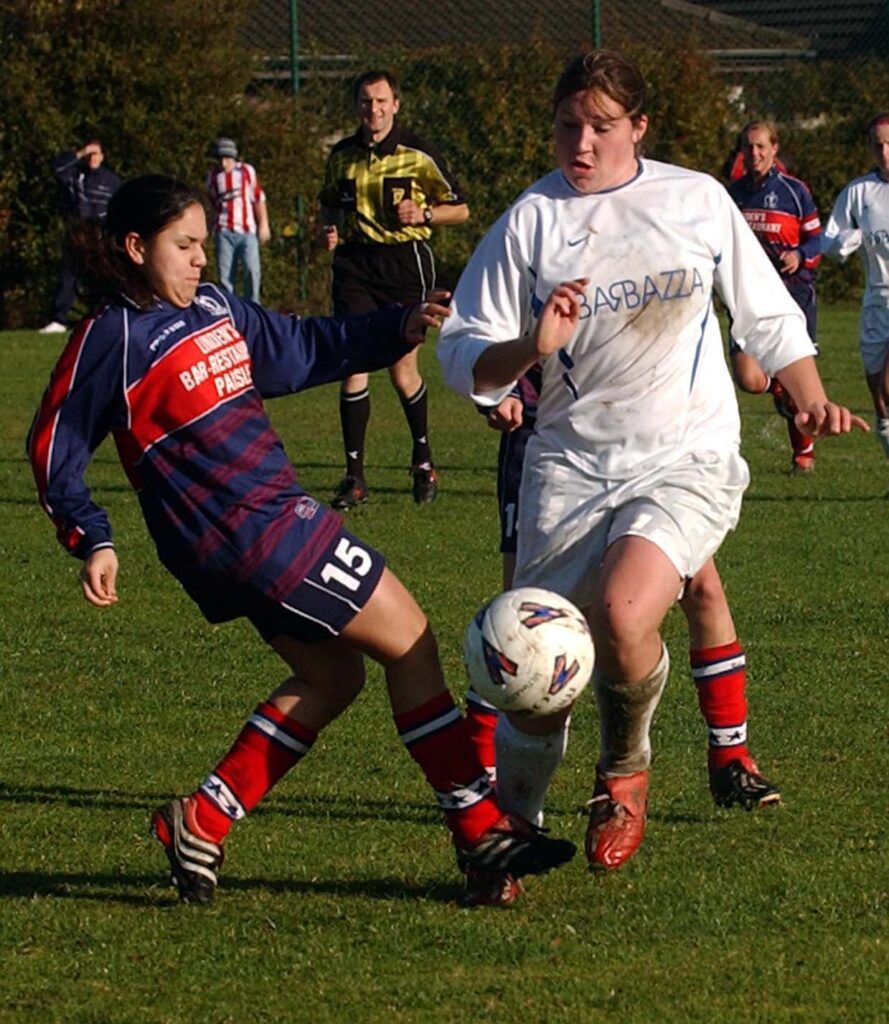 Early days . . . Kirsty in outfield action for Inverness Ladies (photo by Phil Downie)
'I played football, basketball, hockey and swimming when I was growing up – I just loved sport,' reflected Law in our Coaching Conversations interview.
'But, at 17 or 18 I had to make a decision about football and athletics.
'I'd been playing in the Inverness Ladies team and had two call-ups for Scotland U18s around that time. I was a goalkeeper but I kept breaking my arm or finger or going over on my ankle in the football and obviously that wasn't ideal as a thrower.
'Duncan Shearer used to take the training and sometimes I was in goals facing his shots! The twins Shelley and Suzanne Grant were in the team and both went on to play for Scotland.
'I love football but the team aspect maybe wasn't quite for me whereas athletics was individual. I could not blame someone else, or the team, if it went wrong. I was better at discus, too, and I was chosen for Team Scotland for the Commonwealth Youth Games in Australia around that period, as well.
'So I quit football and put my full focus into throwing.
'Three years ago, after I briefly retired from athletics I joined a women's team in Loughborough and enjoyed getting back into football.
'And when the Scotland team made the Women's World Cup and went over to France last summer I did have a wee thought that it might have been me if I had stuck at it . . . but I've had great experiences in athletics, too, representing Scotland and GB and NI.'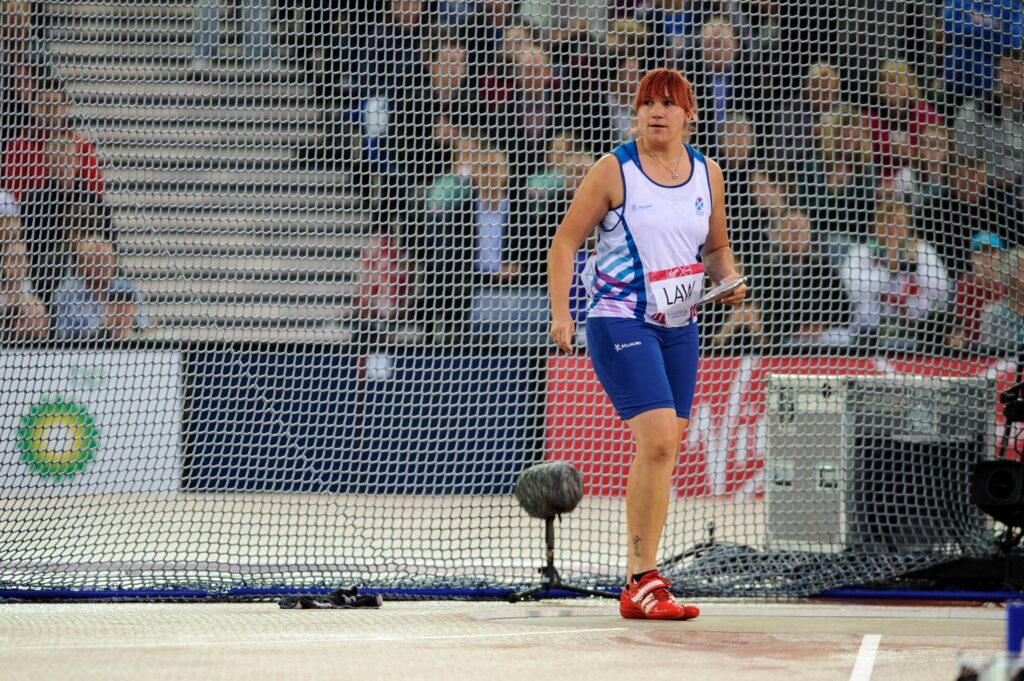 Hampden high . . . competing at Glasgow 2014 was a big moment for the discus thrower (photo by Bobby Gavin)
There was a strong sense of irony then, maybe, in Hampden being the venue for the biggest moment in her athletics career.
'Glasgow 2014 and the Commonwealth Games was a big thing for me. I've said before it was the best experience of my life and I still say that.
'As a big football fan and member of the Tartan Army, I'd been to Hampden so often for internationals. So for me to get the chance to compete there was really special.
'I was throwing the night Eilidh Child (now Doyle) won her silver in the hurdles. Eilidh was going around the track with the Proclaimers blasting out and I was coming in the circle to throw – what a buzz that was.
'I was 30 at that time and it just came along at the right point in my career to keep me motivated and enjoying it, to be honest. Hampden and Glasgow 2014 brought the excitement back.
'I love competing for Scotland. We don't get many chances and, outside of a Commonwealths every four years, there's the Loughborough International where I've been a regular.
Scottish Athletics made me captain last year and I won my comp so it was a good day – Loughborough is my home circle anyway so I always like throwing there in an event.
'So the Loughborough International is a real favourite of mine. We compete as a team and, as it is early in the season (in usual circumstances), it can be a good marker for athletes and coaches for the season ahead. I do like pulling on that Scotland vest.'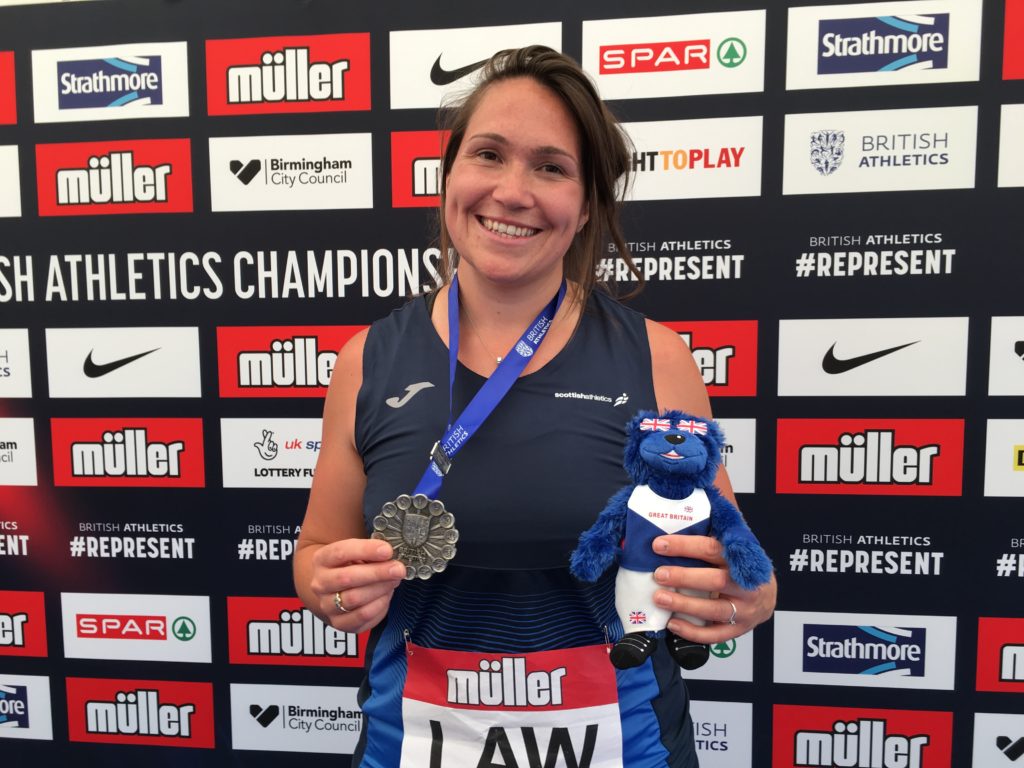 British title success in 2019 (photo by Sue Gyford)