'NHS workers still training are heroes to me' – Eilish McColgan
SUBSCRIBE to our You Tube channel (it's FREE)
Eilish McColgan's 'lightbulb' moment – Scotsman coverage
Eilish McColgan has voiced her admiration for runners everywhere and why NHS workers still training while they fight coronavirus are an inspiration for Olympians.
The double Scottish Record holder is currently in Colorado with her partner, Michael Rimmer, and being coached remotely by mum, Scottish athletics legend Liz McColgan-Nuttall.
Eilish and Michael have continued their online coaching business during the Covid-19 crisis and the 29-year-old says the response from clients fuels her own motivation.
The European 5000m silver medallist was speaking in our latest Coaching Conversations series interview and she also told about her early years at Dundee Hawkhill Harriers.
'I'm motivated and inspired by some of the people that Michael and I are coaching remotely who work in the NHS,' said Eilish.
'There are doctors and nurses among them who have full-on jobs and even more so now fighting the coronavirus.
'But they are still motivated to get out the door and do their 12-mile run – after a really hard day working crazy hours for the NHS. Or they are willing to do a shorter, faster session on a Friday night or as and when they can.
'It has been a real eye-opener to see how hard people are willing to push themselves.
Steph savours strong solo run in Leeds – after treating Covid-19 patients
'I'm motivated to work hard at my running but this is my job. It's not their job but they enjoy it so much and they want to try and run faster.
'What it comes down to is – we're all runners, whether we are chasing the Olympics or maybe preparing for a first parkrun.
'Michael and I have been doing online coaching as a business for three or four years and I enjoy it. I know remote coaching works because that's what I am used to with my mum being over in Doha.
'We can't coach a group at a track a couple of times a week in the way I grew up with in Dundee. It is all online right now because I'm still a professional athlete and we're travelling a lot.
'But I'd like to do that one day when I retire and have a group and see if we can make athletes better. Coaching does have an appeal for me.'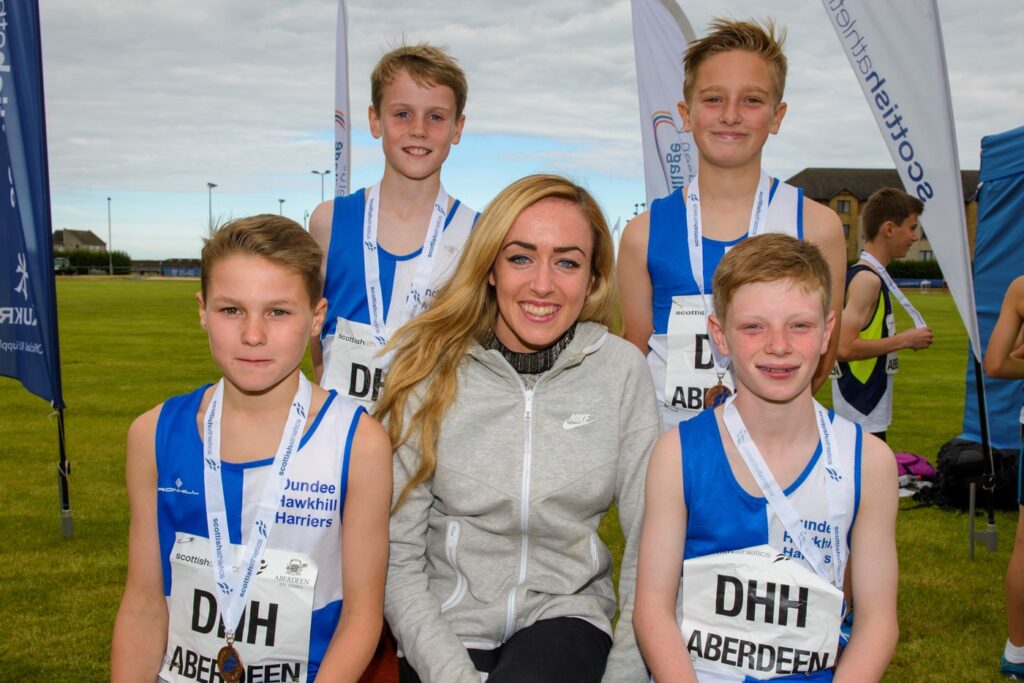 Eilish helps present medals at a Scottish Age Group Champs in Aberdeen – with Dundee Hawkhill Harriers on the podium (photo by Bobby Gavin)
In fact, Eilish revealed it was her own move into the sport as a very young athlete which sparked Liz's interest in coaching.
'My mum was not a coach when I joined Dundee Hawks,' she told us.
'I was in P6 or P7 when my teacher put me in for a cross country race, I think simply because of my name. I loved it. I was maybe fifth or something like that and there was someone there from the local club, which was Arbroath, and they were 'scouting' the top six girls and boys.
'Myself and a pal, Ian, were asked to come along to the club in Arbroath. I was excited and told my mum. She just said: 'You can start at a running club if you want, but it will be Dundee Hawkhill Harriers – because that's my club'.
'I went along and we did high jump, sprint hurdles, throws. After a wee while, I asked to move into the distance running group.
'My mum said that if I stuck at it for X number of months, then she would come along, too, and coach me.
'My pal Ian quit after a few weeks but I enjoyed it and served my probation of whatever number of months, and mum started coaching.
'She coached me and a couple of others at first. I don't think she had really thought about coaching prior to that. She was a retired athlete and probably had her hands full bringing me up. But it took off and she had a training group and became a successful coach for the Hawks.
'There was a bit of begging that went on from me for mum and dad to take me from Carnoustie, where we lived, to the Hawks but soon we were really involved and competing at events and making teams.
'I won my first Scottish Schools medal in the javelin, right enough . . .'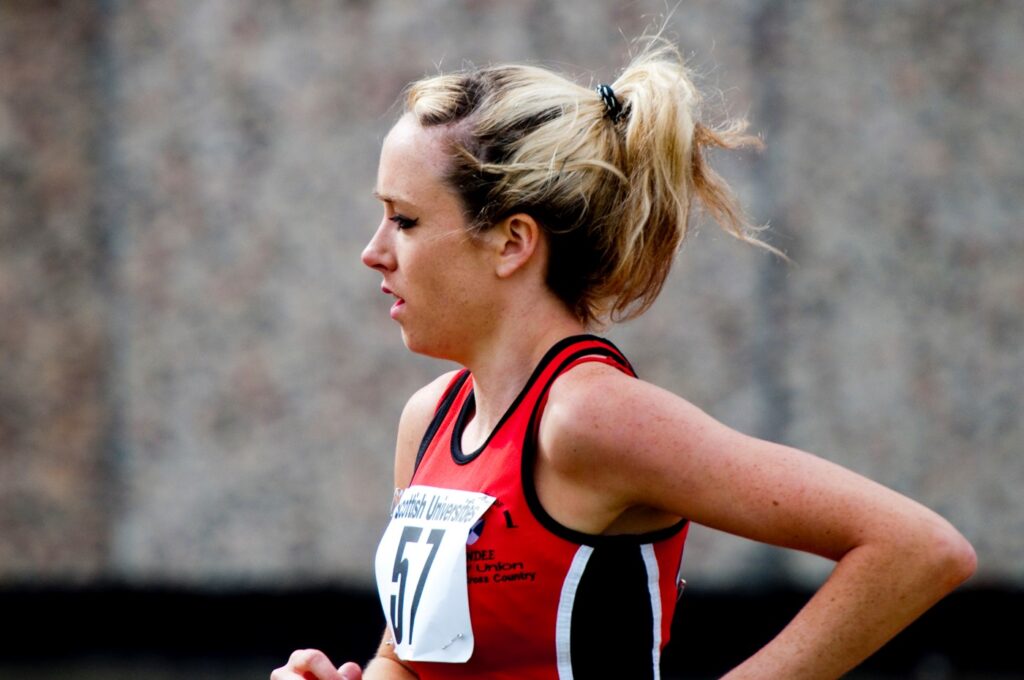 Eilish in action at the Scottish Unis Championships in 2011 when she won a 1500m/3000m steeplechase double (photo by Bobby Gavin)
It was early in 2011 that Eilish committed to athletics in a far bigger way than previously after, be her own admission, enjoying the student life a little too much.
During that period mum Liz sought to keep a lid on her own frustrations.
'My mum and me have had a lot of ups and downs, like anyone does with a parent,' said Eilish.
'But our coaching relationship was usually maintained in the midst of that. There have been times when we fell out but when I went to the track I was treated just the same as the others in the training group.
'She was not happy with my lifestyle when I was a student but she did not step in. I think she accepted that if I was serious about running I would come back to it.
'She was always there, always at the track. But she stepped back a bit to let me mature and become an adult.
'So the decision, when it was taken, to come back to the sport was taken by me.
'And when I did commit myself fully, I started to have a far greater appreciation of the work and sacrifices she had put in to be one of the best athletes in the world.'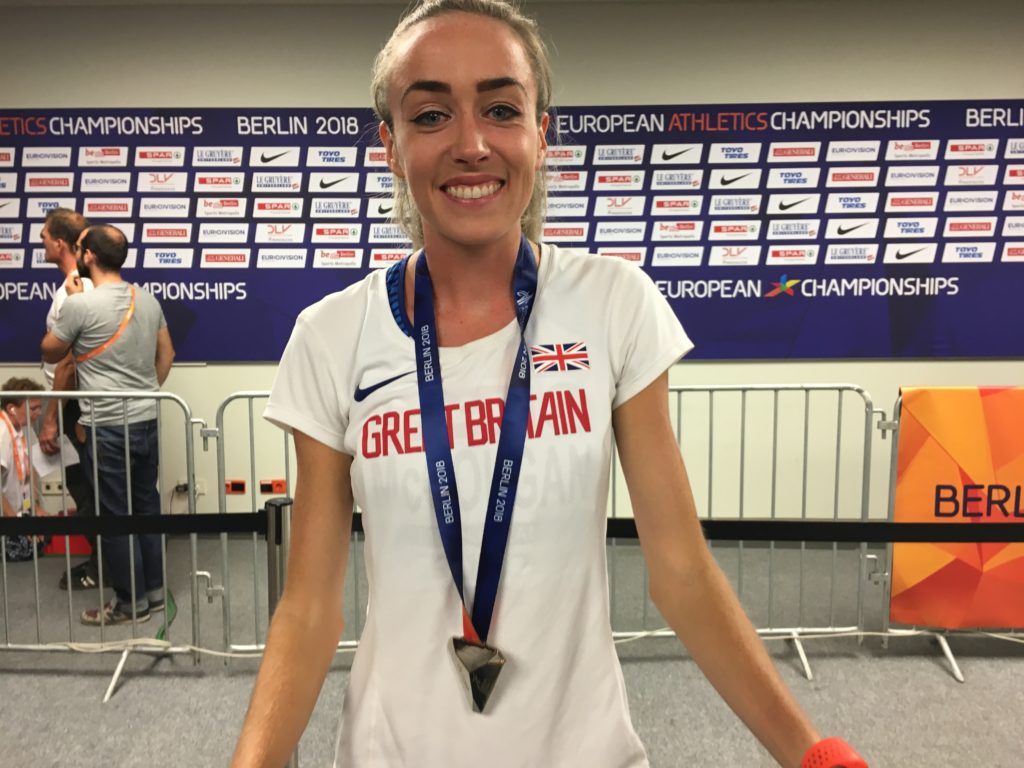 European joy in Berlin as Eilish celebrates her silver medal in the Women's 5000m final (photo by Sue Gyford)
Tags: Berlin, Berlin 2018, Dundee Hawkhill Harriers, Eilish McColgan, Liz McColgan-Nuttall