'Tokyo delay helps my Olympic hat-trick hopes' – Eilidh Doyle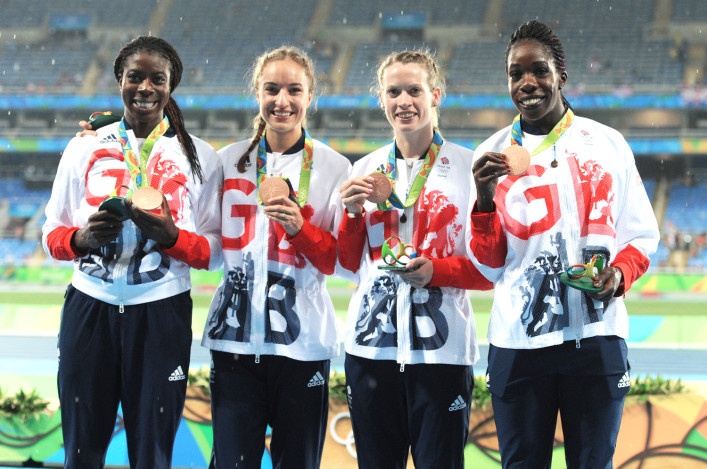 Eilidh Doyle celebrates Olympic bronze in Rio four years ago with her GB and NI 4 x400m Relay team-mates Anyika Onuora, Emily Diamond and Christine Ohuruogu (photo by Mark Shearman)
Eilidh Doyle has set her sights on the 2021 Olympics with renewed vigour – as she targets a place in an exclusive 'club' in athletics in Scotland.
Liz McColgan and Lee McConnell are currently the only Scottish women in track and field to have competed at the Olympics on three occasions.
New mum Doyle, Eilish McColgan and Lynsey Sharp are now all chasing that achievement for next year, when the Tokyo 2020 event will be rescheduled.
And while of course Eilidh stresses she would not have wanted the postponement to happen because of coronavirus, the Pitreavie AAC multiple medallist can see an advantage for her personally.
'To be clear, it is an absolutely terrible situation and not a scenario anyone wants to see,' said Eilidh, when asked about the crisis and event cancellations and postponement and who gave birth to Campbell at the end of January.
'But I am probably one of only a few athletes who feels the Olympic postponement can work in my favour.
'We had always thought it was a big ask for me to try and make it for the summer of 2020. That's why we were aiming for the 4 x 400m team and not the hurdles for this year.
'We will never know now if I would have made it.
'That plan was centred around running on the track at the end of March and then basically racing for the first time almost when the Trials were due in late June. As it happens, I did manage a couple of track sessions – with 200s and strides – on the track in mid-March.
'So we could possibly say I was a wee bit ahead of schedule.
'But it doesn't matter now. The delay means we can focus on recovery, we don't need to take risks, I can take an extra rest day if needed.
'It just gives myself and Brian some leeway. All the sessions we've been doing, we've been finding out more.
'All my gym sessions have been focused on my pelvic area and getting my body strong enough to run fast again. We can just adjust it now and perhaps target a very short track season at the end of the summer – if there are events available.
'And then, after that, we would go from there into a really solid winter training block.'
Eilidh has long been aware of the achievements of McColgan and McConnell in terms of the Olympics. Liz competed at Seoul in 1988, Barcelona in 1992 and Atlanta in 1996 while Lee competed at Athens in 2004, Beijing in 2008 and London in 2012.
'Joining Liz and Lee as a female Scottish athlete at her third Olympic Games was a real target prior to my pregnancy and giving birth and still is, to be honest,' she said.
'That's why we were planning to try and make it this summer – it was a big motivational factor. I thought I might need that rather than getting complacent and just saying 'I'll miss this season and then come back after that'.
'I'm sure Eilish and Lynsey, who were both with me at London 2012, will be thinking the same way with regards to making it to three Olympics.
'It would be a real honour to be bracketed with Liz and Lee in terms of Scottish women in track and field and great if all three of us could make it.'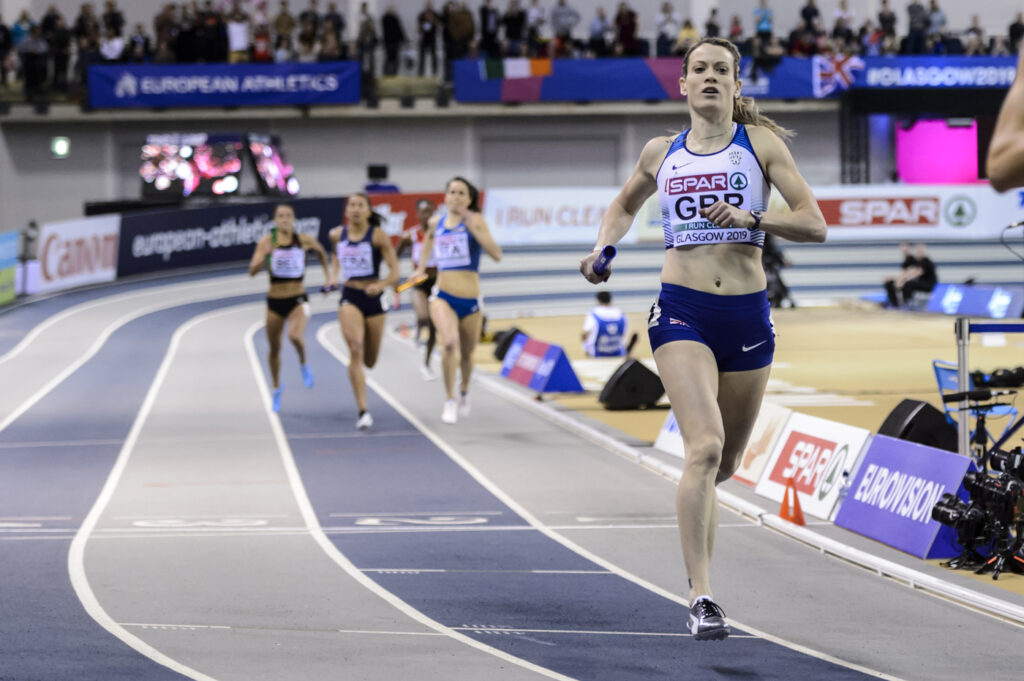 Eilidh brings the baton home for GB and NI to win silver at Glasgow 2019 European Indoors (photo by Bobby Gavin)
Family life will remain a priority for Eilidh and husband Brian, albeit with all the adjustments raised by lockdown.
'Wee Campbell is two months old now and he's proving to be a good sleeper – he seems to know what night-time is, so that's helpful,' laughed Eilidh.
'We live now at Crook of Devon which is only five minutes from Kinross so we had the chance to see my folks quite a bit before the lockdown happened.
'Brian's family are a bit further away and his brother is in a wheelchair so we've been setting up Facetime and so on so the family can keep with Campbell growing and changing. At this age, there's a difference every few days and they don't want to miss out on seeing that.
'But, like for everyone else, we're just adapting and adjusting our lives.'
*Eilidh has been working closely with LifeFit Wellness, based in Falkirk and Linlithgow, through her pregnancy and now since the birth of Campbell to constantly analyse and re-assess her return o fitness.
Husband Brian works there as a soft tissue therapist and is part of the four-strong team helping Eilidh that features David Bowmaker (Lead physiotherapist), Dr Alethea Beck (Consultant in sport and exercise medicine) and Kate Leishman (physiotherapist).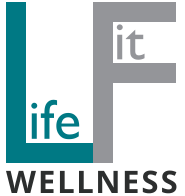 Tags: Eilidh Doyle, Olympics