Tru Wealth Young Athletes Road Races review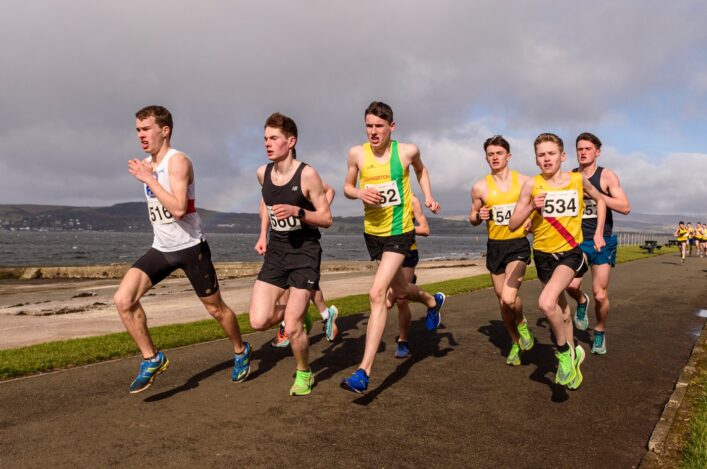 An early pack lead out the U17 Men's race beside the Clyde at Greenock (all photos by Bobby Gavin)
Scotland internationals Jack Patton and Hannah Anderson proved their quality to take the U17 gold medals at the Tru Wealth Young Athletes Road Races on Sunday.
Battery Park in Greenock was the backdrop to six races with strong fields on a day when the athletes had to contend with strong winds blowing in off the Clyde.
It felt like a good day for the club community despite the obvious concerns around the current coronavirus situation.
We would like to thank all who turned out while understanding and respecting the views of those who perhaps stayed away on this occasion.
One clear effect of the crisis is that the London Mini Marathon will not now be held next month. We are waiting to hear if that is part of the rescheduled full London Marathon event due to take place on Sunday 4 October.
As things stand, scottishathletics are likely to select Scotland teams at U17 and U15 level as per previously advised – with top four at Greenock landing automatic selection – with those teams then competing in October.
Of course, this is on the proviso there is no change to the original age group brackets for April and there is uniformity in selection criteria across all regions.
Photos on Facebook by Bobby Gavin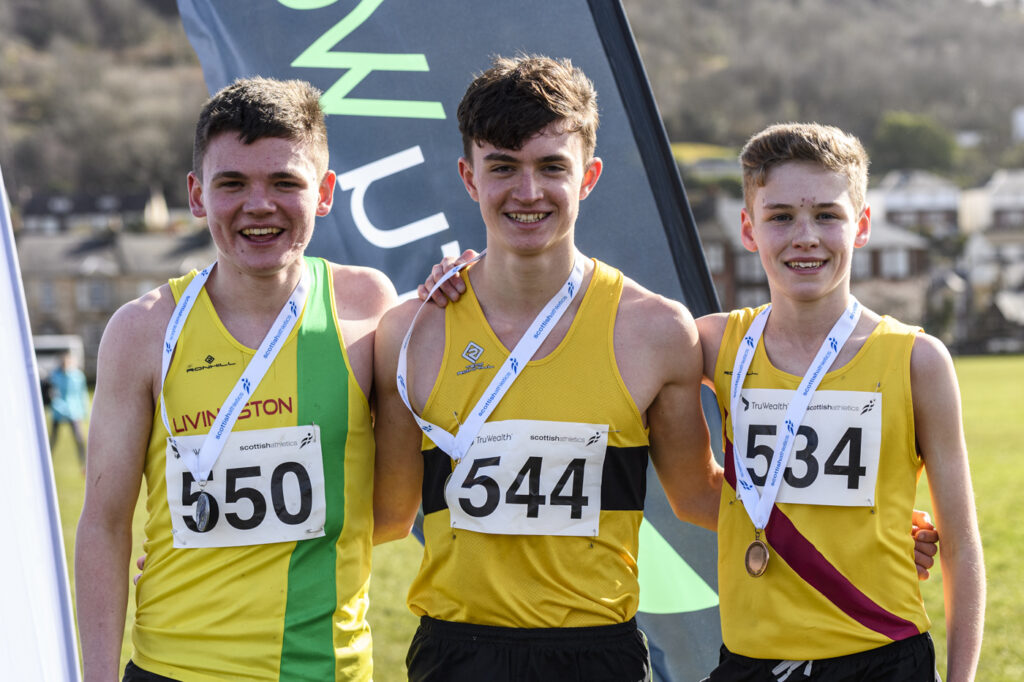 U17 Men's podium with winner Jack Patton of Kilbarchan AAC joined by silver medallist Alistair Marshall of Livingston AC (on left) and bronze medallist Lucas Cairns of Inverness Harriers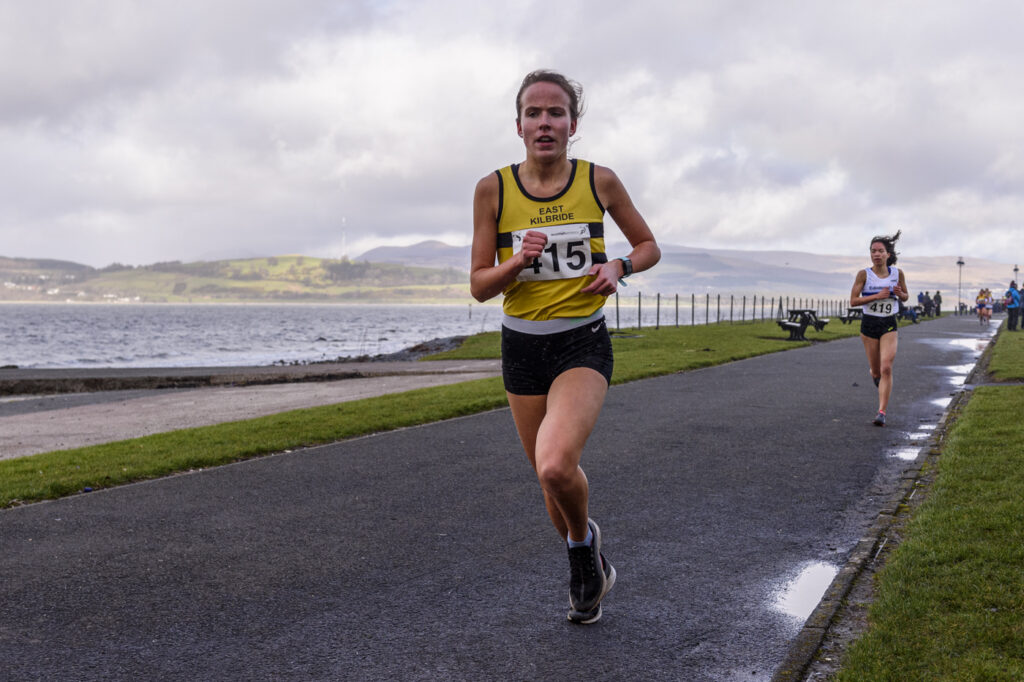 Hannah Anderson on her way to gold in the U17 Women's race
The U17 Men's race delivered one of the closest contests of the day with Patton and Livingston's Alistair Marshall together for a long spell at the front but not too far ahead of half a dozen others.
Kilbarchan AAC's Patton duly took the lead and pushed on to make it a family double as he followed up the U13 Boys success of his younger brother, Jack.
Marshall took silver and Lucas Cairns of Inverness came through to head Ben Sandilands of Fife AC in the battle for the bronze.
East Kilbride AC athlete Anderson had never won on the roads until Sunday but she pushed ahead midway through the race after initial sparring with Cade Wright.
The Edinburgh AC athlete, a bronze medallist at Falkirk in the Lindsays National XC, took silver this time with third place for Julia Cash of Giffnock just ahead of Garscube's Anya Maclean.
The U15 Girls race had opened proceedings and it delivered a Giffnock 1-2 for Hannah Ryding and Valencia Wright. Fife AC's Isla Thoms was third.
Central AC's Connor Bell emerged from an early group of four athletes to establish a grip on the U15 Boys race which he never relinquished, albeit that this was a close race.
Giffnock's Reuben Macdonald came through to snatch with Corey Campbell of Team East Lothian in third with only two second separating the top three athletes.
The U13 Girls race saw Falkirk champion Millie McClelland-Brooksrepeat that success as she won gold from Katy Donnelly of Giffnock and Olivia Warboys of Kilmarnock Harriers.
Oliver Patton took that U13 Boys race in fine style as he was chased home by Craig Shennan of Giffnock and Cormac Daly of Shettleston.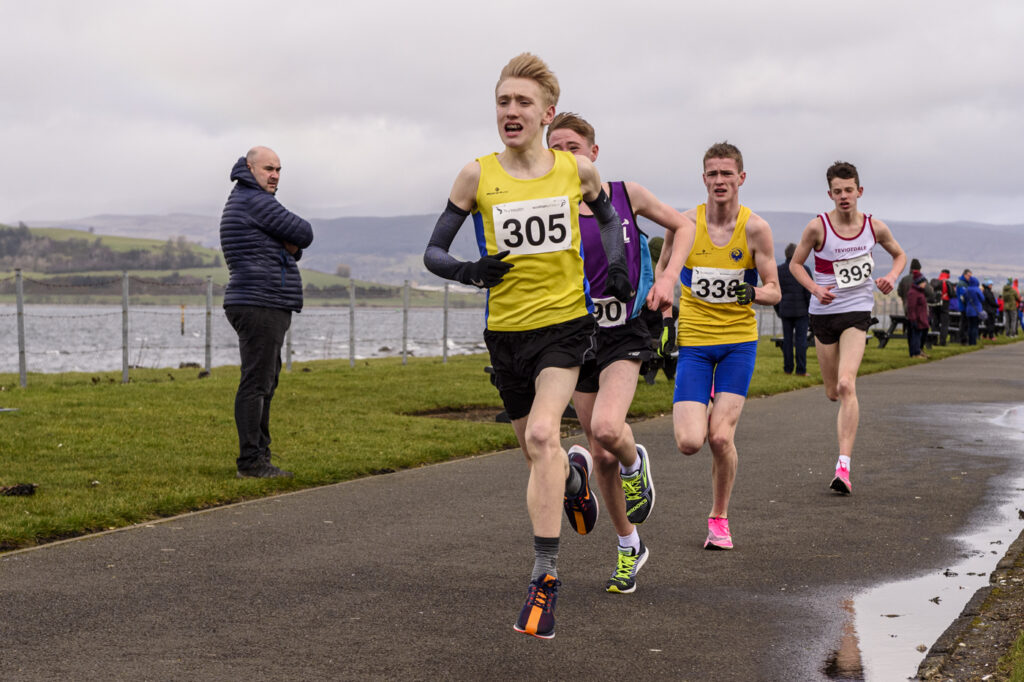 Central AC's Connor Bell leads the U15 Boys race at Battery Park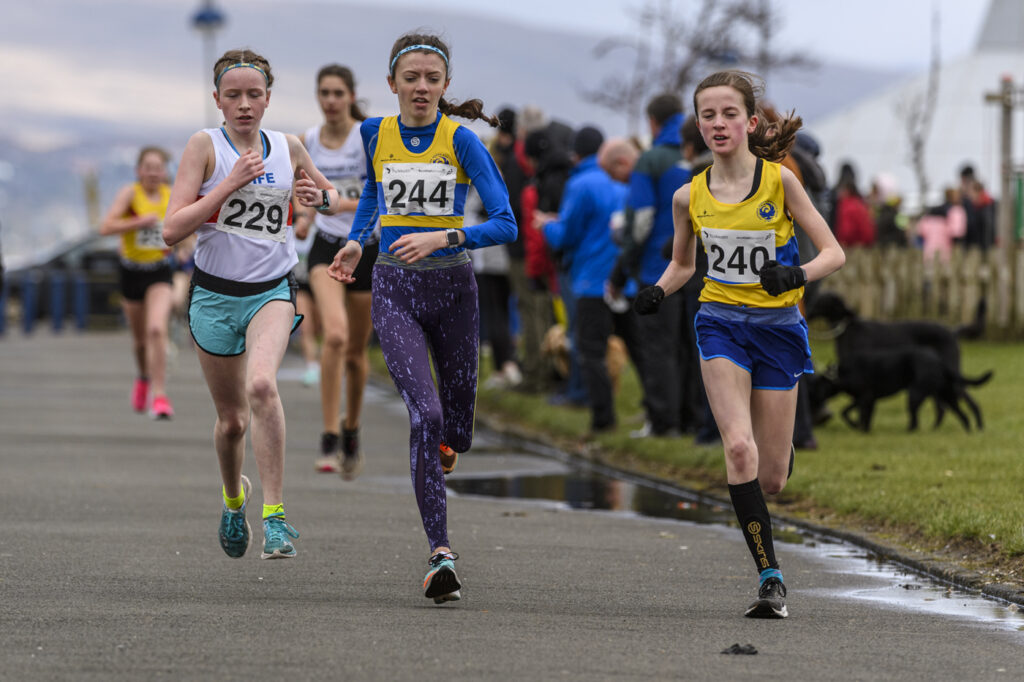 U15 Girls gold medallist Hannah Ryding (on right) with her Giffnock North team-mate, Valencia Wright, (centre) and bronze medallist Isla Thoms of Fife AC
+++
Giffnock North AC picked up three sets of team golds as often the case at this particular event – well done to their athletes and coaches.
But it was good to see no fewer than 11 different clubs involved across 17 sets of medals presented at Greenock.
The team medal outcomes were as follows:
U17 Men: 1 Kilbarchan AAC 2 Livingston AC 3 Inverness Harriers
U17 Women: 1 Giffnock North AC 2 Garscube Harriers
U15 Boys: 1 Central AC 2 Giffnock North AC 3 VP-Glasgow
U15 Girls: 1 Giffnock North AC 2 Edinburgh AC 3 Fife AC
U13 Boys: 1 Giffnock North AC 2 Kilbarchan AAC 3 Shettleston Harriers
U13 Girls: 1 Ayr Seaforth AC 2 Edinburgh AC 3 Kilbarchan AAC
*Big thank you to our host club Inverclyde AC as well as our Officials and Road Running and Cross Commission helpers. Thanks also to Connor Henderson on the microphone.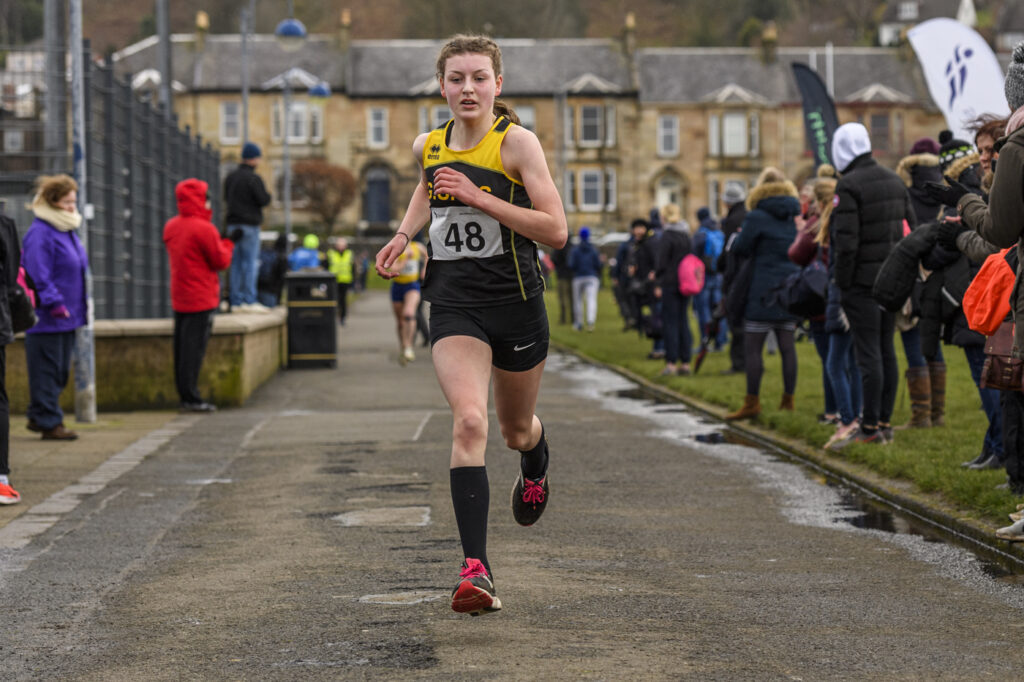 Glasgow School of Sport athlete, Millie McClelland-Brooks, leads home the U13 Girls race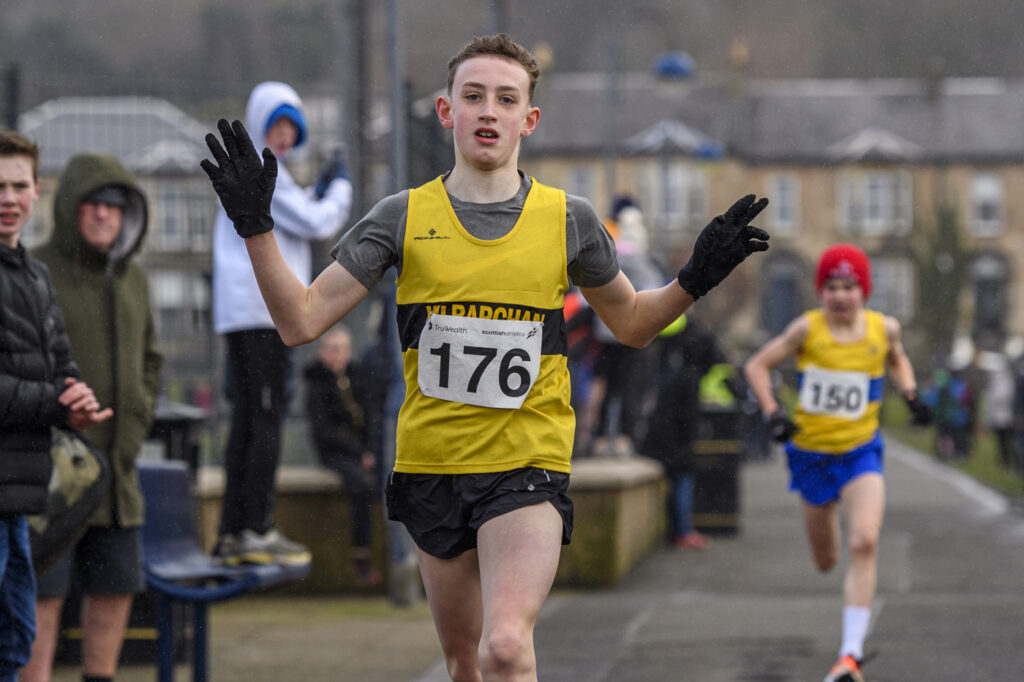 Oliver Patton leads home the U13 Boys race with silver medallist Craig Shennan in close pursuit