Purple patch now stretches to 20 years . . .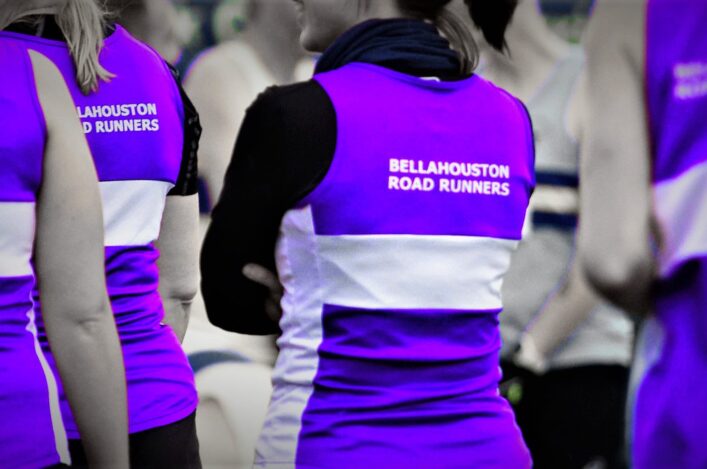 By Stuart Miller
Members of Bellahouston Road Runners swapped their usual routes around Glasgow's southside for a track session to remember as part of the club's 20th birthday celebrations earlier in 2020.
More than 70 members displayed the club's distinctive purple and white vest at the Emirates Arena in January to mark the occasion, with a series of one-mile races over the indoor track.
'It was a lot of fun, with lots of support around the track as members took part in the various heats,' said club president Richard Leyton.
'The facilities are fantastic and we had so much positive feedback from everybody who came along that we're having a think about what we might do in future there with members, or more widely, to encourage more people to give indoor track running a try
'Perhaps the most fun of the morning session was the impromptu relay race – I think we had eight teams of eight – with each team member running a 200m leg. It was a bit chaotic with everybody wearing the same tops!'
With the racing finished, members gathered for a series of training talks at the Glasgow Green football centre, which included a presentation from Glasgow Triathlon Club's lead coach Vicky Begg on sport psychology and mental preparation for training and racing.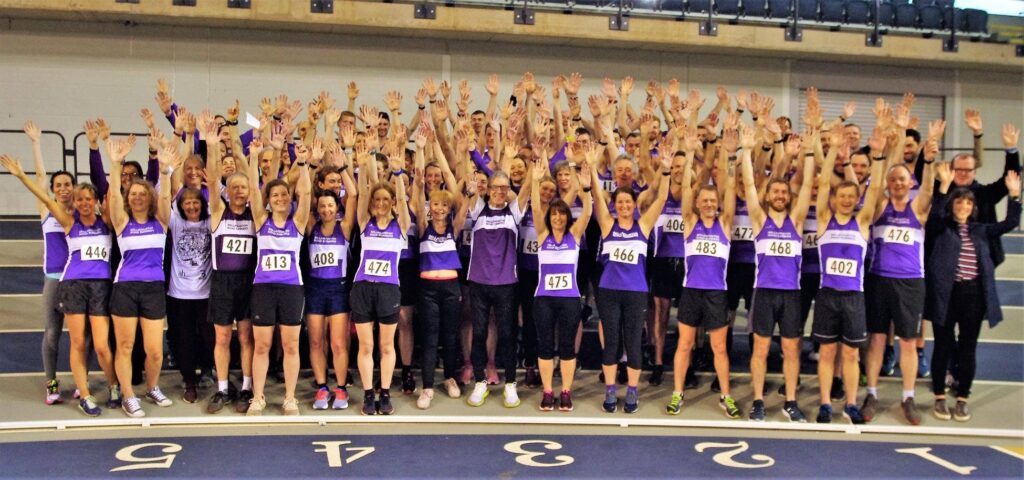 Photo credit: Gordon Goldie
The busy celebrations were fitting for a club that has barely stood still in its short history: membership has grown to more than 200 – from what was just a small gathering of people in the car park at Bellahouston ski centre in the club's fledgling months.
'We are a club of members with a broad level of interests and paces,' added Richard.
'We have some members who run up hills, others who do marathon upon marathon and some people who run just to be able to eat cake. The variety keeps things interesting and is a spur to try different events and learn from others' experiences in training.
'We have a friendly, welcoming club and people are not intimidated to come down and that is a big thing about our club. We're building on great work from our membership over the years, with contributions and innovations that developed and grew the club.'
Part of the club's success can be traced to its close relationship with Glasgow's parkrun events.
Leyton helped bring parkrun to Scotland for the first time in Pollok Park in 2008, and several members now serve as senior organisers at the weekly parkrun gatherings at the Pollok event, as well as at Queen's Park, Drumchapel and, for juniors, at Rouken Glen.
'The club was a big part of helping parkrun start in Scotland, through members turning up to practice events and volunteering,' he added.
'It is also something that feeds into membership. There was a fear that parkrun would undermine club running but actually we see it has the opposite effect.'
Bella Road Runners have become adept at staging larger events too, from Renfrewshire AAA cross country events, to its own flagship 10k road race – named after stalwart of Scottish distance running and founding member Jimmy Irvine. The race regularly attracts more than 600 runners each November.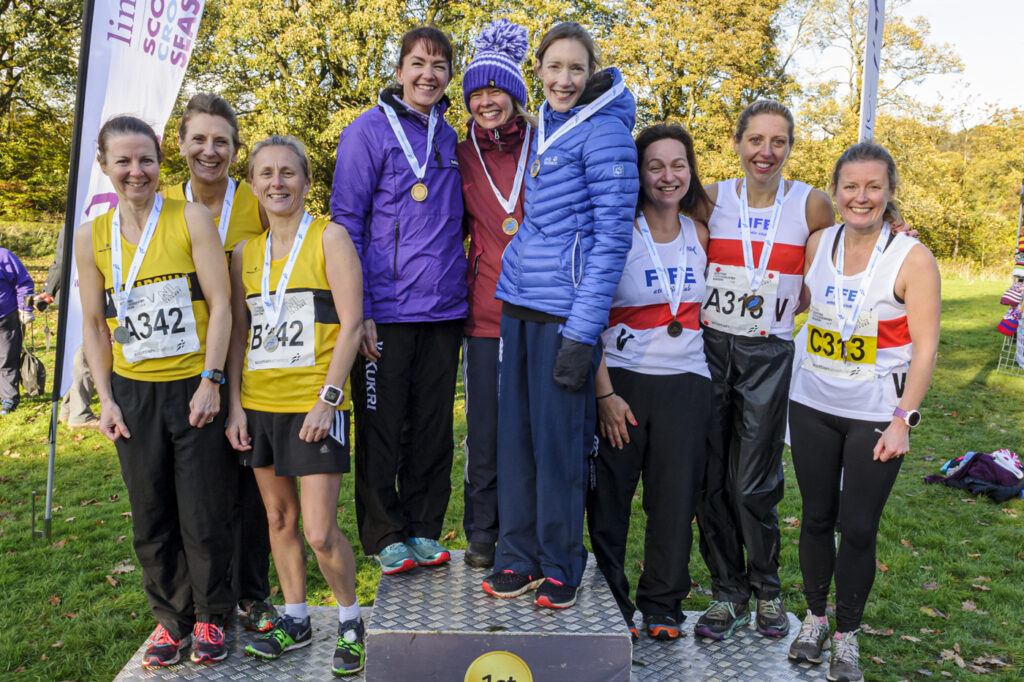 Bellahouston Road Runners Women's Masters team on top of the podium at Cumbernauld (L-R) Louise Ross, Ann Robin and Jane McNeilly (photo by Bobby Gavin)
Recent years have also brought success in competition for the club.
Coach Louise Ross said: 'Our Women's team has been crowned Scottish half marathon champions three times in recent years, and the women's vets team has been on the top of the podium at the Lindsays National XC Relays at Cumbernauld in both 2017 and 2019, winning bronze the year in between.
There have been a few selections for the British and Irish Masters cross country championships too over the years.
'We are also seeing newer talent develop. Catriona Macdonald has represented the West district in recent events, and recorded an excellent seventh-placed finish at the British Cross Challenge in Stirling in January – she really glides over the mud.'
The many successes of Bellahouston Road Runners, and its contribution to local life in Glasgow, was acknowledged in a recent motion submitted to the Scottish Parliament by Glasgow MSP Johann Lamont shortly before the club's 20th birthday celebrations.
The club's immediate focus now, though, is on the future and finding a new home. Talks are ongoing which could result in the club moving in to an unused former bowling club pavilion inside Bellahouston park.
'It is quite exciting if we can get it because it would get the club its own permanent base, and set us up for the club's next 20 years and beyond,' said Leyton.

Tags: Bellahouston Road Runners, Club in Focus, Richard Leyton, Stuart Miller