Scottish Districts set for Inter-Counties XC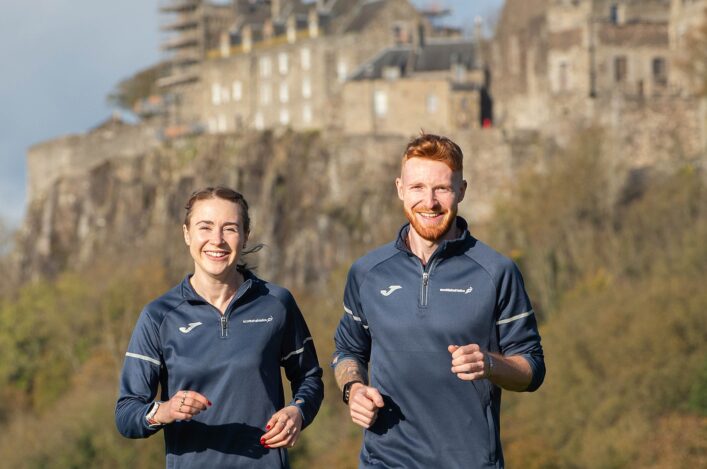 Mhairi Maclennan and Jonny Glen are among the Scots with high hopes for the Inter-Counties XC in Loughborough
Inter-Counties XC at Prestwold Hall 
Scottish districts will be well-represented this weekend at the final meeting of the British Athletics Cross Challenge – the Inter-Counties XC at Loughborough.
It is also the final race in six in our scottishathletics Cross Country Grand Prix which sees Senior athletes share prize-money of £4000.
Scotland and GB internationals Mhairi Maclennan and Jonny Glen lead the contingent headed south after winning gold and silver medals at the Lindsays National XC respectively.
And for the likes of Inverness Harriers athlete Megan Keith, representing the North District, and Fife AC's Anna Hedley for the East District, there's the real prospect of success in the British Cross Challenge overall points table for the 2019-20 winter.
British Athletics website preview
Maclennan is currently fourth in the GP table in the Women's division but could yet finish second with depending on Saturday's race.
Further down the age groups, it will be interesting to see how Scottish Districts can fare in the team races.
In fact, Scotland East look strong in all four categories at U17 and U15 with the likes of Isla Thoms, Katie Johnson, Struan Bennet, Andrew McGill and Georgia Ledingham on their list to travel.
North District selections:
Senior Women: Mhairi Maclennan
U20 Women: Megan Keith, Emily Andrew
U17 Men: Lucas Cairns, Angus Smith
U15 Girls: Anna Cairns
East District Selections:
Senior Women: Eleanor Eadie, Sara Green, Isla Scott-Pearce
U20 Women: Cera Gemmell, Sarah Tait
U17 Women: Anna Hedley, Georgia Ledingham, Rosie Davidson, Kirsty Purcell, Pippa Carcas, Caitlin Purcell
U15 Girls: Isla Thoms, Isla Paterson, Katie Johnson, Katie Christie, Sorcha Shepherd
Senior Men: Hamish Hickey, John Lenehan
U20 Men: Christian Graham, Ben MacMillan, Cameron Sale, Kristoff Hornyik, Adam Brown
U17 Men: Andrew McGill, Ben Sandilands, Alastair Marshall, Ryan Smith
U15 Boys: Struan Bennet, Corey Campbell, Angus Wright, Connor Bell, Hamish McKay, Cameron Bell
West District Selections:
Senior Women: Kayleigh Jarrett, Jill Smylie, Yvonne McNairn, Holly Little, Ruth Joss, Michelle Sandison, Avril Mason, Steph Lawrie
U20 Women: Lynn McKenna, Charlotte McKenna, Rhona Mowat, Emily Crusher
U17 Women: Hannah Anderson, Zoe Flower, Anya Maclean, Meredith Reid, Julia Cash
U15 Girls: Kate Paul, Hannah Ryding, Valencia Wright, Rachel Giffin
Senior Men: Lachlan Oates, Jonny Glen, Fraser Stewart, Cameron Smith, James Gillon, Ryan Gray, Alasdair Campbell
U17 Men: Lewis Hannigan, Jack Patton, Harry McGill, Brodie Aitken
U15 Boys: Johnny Burns, Fraser Gilmour, David Woods, Reuben MacDonald, Cameron Deverill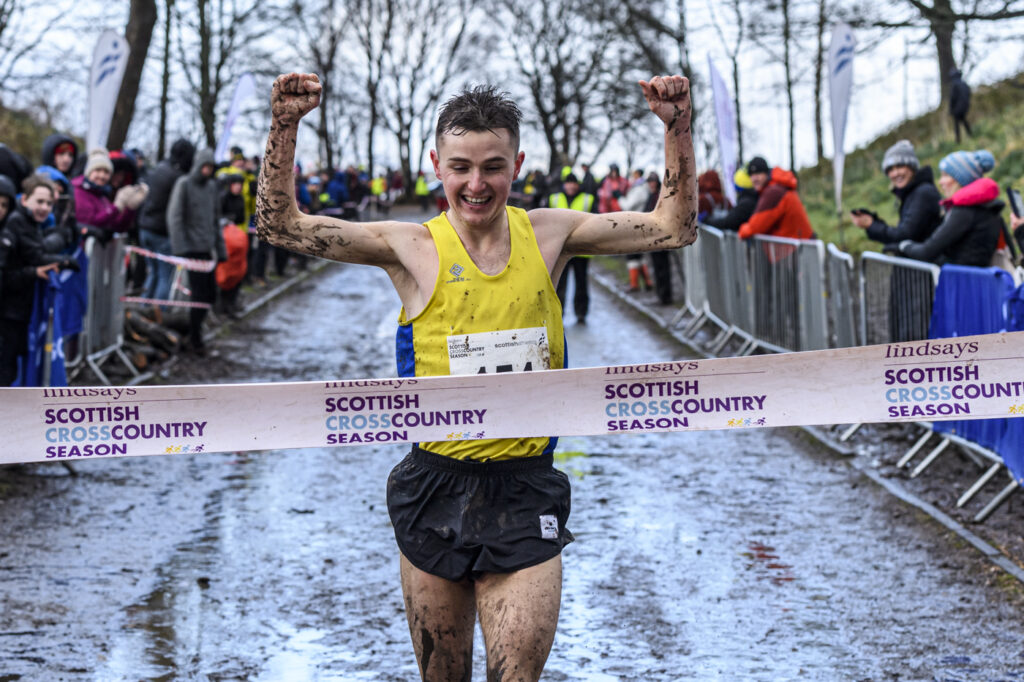 Jamie Crowe celebrates his win at Falkirk in the Lindsays National XC (photo by Bobby Gavin)
Jamie Crowe and Annabel Simpson are in line to win the GP titles despite not competing this weekend.
Central AC's Crowe had hoped to be racing at the World Unis XC in Morocca but that event has now been cancelled.
Jamie leads the GP with 222 points after five rounds from Dundee Hawkhill's Kristian Jones (133 points) and Shettleston's Lachlan Oates (120). Glen is fourth on 103 with Ben Greenwood of Perth Strathtay completing the top five.
Simpson leads the Women's table with 229 points after her silver at Falkirk with Shettleston's Kayleigh Jarrett second on 125 points with Inverclyde AC's Nynke Mulholland in third on 103 points. Maclennan is fourth with 100 points and Fife AC's Jenny Selman completes the top five on 76.
Tags: Annabel Simpson, Inter-Counties XC, Jamie Crowe, Jonny Glen, Kayleigh Jarrett, Lachlan Oates, Mhairi Maclennan, Prestwold Hall