Seven Scots ready for World Para Champs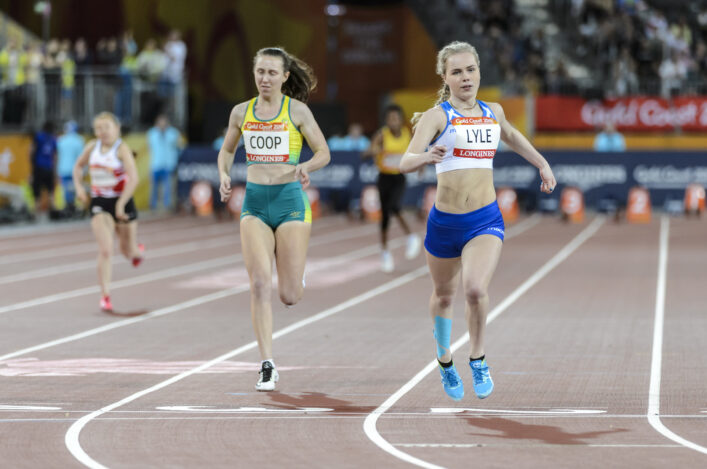 Maria Lyle on her way to silver at the Commonwealths in Gold Coast in 2018 (photo by Bobby Gavin)
Dubai day-by-day Schedule (full GB and NI team)
Seven Scottish athletes are now in their final preparations for the World Para Athletics Champs in Dubai.
The event begins on Thursday and runs for a full week with the Scottish contingent in the GB and NI team all eagerly awaiting their events.
It's a significant increase on the four Scots who were involved in the London 2017 World Champs – with the  addition of RaceRunning to the competition for the first time a welcome development, which has helped to swell those numbers.
Unfortunately, an injury issue has cost Stef Reid her place in Dubai or the cohort would have been eight athletes; although English athlete Ben Rowlings has strong Scottish connections as he is based in Stirling and coached by Ian Mirfin.

Here's the list of Scots in Dubai:
Jo Butterfield (Phil Peat/Shona Malcolm; Forth Flyers) – F51 Club Throw
Libby Clegg (Joe McDonnell; Charnwood) [Guide Runner: Thomas Somers (Benke Blomkvist; Newham & Essex Beagles)] – T11 200m & Universal 4x100m relay
Gavin Drysdale (Ian Mirfin; Red Star) – RR3 100m
Kayleigh Haggo (Ian Mirfin; Red Star) – RR3 100m
Sammi Kinghorn (Ian Mirfin; Red Star) – T53 100m & Universal 4x100m relay
Maria Lyle (Jamie Bowie; Team East Lothian) – T35 100m & 200m
Owen Miller (Steven Doig; Fife AC) – T20 1500m
Good luck to all the Scots, and indeed all the GB and NI team, and their coaches, as well as all the support staff in Dubai for the World Para Athletics Champs.
*Download above has the full schedule for the GB and NI team and is subject to changes. It includes British time of events and also potential further rounds and finals for British athletes.
+++
Libby Clegg will compete for the first time since she gave birth to her son, Edward, back in April and the Commonwealth Games gold medallist from 2014 is relishing a return to  international level.
'I am in a really good place and there is no pressure on me,' said Libby, in an interview with the Herald.
This is a good opportunity to get back on the international stage and get a feel for top-class competition again. People don't know where I am at, so there is no expectation.
'Nobody has given me any targets so I am going in with a different outlook than I would have had in the past as a medal hope. I am not near running where I ned to be but I do love competing so we will see what happens.'
+++
WANT TO READ MORE?
There has been a fair spread of coverage of our Scots so we have curated a few links to further pieces here.
Sammi Kinghorn feature in The Southern Reporter
Maria Lyle feature on BBC Scotland Sport website
Tags: Dubai, Gavin Drysdale, Jo Butterfield, Kayleigh Haggo, Libby Clegg, Maria Lyle, Owen Miller, Sammi Kinghorn, World Para Athletics Champs, World Para Champs