Eilish lands Liz's 10-Mile Record; Butchart at Stirling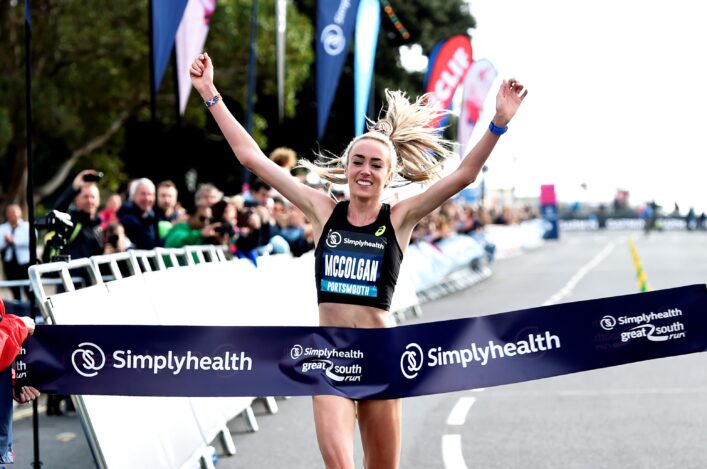 Photo by Mark Shearman
Eilish McColgan smashed her mum's 10-mile Scottish record with a superb win at the Simplyhealth Great South Run in Portsmouth on Sunday.
Eilish clocked 51:38 for a Scottish best on the road for this distance as she crowned an excellent 2019 before taking a well-earned holiday.
In bright and breezy conditions, she led the women's race from start to finish and crossed the finish line on Clarence Esplanade in a time of 51:38, improving on the Scottish record of 52:00 set by her mum and coach, 1991 world 10,000m champion Liz, in 1997.
That time also moves McColgan to second on the British all-time list, behind only Paula Radcliffe who ran 51:11 in Portsmouth in 2008, and secured her victory by three and a half minutes.
Capping a successful year, the 28-year-old's performance comes just two weeks after she improved her own Scottish 5000m record with a time of 14:46.17 to place 10th at the IAAF World Championships in Doha.
'I feel like I can't stop smiling!,' said Eilish, who emulated the achievement of her mum in Portsmouth by claiming a second win, with Liz having won in 1995 and 1997.
'My mum said I was in shape to run 51:30, so I wasn't too far off of her expectation for the day. I'm over the moon with that. I run better off of a strong pace, I probably went a little bit too hard!
'But it was just the excitement of knowing it's my last race of the season and I suppose I was a little bit disappointed from my race in Doha, I wanted to come out here today and do myself justice and run a fast time from the start.
'I couldn't ask for a better day to be honest.'
Behind her, the battle for second place was won by Verity Ockenden, who clocked 55:15 ahead of Jenny Nesbitt, who placed third in 55:18.
+++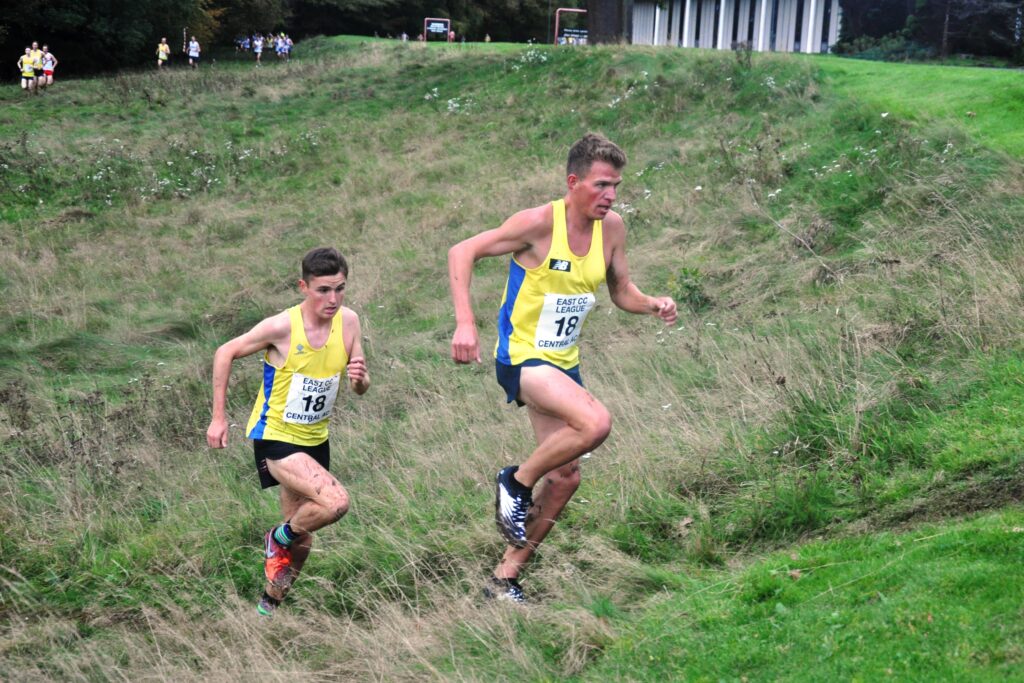 Andy Butchart takes an early lead as Jamie Crowe gives chase in the East League XC at Stirling (photo by Tony Waterhouse)
The East League XC season started off for 2019-2020 with a busy first fixture at Stirling.
Olympian Andy Butchart made a return to his 'grassroots' and led home a Central AC 1-2-3 in the Senior Men's race as he won from Jamie Crowe and Alastair Hay. Central AC thus took the men's race.
Falkirk Victoria Harriers athlete Olivia Vareille won the Women's race from Emma Gill of Edinburgh Uni Hare and Hounds and Sara Tait of Lasswade. Edinburgh AC won the women's race from Edinburgh Uni and third-placed Fife AC.
+++
Provisional Results are now online for the Renfrewshire XC Relays at Nether Pollok on Sunday.
Renfrewshire XC Relays Results
Provisional Results are now online for the Dunbartonshire XC Relays last Saturday.
Dunbartonshire XC Relays Results
+++
Tags: Andy Butchart, East League XC, Eilish McColgan, Great South Run, Liz McColgan, Stirling