Katie and Weynay land Scottish Half Marathon golds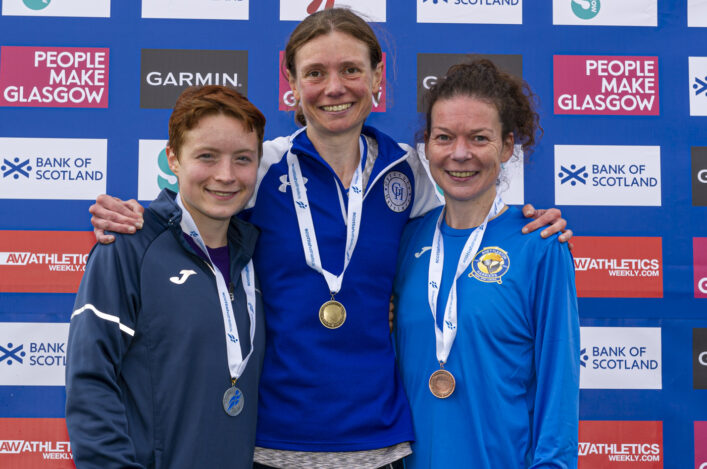 Katie White is joined on the Scottish Half Marathon Champs podium by Annabel Simpson and Avril Mason (photo by Bobby Gavin)
Kenyan Edith Chelimo set a new course record to win the Women's race in the Great Scottish Run in Glasgow – as Uganda's Timothy Torotich took the Men's title.
Scottish Half Marathon medals were also contested on the streets of Glasgow and there were gold medals for Katie White of Garscube Harriers and Weynay Ghebreselassie of Shettleston.
Eritrean Ghebreselassie's victory helped lead home Shettleston to the men's golds in the Scottish Champs and in Avril Mason they had a bronze medallist and Masters gold medallist.
Good weather on the day helped with the wind not too strong and overhead conditions on a day when around 22,000 runners completed a hectic programme of Great Scottish Run events.
Chelimo, 33, finished in 67.38 with a powerful display of front running which saw her win from Nancy Kiprop (69.24) and Ashala Merachi (69.34).
Torotich for his part was home in 61.29 to finish well clear of closest challenger Mica Kogo (62.28) and third-placed and fellow Kenyan, Stephen Kiprop (62.32).
Photos by Bobby Gavin on Facebook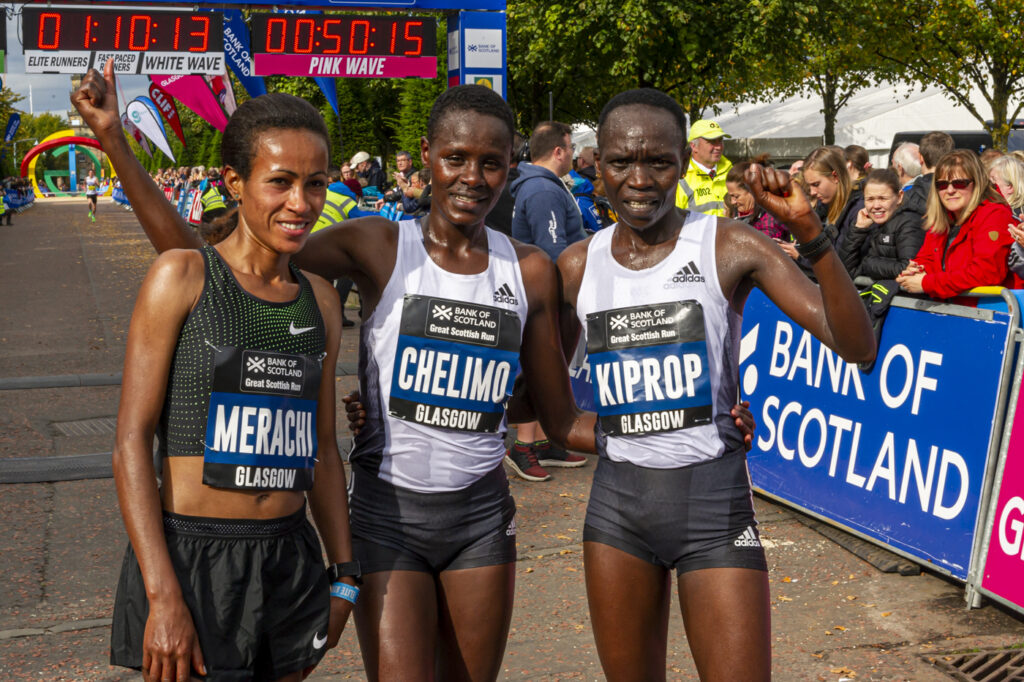 The Women's 1-2-3 at the Great Scottish Run (photo by Bobby Gavin)
In the Scottish Champs, White admitted her win came as a surprise when her initial intention had been to use the race as a final week training session before the Loch Ness Marathon next weekend!
'I am pleased with that and a bit surprised,' said White, who clocked 76.25 as Fife AC's Annabel Simpson took silver in 77.35 and Mason third in 79.11.
'I knew Avril and Annabel were in the field and thought it would be tough to win.
'In fact, I wasn't really planning to be here because I've the Loch Ness Marathon next week. I should maybe have been taking it easier and using it as training but it didn't work out that way.
'I'm not far adrift of my PB and the conditions were good today for running so you want to take advantage if you can. I guess I will find out next week if I have run it too hard!'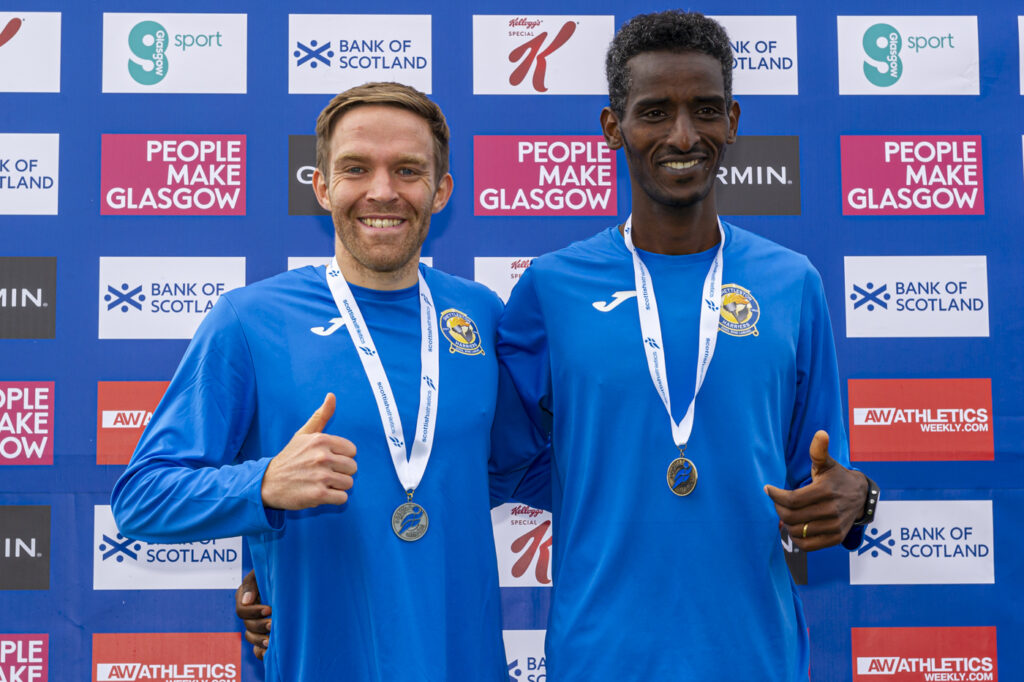 All smiles . . . Shettleston duo Weynay Ghebreselassie and Ben Johnson
Eritrean Ghebreselassie was delighted to take gold and help Shettleston to the victory – especially after his pre-race preparation included a delayed return to Scotland from a training stint in Africa.
'It was good to win and now I am really tired,' smiled Weynay, who won in 74.22 as his Shettleston club-mate Ben Johnson took silver in 76.02 with Fife AC's Kevin Wood third in 67.05.
'I only flew into Glasgow last night after a training spell in Ethiopia but I had a lot of issues travelling back. I missed two flights because of it and was in Dubai for 19 hours on Saturday before getting home to Glasgow at 8pm on Saturday night.
'So it was a case of trying my best today and seeing if the legs could cope. I'd have been hoping for 62 or 61 minutes off the training I have had but I don't think that was possible with the fatigue.
'I will race the 5-miler in Ayr next weekend and then the Manchester Half Marathon after that and hopefully there I can get a good time.
'I've been in Britain now for seven years, the last two living in Scotland. I will run more road races in Scotland now and for the club – maybe even in the cross country. Why not? If it helps Shettleston then I will do it because they have helped me.'
Mason took the Women's Masters title from Anna Richardson of West Road Runners and third-placed Karen Kennedy of PH Racing. Central AC's Scott Brember won the Men's Masters gold in 71.03 from Donnie McDonald of Inverness Harriers and Kenny Campbell of Cambuslang.
Shettleston Harriers won the Men's team golds with silver for Fife AC and bronze medals for Cambuslang Harriers.
We will update some further Scottish Half Marathon Champs medals in due course.
+++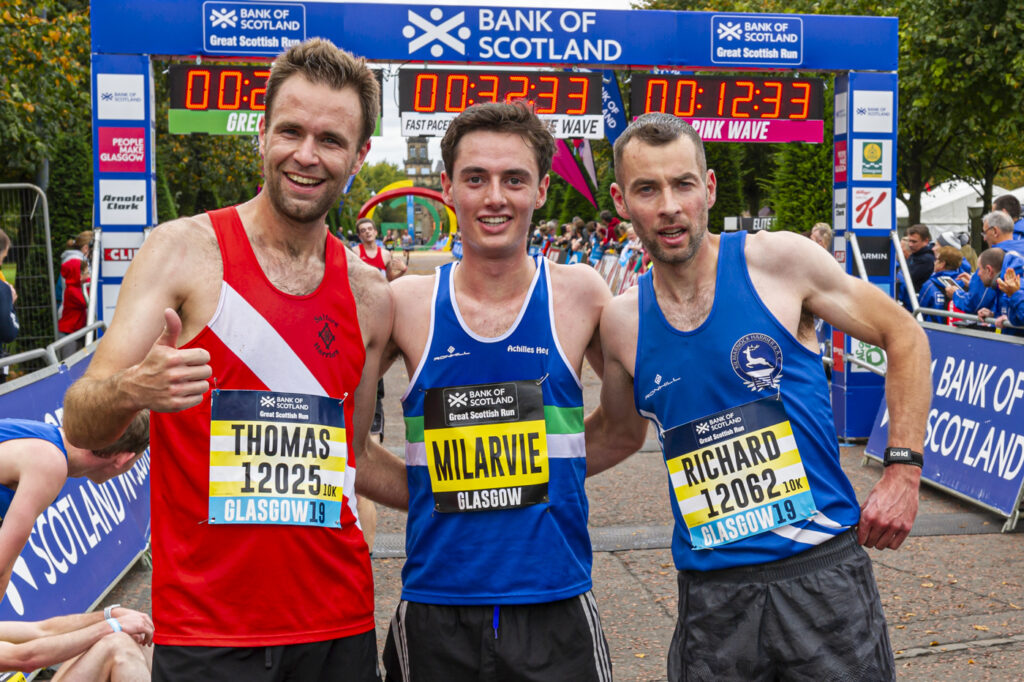 Max Milarvie of VP-Glasgow took the win in the streets of his hometown – coming home in 30.50 to win by a significant margin from Richard Mair of Kilmarnock Harriers (31.17) and Thomas Cornthwaite (31.59).
'I'm delighted to win this race – big time,' said Max. 'I was probably clear of the others by about 2k or 3k and just had to keep pushing on and make sure nobody came through.
'I've been prone at times of being too aggressive too early in races so I was always trying to be conscious of not letting my pace drop off and get caught.
'It was not quite as quick as the Scottish 10k champs but I think the competition in Stirling ensured everybody was able to chase really good times. I want to try and break 30 minutes this year if I can and Leeds is my next opportunity – it's always a fast race with strong fields so that should certainly help me.
'I am looking to the cross country season, too, and Liverpool and the British Trials for the Euro Cross is on the radar.'
Gemma Steel successfully defended her title in the women's race with a run of 35.29 as Nynke Mulholland came home in second in 36.46 with Alison Rowatt third in 36.58.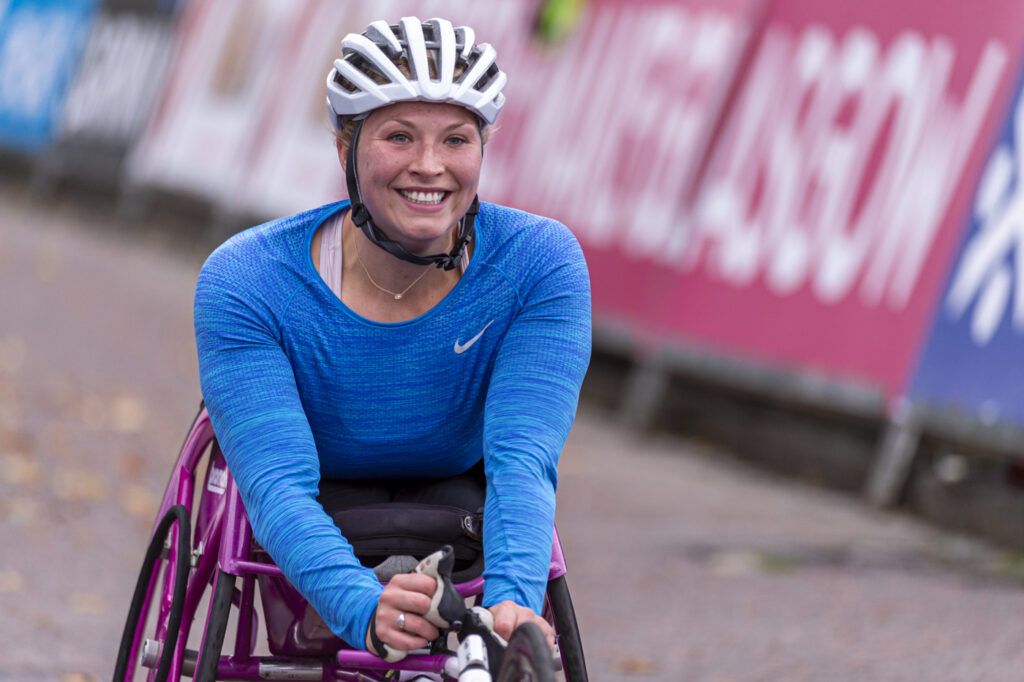 In the 10k Wheelchair race there was a win for Patrick Monaghan as he successfully defended the title he won here last year. Patrick did so despite having to borrow a set of wheels from Sammi Kinghorn that were smaller than those he is used to.
Sammi herself was third overall – after sixth last year – and came home in a new Course Record.
'I enjoyed that and I'm really chuffed with a Course Record,' she said.  'It was actually a lot quicker than last year, even though the course has twists and turns.
'With the World Champs coming up, I felt I had to take those corners with great care – I just didn't want anything untoward to happen. I am racing the 100m and the Mixed Relay in Dubai.'
+++
Tags: Gemma Steel, Glasgow, Great Scottish Run, Katie White, Max Milarvie, Scottish Half Marathon Champs, Weynay Ghebreselassie