NOMINATE NOW . . . FPSG Awards reminder from Andy Butchart
FPSG Scottish Athletics Awards Nomination Form 2019
Here's a special message from Olympian and British 5000m champion Andy Butchart on the FPS Awards Dinner looming in November.
'Don't forget to contact scottishathletics with your nominations in various categories for the FPSG Awards Dinner – in categories for coaches, clubs and volunteers. It's vital.'
The FPSG Awards are coming to Glasgow later this year with Paula Radcliffe as our Guest of Honour on Saturday 23 November.
Now we want your nominations to help in creating short-lists for awards which look to celebrate achievement and recognise commitment with our awards covering athletes, coaches, clubs, volunteers and Officials.
All you have to do is go online and use the form supplied to give us suggestions in club, coach and volunteer categories.
We need those nominations by 5pm on Friday 20 September 20, please.
The categories are:
CLUB: Impact Club of the Year; Off-Track Club of the Year; Track and Field Club of the Year
COACH: Club Coach of the Year; Development Coach of the Year (12 years +)
VOLUNTEER: Volunteer of the Year; Technical Official of the Year
(Guidance notes and criteria for each award can be found on the front page of the form)
Note that nominations for the various Athlete of the Year award categories and for Performance Coach of the Year are chosen by the relevant scottishathletics selection committees.
All the winners from the 2018 FPSG Annual Awards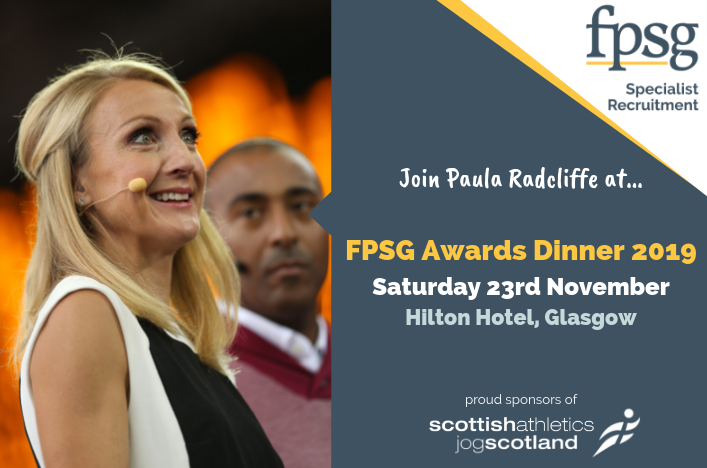 Saturday 23 November is the date for your diary for the big night at the Hilton Hotel in Glasgow and tickets are now on sale.
Tickets are priced at £45 for individuals or at £425 for a full table (of 10).
Buy FPSG Annual Awards tickets online
Tags: Andy Butchart, FPSG Awards Dinner, Hilton Hotel Glasgow, Paula Radcliffe