Jax aiming high again for Manchester and Grangemouth . . .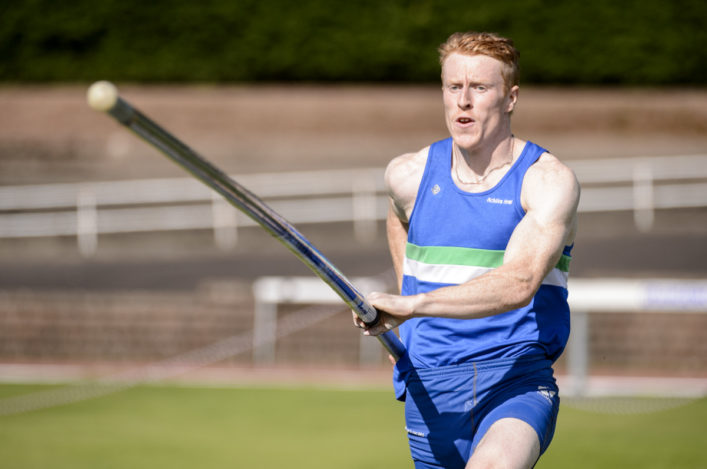 JaxThoirs on his way to gold in the 2017 FPSG Senior Scottish title at Grangemouth (photo by Bobby Gavin)
Scotland selections for Manchester International
Jax Thoirs Soars.
It was once a favoured Tweet or headline around these parts, as the Glaswegian pole vaulter regularly pushed the bar up with National Record performances indoors and out.
In 2018, not so much. A blood clot at New Year some 20 months or so ago cost Jax his place at the Gold Coast Commonwealth Games and even endangered his career in the sport.
Thankfully, Jax made a limited comeback last summer as he competed in long jump and won the Scottish Senior pole vault gold off a short run-up. Even so, he's adamant that 2018 was a write-off.
'I don't consider that I had any season at all last year and don't really count the few performances that I did manage,' he told scottishathletics in typically candid fashion.
Now, however, Thoirs is soaring again. He won the England Athletics title in dreadful wet conditions in Manchester a couple of weeks ago and then cleared 5.40m at Scotstoun for Glasgow in the BAL Division Two match 10 days ago.
He will pull on a Scotland vest for the Manchester International and then head for Grangemouth and the FPSG Seniors this weekend.
'I've had to be very patient over the past 18 months and so has Colin Sinclair, my coach,' he said.
I had to wait a long time for the all-clear from the medical experts that it was safe for me to jump. The blood clot and the blood thinning tablets made it potentially dangerous for me if there was a chance I would bump my head vaulting.
'So there were considerations. But it is all good now, I've had the all-clear and I'm on a much lower dosage now in terms of the tablets and we're happy with the way it has progressed this season.
On the podium after winning the England Athletics Champs in Manchester in poor conditions (photo via England Athletics Twitter)
'I took the win in poor weather at the England Champs a couple of weeks ago and then had the 5.40m at Scotstoun. To my mind that was a good win and a good height in two successive competitions and that felt good.
'I'm like plenty of athletes: I have an ego and I love competing in front of a crowd in the bigger events and trying to perform well and win medals.
'So I am looking forward to the Manchester International and then the Scottish Champs and the British Champs – it's an exciting fortnight coming up.'
The frustration in early 2018 was understandable for Thoirs after he had opened indoors that year with a 5.52m jump. It followed some serious winter training with decathlete Andrew Murphy.
'We worked really hard then and I like that feeling of completing a tough session,' added Jax.
'I cleared 5.52m indoors in December and things were looking good.  I was in the team for Australia and really looking forward to my second Commonwealths.
To then miss out on all that and have the uncertainty over my health and fitness made things hard.
'I found it difficult to motivate myself for training last summer. It wasn't so much that I wasn't capable – it was more about actually getting out there and doing it.
'Confidence is important for a pole vaulter but it is coming back. I think I can PB once again and 5.40m is a wee bit more like it in terms of realising my potential.'
Jax Is Back, in fact.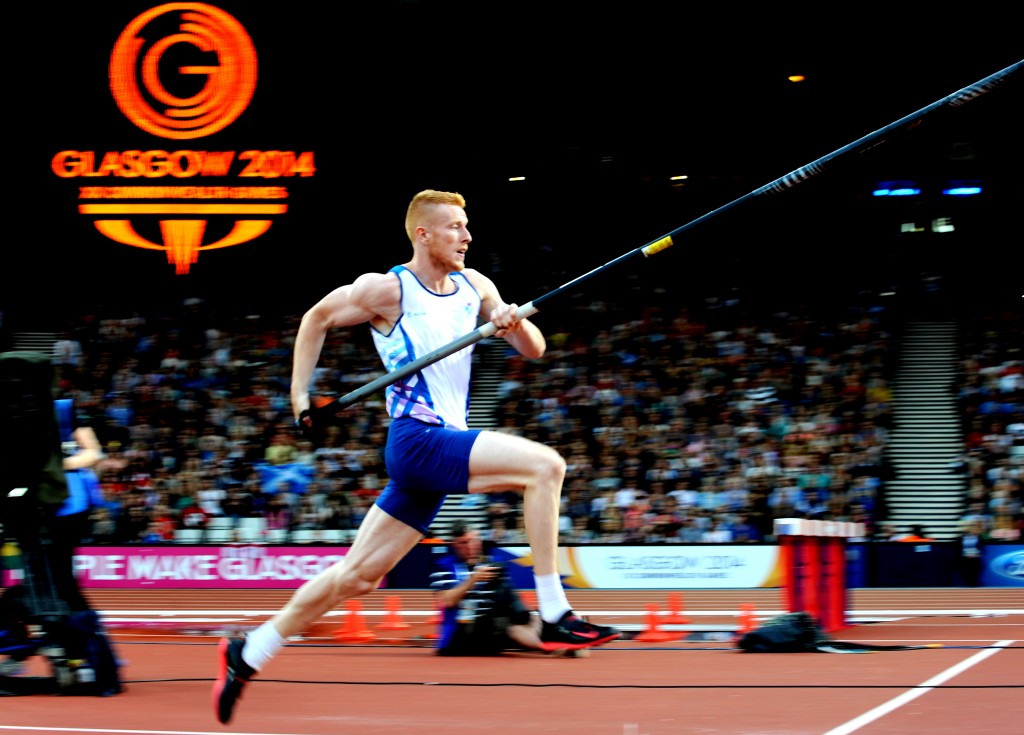 Jax on the runway at Glasgow 2014 as he finishes fourth at Hampden
Tags: Colin Sinclair, FPSG Seniors and U17s, Grangemouth, Jax Thoirs, Manchester International